Kayleen VanderRee was hiking in a British Columbia park in July when she and her friend Danielle Gumbley stumbled upon a couple of kittens in a bush behind a dumpster.
"The kittens looked clearly abandoned and to be about 4 weeks old, with no owner or mother cat in sight. We couldn't bear to leave them to be picked off by an eagle or cougar so we decided to take them home with us," VanderRee said.
They planned to take the tiny kittens to the local SPCA shelter; however, when they arrived, the office was closed. The young women had scheduled a two-night canoeing, hiking and camping trip for the next day, and with no one to watch the kittens in their absence, they decided to bring them along.
"Since we found them in a bush, we figured hiking up a mountain wouldn't be too far out of their element," VanderRee said. "By the end of the trip, they had survived two days of rain and made their way into our hearts. The thought of giving them away was no longer an option."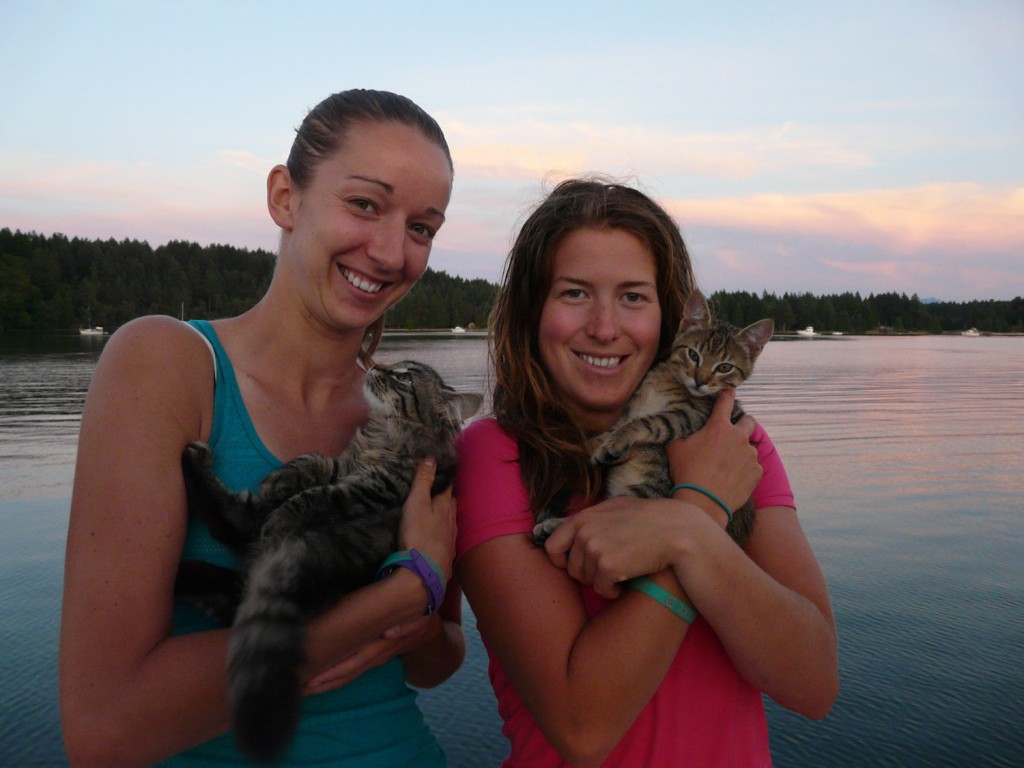 They named the kittens Bolt and Keel, and the courageous kitties now accompany VanderRee and her friends on countless outdoor expeditions. And living in Victoria, British Columbia — with its mild climate, access to mountains and ocean, and abundance of hiking trails — there's no shortage of adventure opportunities. While Bolt and Keel mostly tag along on hiking trips, VanderRee says they've also "been on a short canoe trip, spent a week on a sailboat, gone kayaking on the ocean, camped on the beach, and crossed a river to hang out at the bottom of a rock climbing wall."
MORE: 14 essentials for hiking and camping with a cat
However, VanderRee's favorite memory with the kitties so far was when they awoke at sunrise to hike the base of Vancouver Island's Triple Peak — with not only Bolt and Keel in tow, but also a folding kayak.
"On the way up, we had to figure out how to cross a river and got to see Bolt and Keel experience snow for the first time. They blew past all our expectation in regards to hiking as they often climbed the scrambling parts better then we did. When we reached the lake at the top, they curled up for a nap and looked so content. After a quick kayak and snack break, we started our venture back to the car. It was an intense, challenging and full day, but it really showed us what was possible."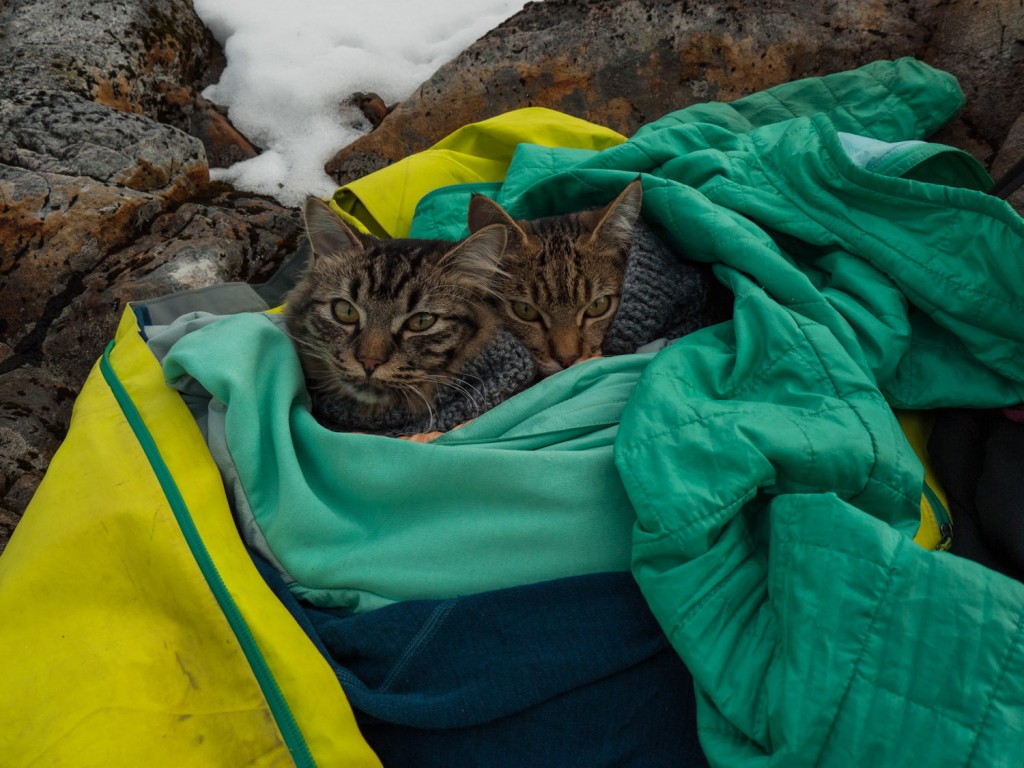 However, despite the possibility for nonstop action and exploration, VanderRee says that moving at a slower pace is also enjoyable. "The adventures that are most successful are ones where we let the cats move at their own speed and take the time to be curious with them."
Both VanderRee and Gumbley view each trip with Bolt and Keel as a training opportunity, and they're always focused on letting the cats decide when they're ready to take the next step.
MORE: Need a new perspective? Try catting.
"Each time they get outside, walk on leash or hang out in a kayak, they get more comfortable and bold," VanderRee said. "Bolt has always been curious about water and one day decided to walk on the deck of a kayak. He ended up going for a quick swim before being pulled out. This incident barely seemed to faze him and each time he encounters water he becomes more comfortable with it."
Watching Bolt and Keel engage with nature and continually venture outside their comfort zone has been a source of inspiration for VanderRee, who says the kittens have changed the way she views the outside world.
"These cats have helped me through a lot and helped me to relate to nature in a fun, new way. They have brought so much joy and laughter into my life and into my friendships. They have taught me to stay curious and to not be afraid to test my own limits."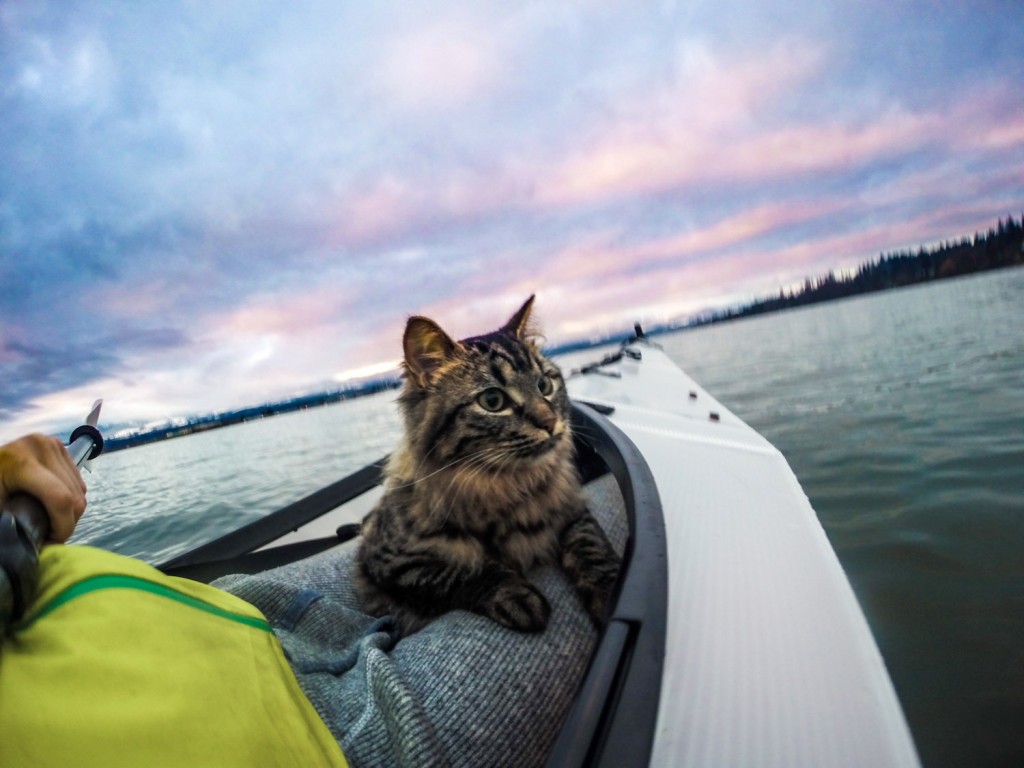 Adventuring tips from Bolt and Keel's hoomans
On setting the pace
"For anyone considering taking their cats outside, be patient and move at the speed your cat allows."
On adventuring with multiple cats
"It's definitely a challenge to manage both cats on my own. On overnight trips or longer hikes, you need at least one other person who is comfortable and willing to take care of a cat. Sometimes a cat can get fussy, and a change in handler can make all the difference. If it's a long hiking day, there will be times when you need to carry the kittens, and they are too big for one person to do this for longer then a few minutes."
On safety purrst
"When out for a hike, we will often pick Bolt and Keel up when other people or dogs are approaching. We won't take Bolt and Keel out in kayaks if the waters are rough or if we are going far from shore. When on the sailboat, we would closely supervise Bolt and Keel on the deck or have them on leash."
---
Scroll through the gallery at the top to see more photos of Bolt and Keel, and keep up with their adventures on Instagram.
All photos are courtesy of Kayleen VanderRee.