Jessica Horkan had high hopes that her cat, Ruby, would enjoy paddling trips. 
But once they were on the kayak, even Horkan was surprised by how easily Ruby took to the water.
"It was just so amazing to see how quickly she fell in love with it," Horkan says, "and it just made me so happy and proud."
Now Ruby, a long-haired tortoiseshell cat, is a seasoned first mate on Horkan's paddling trips, and Horkan posts photos and videos of their adventures to Instagram. The duo lives in Sheboygan, Wisconsin, but they've traveled far and wide.  
"I decided to take her paddling with me because she has done everything with me since I've gotten her," Horkan says. "We have gone on two road trips in my Subaru across the country, biking, hiking, and now kayaking!"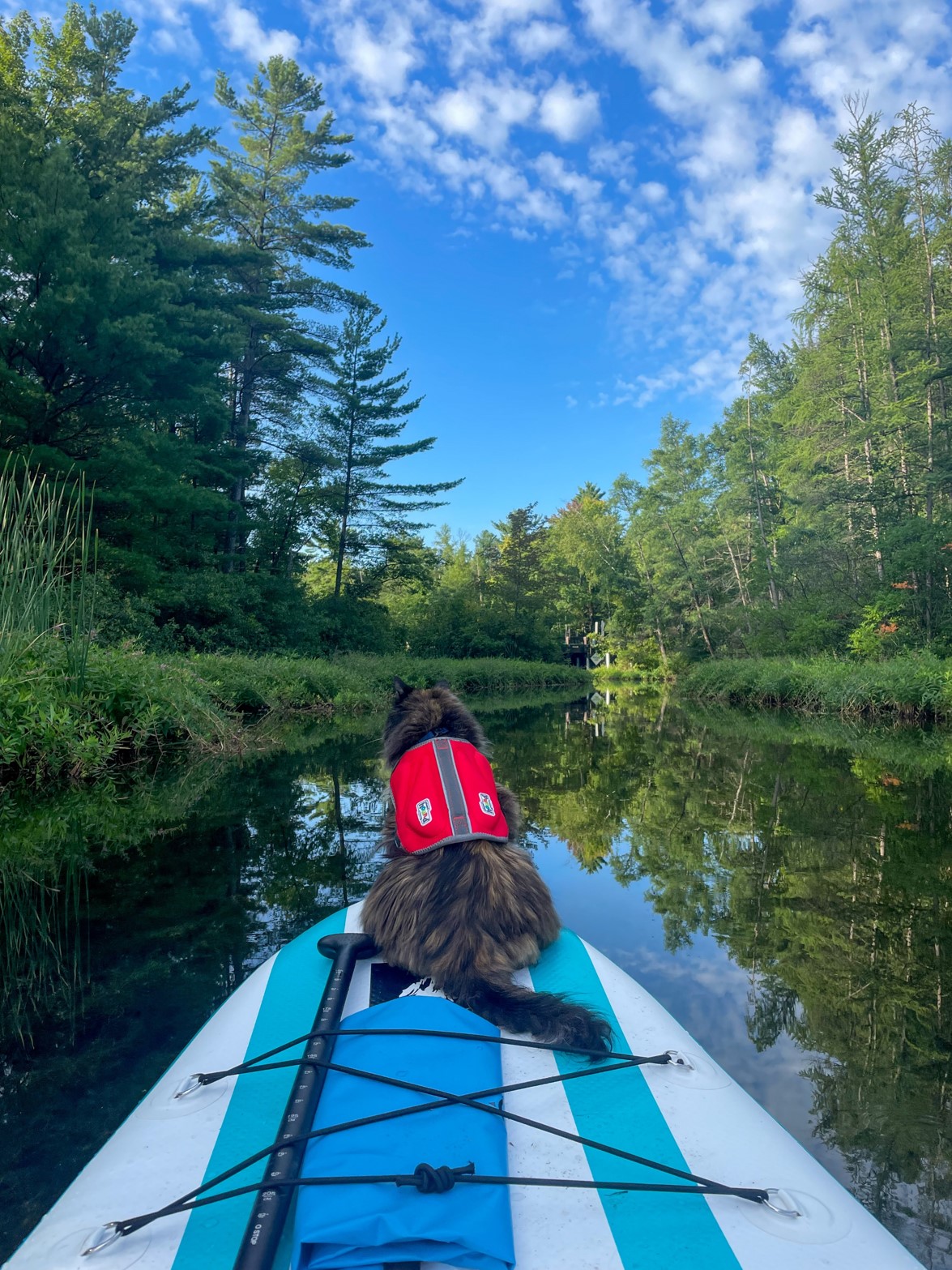 Horkan adopted Ruby almost two years ago from a local Humane Society shelter. She visited the shelter hoping to meet three other cats, but everything changed when Ruby approached. 
"She just came right up and plopped in my lap," Horkan says. "She was the only cat that did that, so I knew it was meant to be."
Since then, Ruby has become Horkan's constant companion. Their next big adventure together will be at Chain O' Lakes in Waupaca, Wis., which is, yes, a chain of almost two dozen lakes.
Safety comes first for this duo, especially since Ruby has asthma. But giving Ruby an inhaler twice a day has helped a lot, Horkan explains, and she also checks air quality before heading outdoors. 
"Her health is always my top priority," Horkan says. 
Ruby always wears a life jacket on paddling trips, too. Getting a cat to use protective gear might seem like a tall order, but Horkan got Ruby used to her life jacket way before they were on the water.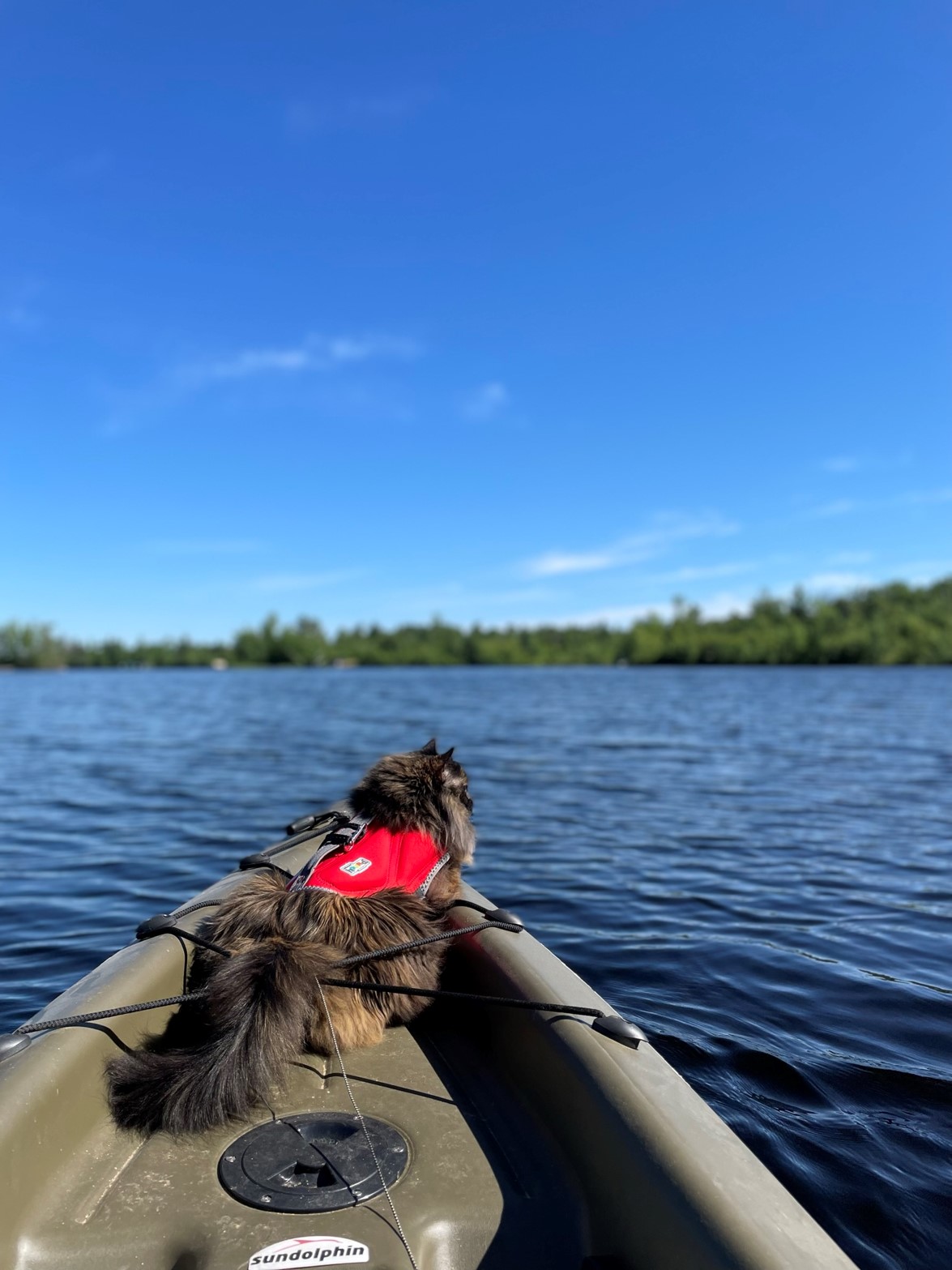 Ruby wore hers around the house for a while, and Horkan noticed she quickly felt comfortable in it. Their next step: introducing Ruby to the kayak while on land.
When Horkan was certain her cat could handle a paddling trip, she planned every step carefully. 
"I made sure to go early in the morning, when the lake wouldn't be busy and the water was smooth as glass," she says. "We started by just sitting off the shore in the kayak, not even paddling because I didn't want to accidentally splash her. She was a little nervous, but she just sat on my lap and I gave her some treats."
Before long, she says, Ruby's anxieties dissolved, and she perked up and began observing the water's movement. That's when the pair reached a small island, which offered time for Ruby to leave the kayak for a bathroom and water break.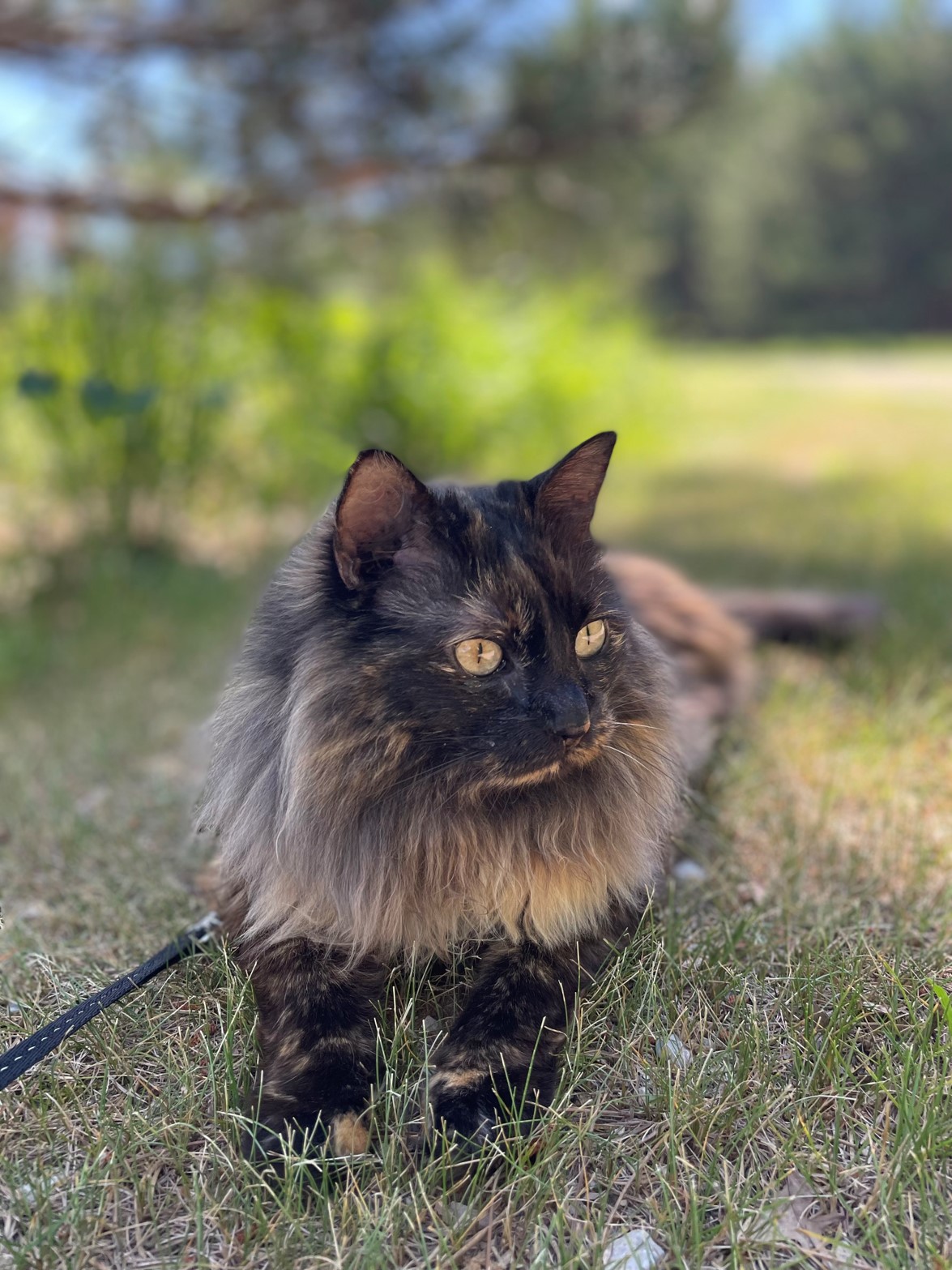 "For Ruby, this was a great chance to explore and realize kayaking allows her to see new places, which she loves doing," she says.
Want to explore the water with your cat? Horkan says it might be easier than you think, as long as you train your pet properly and always — always! — let them lead the way. 
"My biggest tip would be to take it slow and give your cat lots of love and praise," she says. Bringing their favorite toy and treats can help too, especially in the beginning when your cat might be nervous. 
Every paddling cat should already be leash-trained and comfortable in a life jacket. Once you're on the water, pay attention to your cat for signs of fear or discomfort. 
Horkan only paddles with Ruby in the morning, which makes it easier to monitor her breathing. (And, as a long-haired cat, Ruby could overheat during warmer hours.)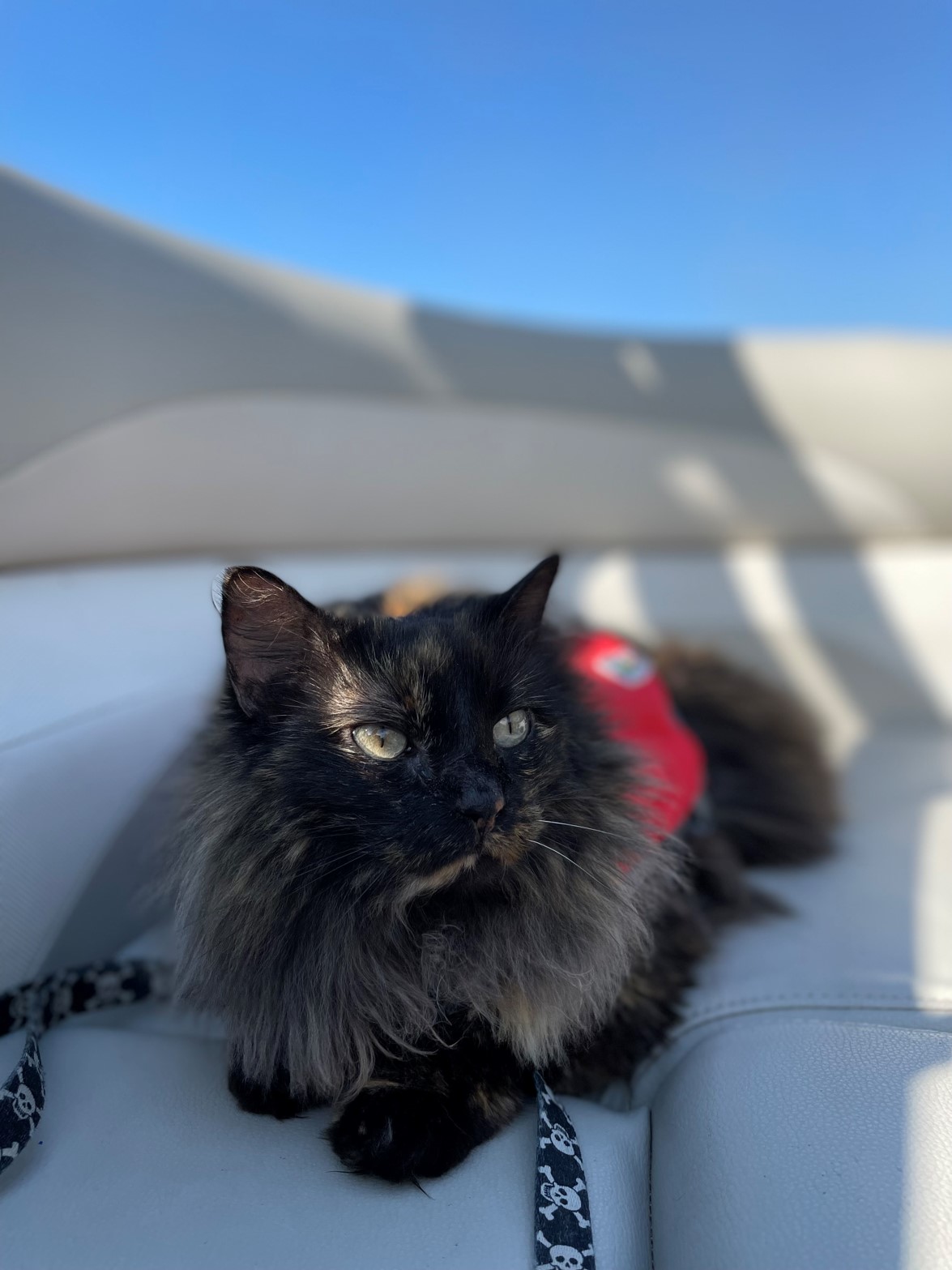 She's embarked on plenty of paddling trips by now, but that first kayaking journey holds a special place in Horkan's heart. The island they visited together that day has since become their favorite. 
"We made some new friends, like the panfish in the water and some freshly hatched turtles," she says. "It was so beautiful and honestly perfect for our first experience."
But even among fish and baby turtles, nothing could compare with the best part of the experience for Horkan: watching Ruby perch at the front of the kayak on their trip back home. 
"She was right on the edge standing confident and happy," she says. "It just made me smile because it made me so happy to see her happy."