It turns out that not all cats are landlubbers.
In fact, if you think that felines aren't up for the seafaring life, then we're about to knock the wind out of your sails because pirates and parrots aren't the only human-pet duos equipped to run a tight ship. Adventure cats make excellent swashbucklers. Just ask feline mariner Georgie!
According to her humans, Jessica and Matt Johnson, Georgie is one kitty who knows the ropes.
After spending a long time preparing for life at sea, which included selling their house, quitting successful jobs and learning how to sail, Jessica and Matt were ready to take to the ocean on the boat they refurbished.
And they wanted a furry friend on board with them. The Johnsons are also dog lovers, but they decided to adopt a feline crew-kitty, because they found that cats deal better with being away from land for long periods of time.
In 2012, the Johnsons found the purrfect companion in a 6-month-old domestic short-haired kitty. When they adopted her from the shelter, Georgie was still young enough to acclimate to life under sail, but old enough to train. So Georgie got a home, and Matt and Jessica found the warm fuzzy companionship they needed in their furry shipmate.
The trio has sailed all over the world, exploring 16 countries and counting. It's safe to say that Georgie leads a much different life than the average house cat, and she has her adventurous humans to thank for that.
According to the Johnsons, Georgie's favorite place on the boat — aside from being next to her people — is on top of the first-aid kit in the main salon (safety purrst!), which is an excellent spot for a kitty cabin.
Speaking of safety, Georgie does wear a harness and even passed a swimming test in the Cayman Islands when she was urged to try kitty-paddling under supervision. Georgie outswam Matt, making it around the boat before he could even get back to the ladder.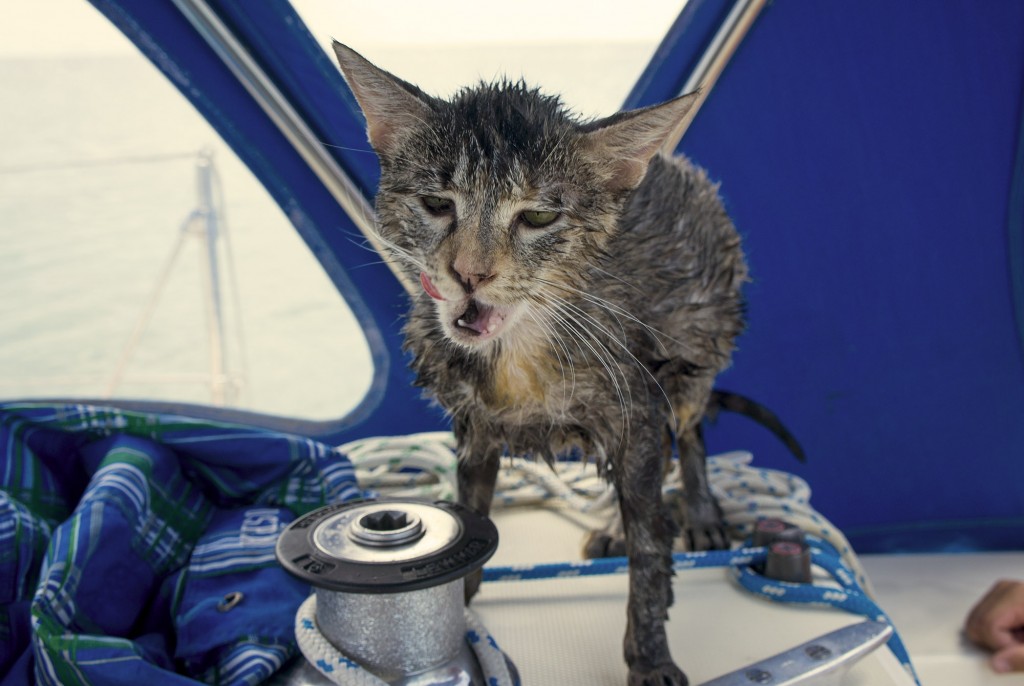 Matt and Jessica explain how they keep Georgie safe when underway.
"When we're at anchor, she's free to roam the deck of the boat, but whenever we're sailing, she has her harness on and is confined to the cockpit with her leash."
As for hittin' the head on the boat, Georgie uses a custom-made litter box, fashioned out of a Rubbermaid container. As for food, it's not gruel and grog aboard the Johnson's craft. Georgie enjoys dry food (brand depending on country) and scraps of fresh fish when the catch is good.
And if a storm's a-brewin', Georgie isn't one to shy away from the motion of the ocean.
"She handles rough waters really well and seems very in tune with the motion of the boat," Jessica said. "We've noticed that when it's rocking side to side, she'll sway her body to always keep herself upright. It's actually kind of funny to watch."
Georgie has some very interesting places stamped on her "pawsport." The Johnsons say one of Georgie's favorite places is Isla Mujeres, an island in the Caribbean Sea, but this seafaring kitty also enjoyed Mexico.
"We spent about seven weeks there at anchor, and in the mostly clear water there would always be vast groups of minnows swimming by the boat and little needle nose fish trying to catch them," Jessica said. "Georgie would sit and stare at them for hours, as well as the seagulls constantly flying by."
Clearly, Georgie knows how to live her life to the fullest.
When asked what the best thing about having their cat aboard with them is, the Johnsons said, "Our favorite thing about having Georgie on board is an extra element of entertainment, companionship and someone to talk to while the other person is sleeping on passage. We also get a lot of joy out of just staring at how cute she is."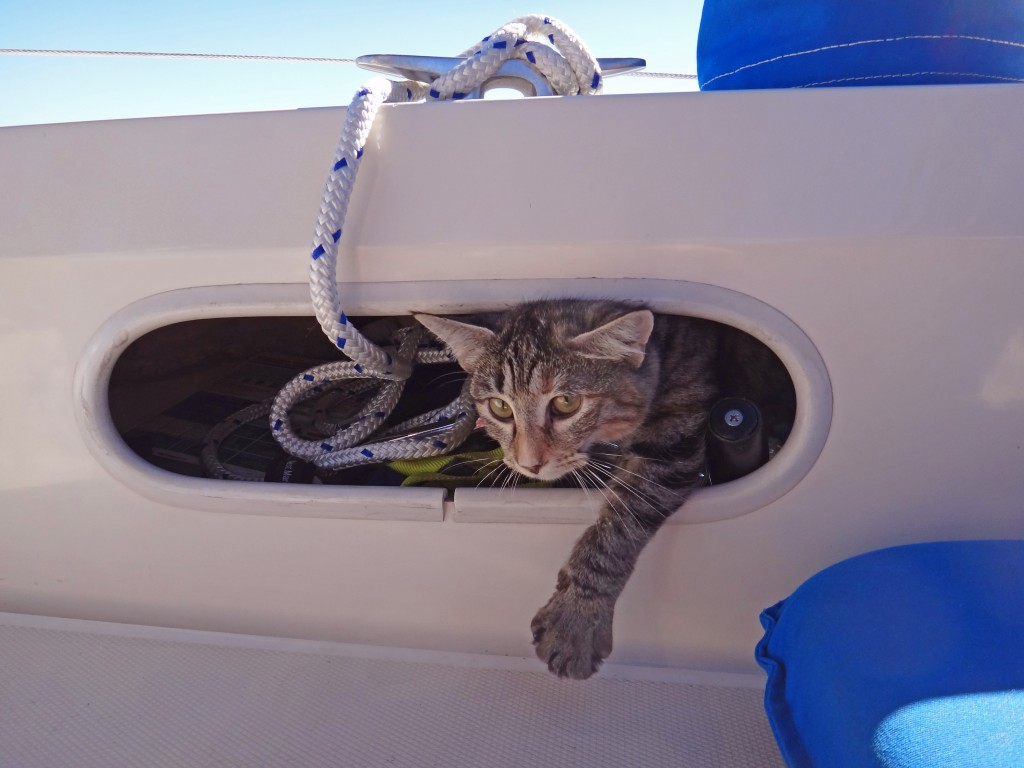 Jessica and Matt offer excellent words of wisdom for other cat-friendly mariners:
"Our advice for other sailors that want to take their cats cruising is to ease their cat into the lifestyle, but they'll soon come around. Let them get familiar with the boat before you take any big sails, and try for short passages at first. We were lucky with Georgie that she was so young and doesn't know anything else. Now she always cries to get back to the boat if we take her off.
"Also, if you're taking your cat into another country, make sure to check the regulations of bringing a pet in. Most just require an up-to-date health certificate, but some can be much more strict." (This is excellent advice to any yachtsman or catperson!)
So for mariner Georgie, it's all paws on deck, and with a cat like her on board, you'll never be in the doldrums!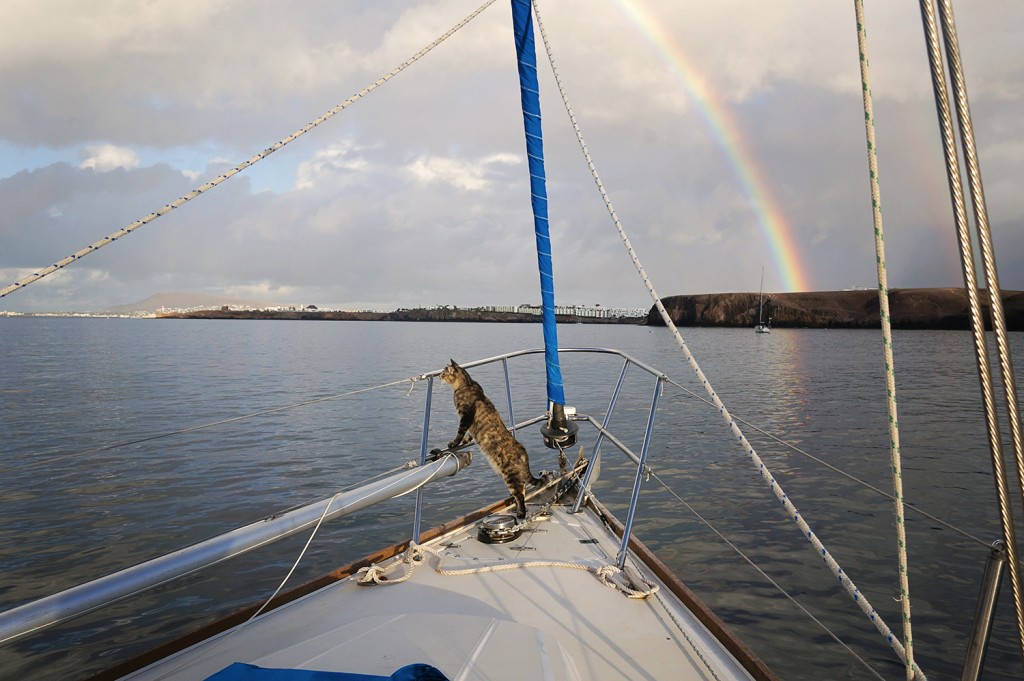 ---
Scroll through the gallery at the top to see more gorgeous photos of Georgie.
Follow Georgie, Jessica and Matt's adventures on their blog MJSailing.com, and find them on Facebook,  Twitter and Instagram. Don't Georgie's travels make you want to get your paws wet?
All photos courtesy of Jessica and Matt Johnson.