Rebecca Browning is an avid mountain biker, and she's brought her cat Lyra along for the ride since she was a kitten.
"When I started to take Lyra mountain biking with me and saw how much she loved it, I knew we needed a better pack," Browning said. "I looked around on the market, but everything I saw was designed for dogs and was way too big — or just stiff and bulky."
So Browning decided to design her own pack that would fit her specific needs.
She tore apart an old backpack, found some scrap fabric and got to work.
"It was a very rough prototype," she said. "However, it met my goals for a cat pack — it was lightweight and had a storage pocket and space for a hydration bladder."
Thus, the Lyra Cat Pack was born.
A pawsome pack like no other
She and Lyra used their "purrsonalized" prototype pack for a couple of years before Browning decided to produce an official version of the backpack.
When she was biking, hiking and camping with her cats — the fluffy Lyra and a bengal named Linus — her pack caught the eye of other adventure cat owners who wanted one of their own.
Why? Because while there's no shortage of cat backpacks on the market today, there's not remotely one like the Lyra Cat Pack.
"It's more like a high-end hiking pack than a bulky cat carrier with straps," Browning explains. "Long story short, I couldn't find all the features I wanted in an adventure cat pack, so I made it the way I wanted it."
Here are the features that make it so unique:
Padded shoulder straps, an adjustable sternum strap, and a padded hip belt to make the back comfortable and stable whether it's worn on the front or back
Waterproof, adjustable cat shelf that allows for cats of various sizes and sitting styles to rest comfortably
Top mesh panel that can be opened, closed or removed
Leash clip and optional mesh bungee collar
Zipped compartment to hold a hydration bladder + hydration tube clip
Optional rainfly to keep kitty dry 
Plenty of storage, including a compartment beneath the cat shelf, two mesh side pockets, and zippered pockets on the hip belts
"I love the Lyra pack, because it's the perfect weight and size and has sturdy, yet lightweight textile," says Sandra Samman, who says she's spent about $500 on various cat backpacks that just didn't cut it. "Most backpacks are so big and bulky or uncomfortable and lacking in back and shoulder support."
The Lyra pack, on the other paw, fits Samman's needs — and her cat Denali's, too. Just take a look at them below.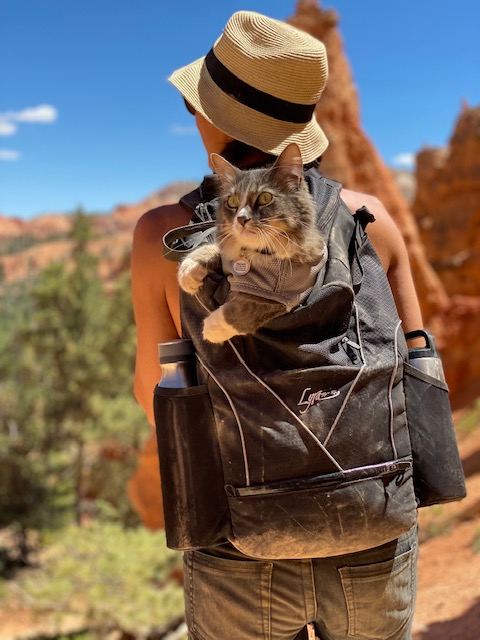 "Denali loves his Lyra pack," she says. "When I get it out he runs to it. I've done 12-mile hikes with him in it, and I have no back or shoulder pain. Plus, it also doesn't scream cat pack, so you can sneak your kitty in places."
Purr-os and cons of pet product design
Of course, when it comes to designing your own pet product as an individual, there are going to be some challenges.
"Although I had a working prototype that I was using and had modified along the way for my personal use, what worked great for my cat didn't necessarily work great for all cats," Browning says.
Related: Get your paws on our favorite cat harness.
"Once I took the pack to a few product testers, I found that it required some redesign and refining to work better for other cats. And just when I would think I had incorporated some good feedback and was done, I would hear from someone else that it just wasn't quite right. I asked my product testers lots of questions and listen carefully to their feedback, and then I would hide out in my studio and come up with a solution that worked."
This attention to detail and dedication to giving people — and their adventure cats — what they want paid off though.
"I have found so many drawbacks with other packs," Samman says. "Most of them are so big and bulky. Most are uncomfortable and lacking in back and shoulder support. I had a bag that would give me shoulder and back pain. I have also found not-so-bulky ones, but they are flimsy and fall apart. Plus, the lack of shoulder/back support is still an issue."
Denali has his favorite featues as well, according to Samman. He particularly enjoys the adjustable shelf, so he can sit down in the pack or ride atop it. And the rainfly certainly comes in handy, keeping Denali's silky coat dry no matter how much it rains.
And seeing people enjoy the great outdoors with their feline friends in the Lyra pack certainly makes all Browning's work worthwhile.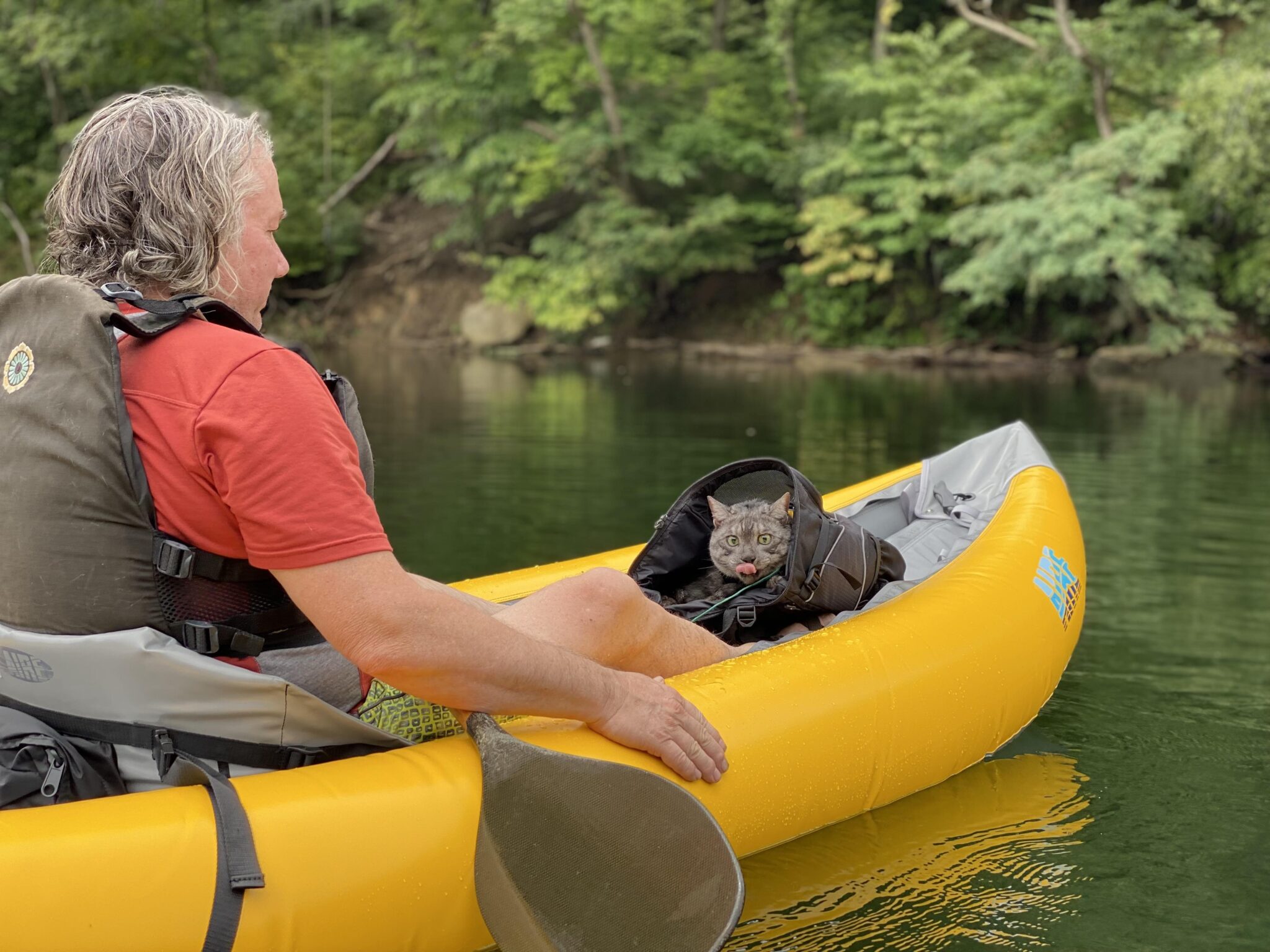 "The rewarding part is easy: seeing the enthusiasm and excitement from end users," she says."I created the backpack for my own personal use and never intended to make it a business. It was the excitement from cat enthusiasts wanting their own pack that led me down this road."
How do you pick out your own cat backpack?
With all the research and product development Browning has done, she was the "purrfect" person to answer this question.
"Know what you want, and weigh the features available out there. Some packs are designed more as cat carriers with backpack straps, and they don't fit snugly to the wearer's body when the cat is on board.
"Some are designed for commuting and city life. Some can carry more than one cat at a time, but think about if you really want to carry the weight of both of your cats at once. Mine together weigh 25-plus pounds!
Some are designed for dogs and work OK for cats—but they weren't purpose-built for cats. And some have a big plastic bubble window that adds a lot of weight to the pack itself.
I designed the Lyra Cat Pack to meet my own personal needs, but my design has evolved to meet the needs of various adventure cat owners. The Lyra Pack can be used as a backpack cat carrier, but it is so much more. It is lightweight, it is versatile, it holds the kitty load close to the human's center of mass, and it allows the wearer ample mobility when wearing it. It feels like a pretty typical hiking pack — but with the added benefit of being able to take your feline companion along on your adventures with you!"
Related: Here's everything you need to know about hiking with your feline friend.