When your adventure partner is of the feline variety, your excursions are very different from most people's outdoor experiences.
While others may measure their trips numerically — in times, distances and difficulty ratings — these figures are impossible to attach to say, a camping trip with your cat. However, there's undeniable value in adventuring with a cat. Engaging with a feline in nature provides a unique experience that can't be measured — and that can't be replicated during excursions with canines or humans alone.
Those who haven't watched their kitty blink into the sunshine, sniffing fresh air for the first time; those who haven't followed behind a cat as he sets the pace for a hike; those who haven't sat perfectly still, straining their ears for the forest sound that's captivated their kitty — they don't know about catting.
Indeed, even the most seasoned adventure cat owner may not be aware this terms exists. However, it's an idea they're surely familiar with. It's likely that difficult-to-define thing that draws them back into nature again and again with their kitty in tow.
What is catting?
"Catting is putting your human agenda away, having no expectations or destination. Your job is to follow, protect, keep safe," said Craig Armstrong, whose climbing kitty, Millie, is unquestionably one of the most famous adventuring felines.
"Your reward is experiencing nature at a slower pace, from a different perspective, in a new light. Observe, protect, enjoy, and be led to new discoveries you likely would have missed otherwise," he told Adventure Cats.
Armstrong's friend Zac Robinson coined the term "catting," which evolved organically just like catting trips themselves.
According to Armstrong, both the word and the catting excursions he and Robinson take their cats on "sort of just happened."
When he first started bringing Millie along on his climbing trips, Armstrong said the experience could be stressful because his cat is a natural wanderer with little interest in trivial things like human plans, routes and timetables. While some felines — such as Robinson's cat, Kenneth — may instinctively stick close to their owners, Millie is undeniably a roamer.
"I have no doubt she would return to camp, but there are just too many wild things that could off her so I have to follow and keep her safe," Armstrong said. "When I was climbing, I'd have to attach her to my bag, and she'd meow a lot. Getting to the wall was slower because I go at her pace so as not to stress her out."
After a couple trips like this, Armstrong and Robinson decided to change things up a bit and see how their cats responded.
They planned a trip, "just to climb something easy with the cats." They went bouldering in Utah's Moe's Valley and then did the route 1,000′ of Fun in the southern San Rafael Swell. Millie and Kenneth kept up, climbing the routes cleanly.
Then Armstrong and Robinson took their kitties through some slot canyons.
"Slot canyons are not as technical as climbing, so we tried an easy one, then a more technical one, then harder and harder," Armstrong said.
"It's a lot of fun. Slow going, beautiful, challenging — some great days. But also stressful for us and the cats. They just want to roam, explore, chase lizards. They don't want to go through a canyon with water hazards and multiple rappels."
So Armstrong's kitty-climbing trips began to change even more.
"The flow of a trip just naturally evolved: an objective day one, then just chill and let [the cats] explore day two. Hence catting was born."
The benefits of catting
On catting days, Millie and Kenneth take the lead, and it's up to Armstrong and Robinson to simply follow behind and ensure their fur babies stay safe.
Letting a feline set both the pace and the course may sound far from ideal for many adventurers. After all, outdoor excursions are often about reaching a breathtaking destination or challenging your body to perform. When a cat is your tour guide, you likely won't be getting the selfie backdrop you envisioned or setting a new personal record.
However, catting offers benefits all its own. Most importantly, it enables you to experience nature in an entirely new way.
"You get lower to the ground, you move slower, you notice things [your cat] checks out that you would have walked right past," Armstrong said. "You get off the trail and find little gems you never would have seen. You sit in the shade and relax. Mostly, you slow down and simply see things you would have missed and see things from a different slower, lower perspective."
In addition to this new perspective, Armstrong says that engaging with Millie in nature this way has also taught him that there's more to climbing than simply reaching new heights.
"It's shown me how fun slot canyons and easy long climbs are. It's taken me to places I never would have gone to otherwise, and they're amazing."
Armstrong certainly isn't alone in his catting experiences. Again and again as we talk to people who adventure with their cats, we hear references to catting even if that isn't the name everyone gives it.
"Eevee's taught me to live in the moment, to slow down and really look at things," Emily Grant told Adventure Cats. "Obviously, hiking with a very small animal is a slow going thing at times, but I've really come to appreciate this."
"Hiking with your cat definitely keeps you humble and therefore much more attuned to your surroundings — to slow down and soak it all in," said Erin Verplaetse. "Cats are such curious creatures that want to look closely at everything. We aren't taking her for a hike — Quandary is going for a hike, and we are lucky enough to be trailing her. This can be a disadvantage if your definition of a hike is based in human parameters as opposed to those of the feline world."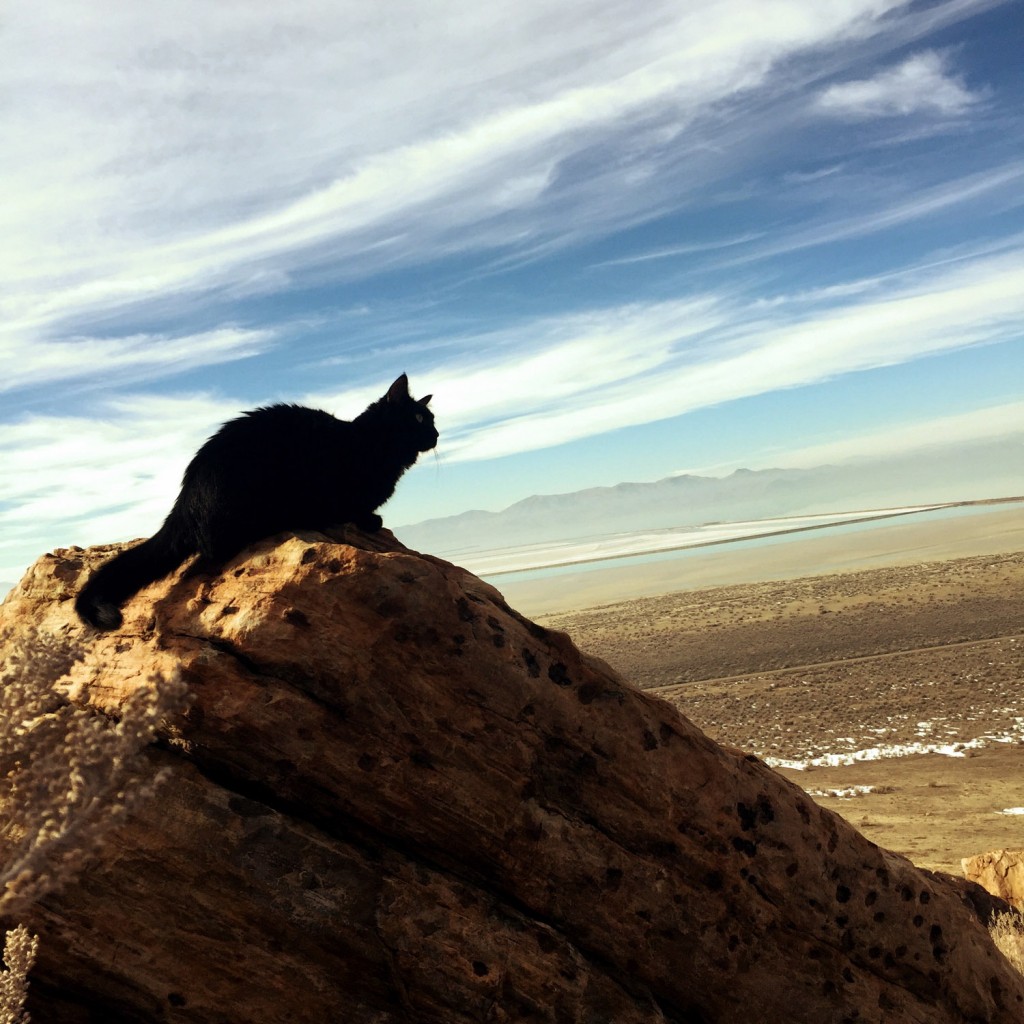 Adventure cat tips from Craig Armstrong
Go slow. Mitigate your cat's escape routes at first. In the beginning I'd take Millie to a tiny island in a pond at a local park. I only had to guard the bridge for her escape. This way she could explore outside safely, but not get scared and bolt off and never be found.
Don't stress them out. Don't put them on leash and try to force them to follow you at all times. Give them time to go their own pace, slow. Be ready to sit and rest, observe, not moving from time to time.
Take LEDs to put on them at night, and keep these on all night in case you have to exit in emergency.
Make sure you have a safe place for them at all times and shade if they need it.
If you can get them used to riding on your shoulders that is super helpful from time to time if they're spooked, tired or you need to cover some ground.
All in all, go slow and have fun. Every kitty's an adventure kitty. Get them outside — safely.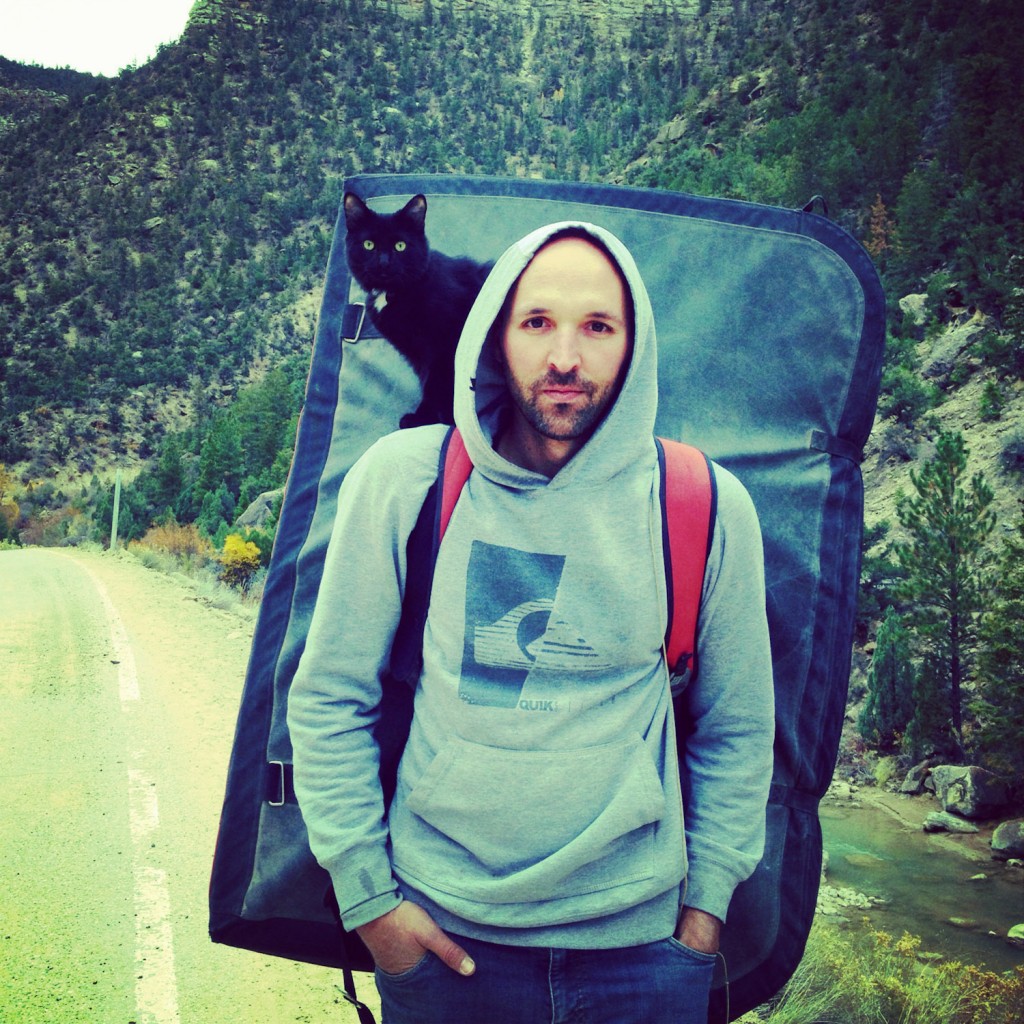 ---
Scroll through the gallery at the top to see more photos of Millie and Kenneth, and keep up with all their adventures on Instagram.
All photos are courtesy of Craig Armstong.
Save
Save