If you spend much time in the red rocks of Nevada, keep an eye out for a splash of gray among the cliffs. You just might spot Shade, a crag cat who accompanies her humans, Alyse Avery and Michael Anderson, on hiking, camping and climbing trips.
We recently spoke to Shade's adventurous owners about what it's like to climb alongside a kitty.
Adventure Cats: Tell us a little bit about Shade and what makes her special.
Alyse Avery: We adopted Shade on November 8, 2014, my 28th birthday! My partner, Michael, surprised me with her. He went to a few shelters searching for the right cat that would become our "crag kitty." He wasn't sure about Shade at first because she was already a few months old and we wanted a young kitten to train. (We love old cats, but wanted to tailor-train our new pet!) He spent some time with her, played with her and just knew she was the one. When I brought her home, she had nothing but love to give.
Two weeks later, we took her on her first climbing trip to Red Rock, Nevada. It was a very cold day, so Shade spent most of the time sleeping, zipped up warmly inside my coat. Ever since then, she has added some extra fun to our adventures. We love Shade, and couldn't imagine our lives without her. ​She is very spunky with a low meow that turns heads, but she is the sweetest cat. She loves dogs and loves to lick. No biting for this kitty — she'll lick you to death!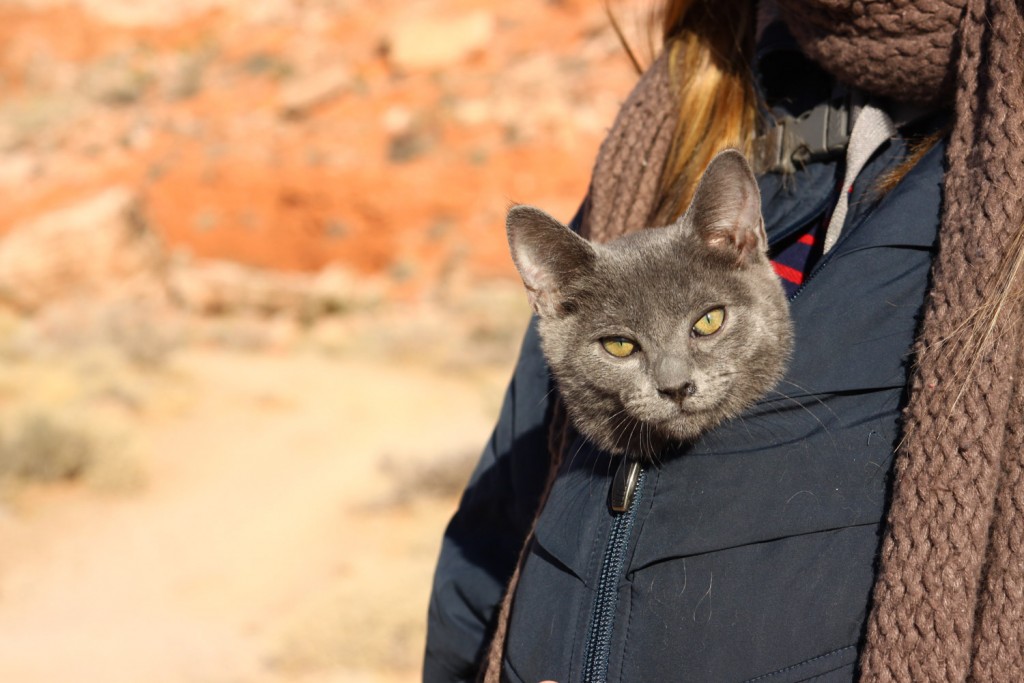 What kind of trips does Shade join you on?
She's accompanied us on hiking, climbing and camping trips. Sometimes we use a leash, but mostly we don't. If there are not many people, we let her roam as she easily finds us and returns. In some more popular places, we try to keep her close by. We had an incident in Red Rock where she left me and proceeded to walk out with another group of people. Thankfully, someone saw her and knew where I was and returned her safely.
A typical excursion for us is rock climbing in our hometown, Las Vegas. Shade tags along if the weather is right. She doesn't do very well when it's hot, and cats in general dehydrate faster than dogs.
What's the best part of adventuring with a cat?
The best part is being able to take your beloved pet on adventures with you. It's not fair that dogs get to have all the fun. I also love being able to watch her react to nature.
Are there any disadvantages?
It indeed does come with some disadvantages. We currently live in the desert, full of cacti and other hazardous plants. Shade's second adventure to Rainbow Canyon in Caliente, Nevada, brought a lot of worry and doubt about future excursions because her paws were covered with needles from the cacti! We were able to help her, but she has since learned the dangers to some of her surroundings. We bring tweezers on our trips just in case.
Another scary day was when Michael took her bouldering in Calico Basin, Nevada, and a coyote approached her. Michael said it was a big one, and he was a little ways off from Shade. He was shocked to see the animal come at Shade and for her to throw the first punch (pawed him in the face)! Fortunately, this cat does not run from other dogs or bigger animals. That made all the difference this day. The coyote was a little shocked at first, but Michael ran him off before anything serious happened. We've also had to watch out for larger predators in the sky, but not so much anymore. She weighs 12 pounds these days.
What's one of your favorite memories with Shade?
I think my favorite day with Shade was the first time we took her rock climbing. Like I said, she spent the majority of the day in my coat, snuggled up warmly against me. She got out a few times and was eager to explore, but came quickly back inside my jacket. There wasn't much adventuring, but she has such a calming effect. We want her to have a comfortable life, but she brings a lot of comfort to us too.
Did you do any training with your kitty?
Shade's training was minimal. We bought a harness and leash, but mostly trained with the harness by making her wear it during her normal activities. It had no adverse effect; she didn't even care. We have to make sure whatever we put on her is bright colored — she can easily disappear with her gray color.
The training we perform is on ourselves. It's mental. We have to learn to trust Shade. That is without a doubt the hardest part. Waiting and patience — things us humans are not well known for. She has always returned, and we have had to learn to trust her with that. I can get very nervous when she goes out of sight, but she usually is resting under a bush or even climbs ahead of us and waits for us to send a route.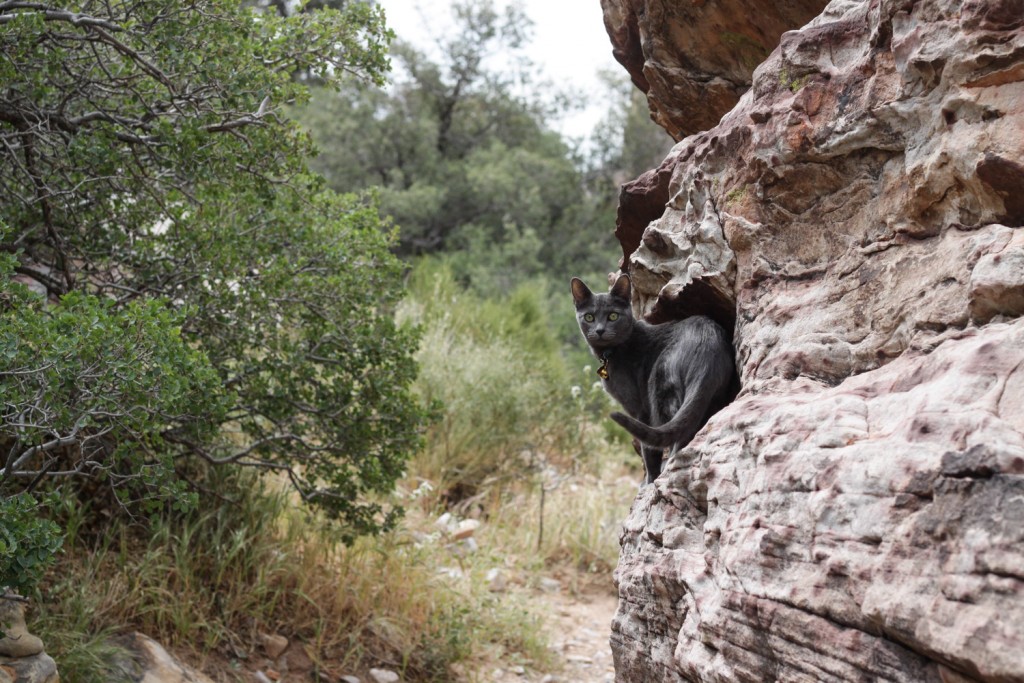 What kind of safety precautions do you take?
She has a few bright colored harnesses, light green and fuchsia. They are only necessary if we need to grab her quickly or to spot her in the brush. She's a good climber and is very careful when coming down too.
Most of the time, the safety concern is for other people with pets. Shade does very well around other dogs. She won't run, but there have been a few times I've sensed some aggressive dogs approaching and either zipped her into my coat or rope bag.
Where do you tend to adventure?
Our current home crag, Red Rock in Las Vegas, is an amazing place, but the more popular areas seem to make us a bit nervous. Therefore, we like to take Shade to more isolated places that are less often traveled: Rainbow Canyon near Caliente, Nevada; Keyhole Canyon, south of Vegas; and other smaller areas near Vegas. We're heading to the Southeast in December, and already have a few places in mind that Shade would love. She has yet to adventure near a waterfall.
What advice do you have for people who are considering taking their cats into the great outdoors?
Adventure cats, snugly as they may be, require different types of attention. Don't expect to take your 7-year-old cat out to Yosemite and expect everything to be fun and exciting. It could be dangerous, and you have to know your cat well. We have two other cats who are indoor/outdoor pets, but that's as far as they will go with us.
If you do want to try life with an adventure cat, our luck came from adopting. Shade was rescued from a cat hoarder and taken to a local shelter, and we brought her into our life of adventure. She adapted well, but part of it was the attention, time and patience we gave her.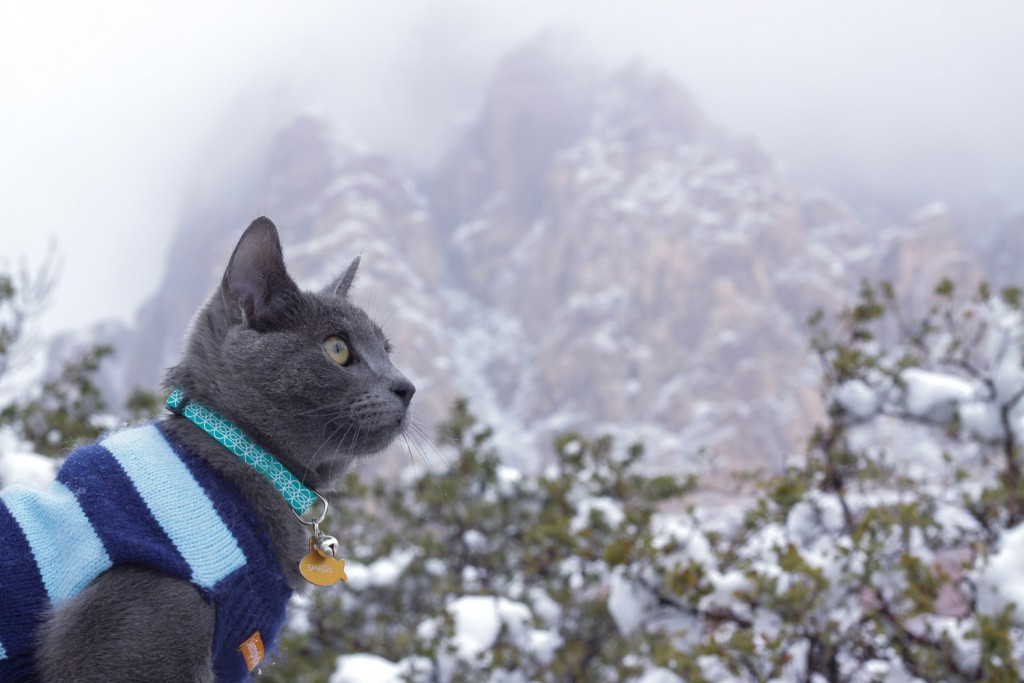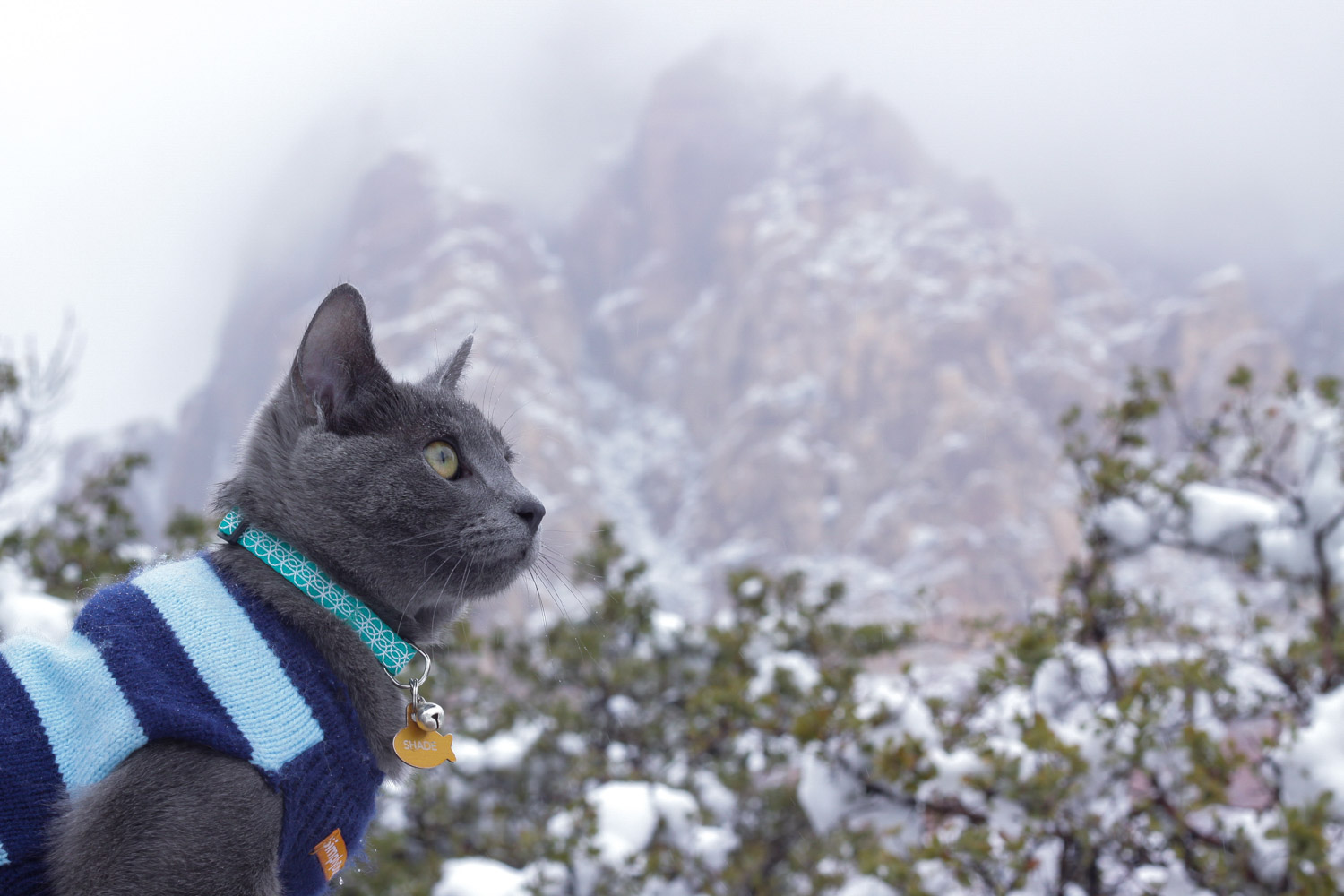 ---
Scroll through the gallery at the top to see more photos of Shade, and keep up with all her adventures on Instagram.
All photos are courtesy of Alyse Avery.