Here at Adventure Cats we understand that our feline friends need much more than simply a litter box and a catnip mouse in order to live nine lives to the fullest. The kitties we share our homes with are truly tiny house panthers who require their own space and plenty of engagement to be happy, healthy and active.
So we were so excited to get our paws on Mac Delaney's new book, Engineering for Cats: Better the Life of Your Pet with 10 Cat-Approved Projects.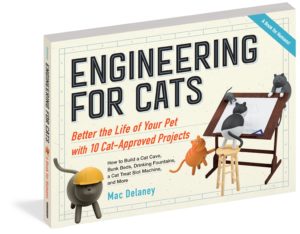 In this inventive and wonderfully illustrated guide, Delaney — who's an aerospace engineer — provides readers with ten projects that solve common problems that affect cats and their owners.
For example, cats require vertical space to feel safe and secure in their environment, so Delaney provides detailed instructions on how to erect a cat shelf in your home.
Is your kitty not drinking enough water? Dehydration is a common issue in felines that can easily be remedied by introducing moving water to your home, so Delaney outlines two different types of fountains you can construct that will encourage your kitty to drink up.
Is your cat constantly sinking her claws into the couch? Build a cat cave (<— get the step-by-step instructions!) like the one featured above. It has angled surfaces for optimal scratching, a curved top for ergonomic lounging and a carpeted interior for that's purrfect for napping.
All the projects in Engineering for Cats — from a cat-treat slot machine to a drawbridge cat door — have been tried, tested and approved by Delaney's own cats, Nellie and Pepe, and the plans are ranked in terms of difficulty so you'll know what you're getting into whether you're an expert or a novice when it comes to kitty crafts.
Purchase your own copy of the book and get work — your house panther will thank you.
Excerpted from Engineering for Cats: Better the Life of Your Pet with 10 Cat-Approved Projects by Mac Delaney (Workman Publishing). Copyright © 2018. Illustrations by Mac Delaney.