This article was originally published in October 2015 and has been updated to reflect the latest news and trends.
Selecting the best cat harness is an important part of equipping your adventure cat for the great outdoors. A well-fitting harness will keep your kitty safe and comfortable when walking, hiking and participating in other outdoor recreation on a leash.
Harnesses are particularly important because it's unsafe to attach a leash directly to a cat's collar. Unlike dogs, cats have soft throats and can choke if walked this way.
But with so many harnesses to choose from, how can you select the best cat harness?
The first step is understanding the three basic cat harness styles on the market:
H-harnesses or leads comprise a few straps attached to a leash.
Vests cover more of the cat's body and can slip over the head or clip around the neck. Some types of vest harnesses are also known as step-in harnesses.
Jackets provide greater coverage of a cat's body and resemble little pieces of clothing.
H-harnesses or leads
These harnesses are strappy and provide the least amount of coverage. They connect at the cat's neck and back to evenly distribute pressure, and they come in a variety of sizes.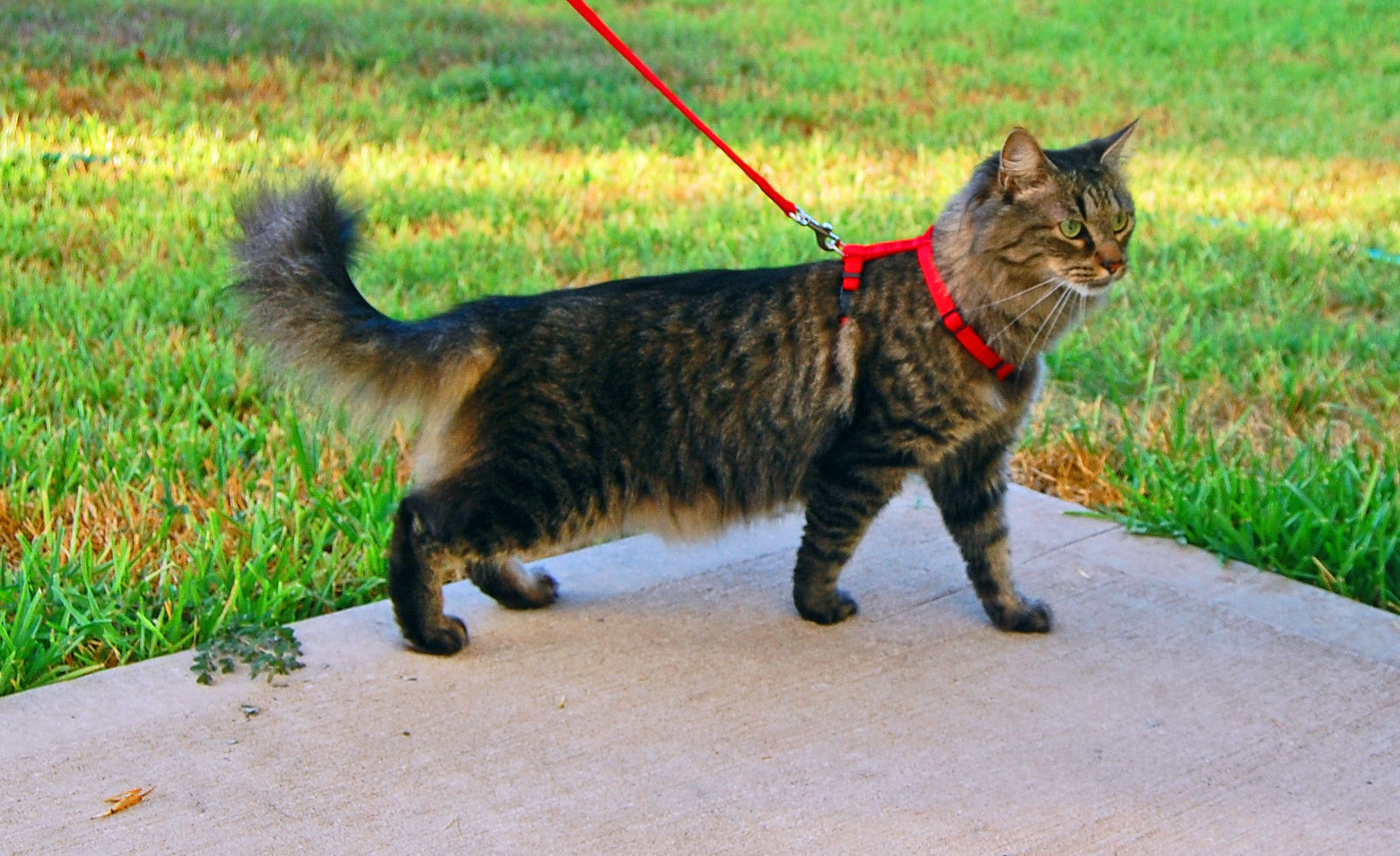 The Come With Me Kitty Harness, which is available in a number of colors and sizes, has been a popular type of cat harness for several years largely because of its wide availability. In fact, until the last few years with the "pawpularity" of adventure cats, it was likely the only cat harness you could find in your local Petco or PetSmart.
Like other types of H-harnesses, the Come With Me Kitty Harness can be adjusted at both the neck and the waist to achieve the desired fit.
Many cats like minimalist H-harnesses because they cover less of the body, making them comfortable to wear and walk in.
However, one major downside to these harnesses is that some cats are able to easily slip out of them, so be sure they fit snugly and get lots of practice indoors before taking your cat outside.
Best cat harness: Vests
Walking vests provide more coverage and pressure distribution than H-harnesses. They're typically made of a mesh material and can be a good choice for cats who pull a lot during walks or for flexible felines who may wriggle out of a lead and scamper away.
One of the most popular types of vest cat harness is the RC Pets Adventure Kitty harness, which was designed specifically for felines. It's made of air-mesh fabric with reflective binding and comes with a matching 6-foot leash.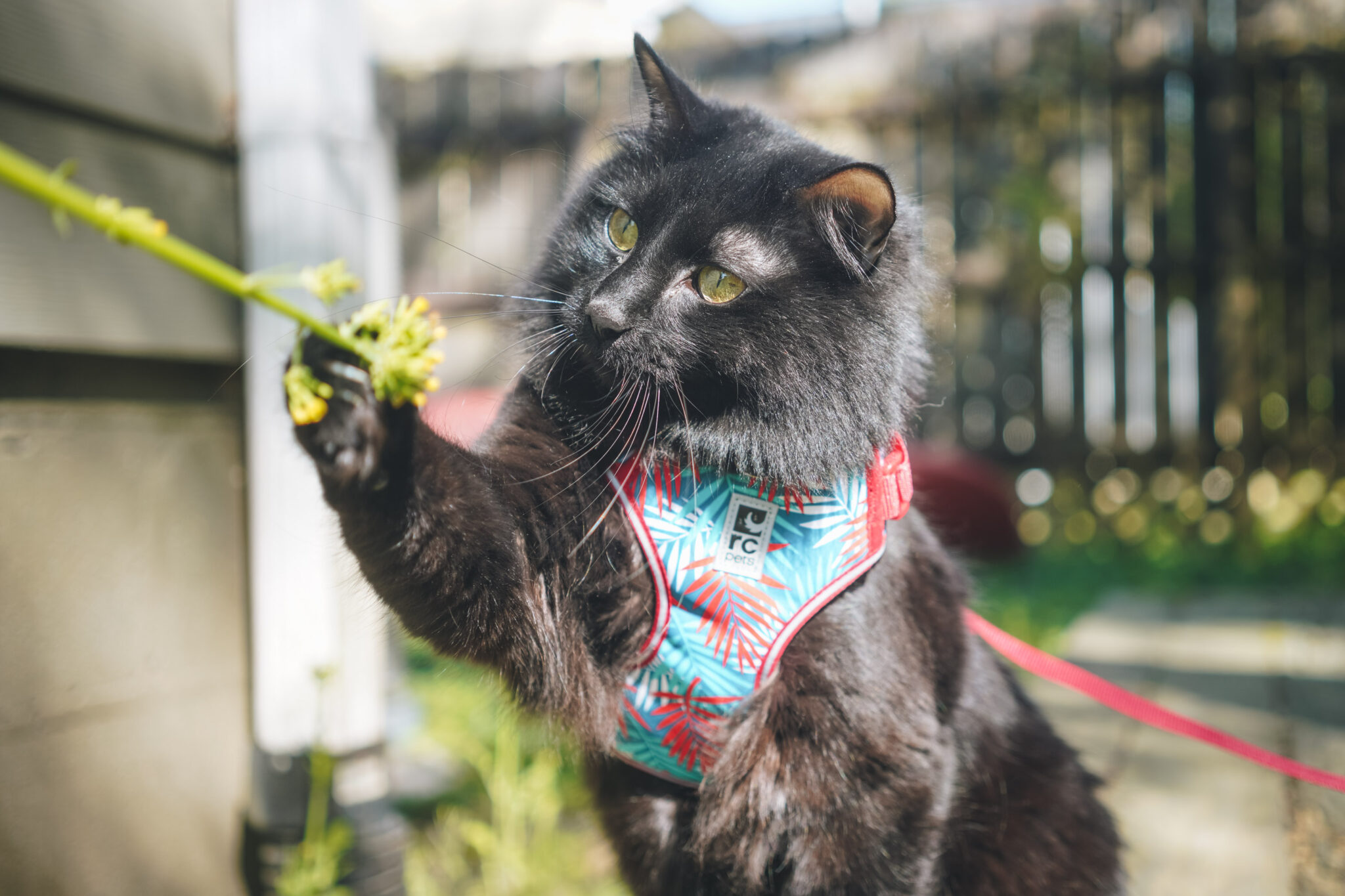 Its original design went over the cat's head and adjusted at both the neck and waist, but as of 2021, all Adventure Kitty harnesses feature a clip closure at the neck as well. This makes it easier to slip the harness on and get the right fit.
While there are numerous vest-like cat harnesses on the market today, many felines still don vest harnesses designed for dogs. For example, Yuki wears a Puppia harness made for a small dog, and her human, Nathalia Valderrama Méndez says it's the only harness she's ever used.
"We think it's perfect for her being such an active kitty as it doesn't restrict any movement," she told Adventure Cats. "It's also nice because it's a soft mesh material that doesn't suffocate nor overheat her when hot. We did thorough research on harnesses for cats before purchasing and we're really happy with it."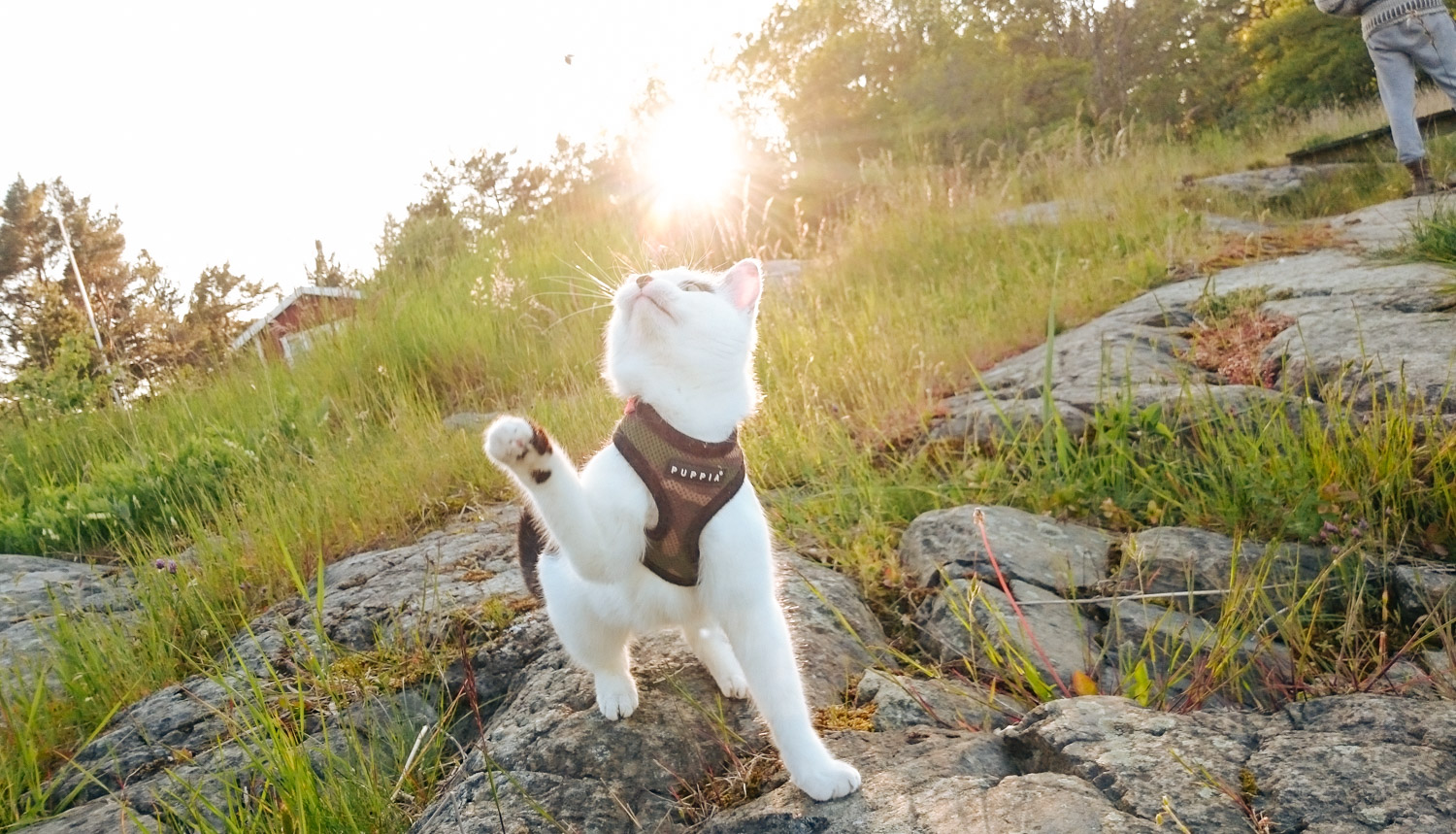 Jesperpus, an adventure cat in Norway, also rocks a Puppia harness, and Adventure Cats founder Laura Moss says her cats used them for several years.
"It may be meant for small dogs, but I like Puppia dog harnesses just fine if they fit a cat comfortably" she says. "However, it's not a great fit for every feline because it adjusts only in the waist area, not the neck. Plus, some cats don't like putting their heads through these types of harnesses."
If you're a fan of Puppia products, the brand also makes cat-specific harnesses under the brand name Catspia.
Some cat vests are also known as step-in harnesses because they're designed for cats to simply step into them and then have the front of the harness slid over their heads. Cat Boutique Roar recommends the Voyager harness, but advises that it be used "only for cats who are more experienced explorers due to the limited adjustability features."
Best cat harness: Jackets
Jacket-like harnesses cover much more of the cat's body and can provide an even better fit for some cats.
One of the most popular ones that's been on the market for years is the Crazy K Farm Kitty Holster Cat Harness, which feline behaviorist Jackson Galaxy himself recommends.
Kitty Holster harnesses are made with easy-to-secure Velcro and come in four sizes, which makes outfitting your cat simple. They're also available in countless patterns, guaranteeing that your furry friend will be both fashionable and comfortable.
However, keep in mind that cats who are sensitive to the sound of Velcro may be uncomfortable in this type of harness.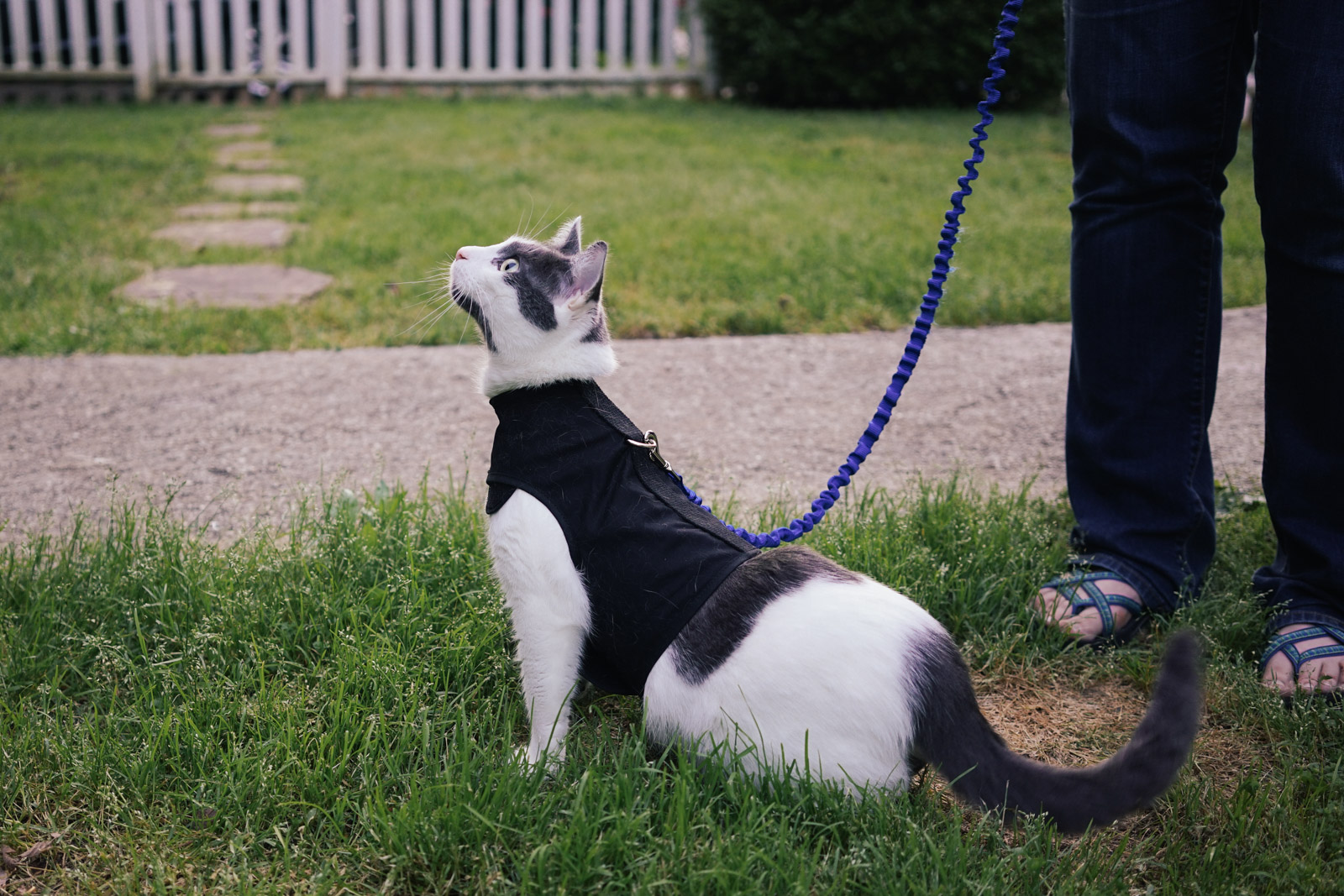 One of Moss' cats, Fiver, prefers the Kitty Holster to other types of harness. Doesn't he look "pawsitively" dapper?
How to fit your cat harness
Regardless of which harness style you choose, fit is the most important factor, both in terms of preventing escape and making sure your cat is comfortable.
According to veterinary website Drs. Foster and Smith, measuring your cat for a harness is simple: "Take your cat's girth measurement snug against her fur, and then add 2 inches to 3 inches to that measurement for comfort."
For best results, use a cloth measuring tape and use it to measure your cat's neck, as well as his chest or girth. Using these two measurements determine the right size harness based on the product's sizing instructions.
The best cat harnesses have sizing instructions so you can achieve the right fit. For example, the RC Adventure Kitty harness, which is available in the Adventure Cats store, features an easy-to-use sizing chart. (And if by chance your harness isn't the right fit, you're welcome to return or exchange it.)

If your cat is between sizes, we recommend sizing up instead of down and then adjusting the harness to get a custom fit.
You want the harness to be snug, but not too tight. You want your cat to be able to walk comfortably with no movement restriction, but you also don't want her to be able to wriggle out of the harness.
As a general rule, you should be able to fit a finger or two — but not more than that — under the harness.
All harnessed up and ready to go
Once you've selected the right harness and fitted it properly, you can begin to train your cat to join you on all sorts of outdoor adventures. Remember to keep your adventures inside though until you've ensured your cat is secure in the harness and he's comfortable walking around it.
Also, before you take your cat outside, please familiarize yourself with these adventuring best practices.
Soon with a little patience and some "pawsitive" reinforcement (a.k.a tasty treats), your feline friend will be ready to join the ranks of Adventure Cats.
---
Inset photos: (cat on lead) Wikimedia Commons, (cats in walking vest and jacket) Cody Wellons, (Yuki in Puppia harness) Nathalia Valderrama Méndez