When the Schilling family heads out on an adventure — whether it's to the beach or into the bush — their 3-year-old tabby, Yoshi, is often in tow. And when they're at the lake, Yoshi is often quite literally in tow because, believe it or not, this kitty loves to go tubing.
How did a cat end up riding the waves behind a boat? Kristy Schilling, one of Yoshi's owners, says she suspects it's the bond Yoshi has developed with the family because he's been by their side — both indoors and out — since the day he was adopted.
From kitten to 'catventurer'
The Schillings have always been a cat family, and when they were living in Canada, they had a cat that was growing up alongside their son, Thomas.
"We had every intention of bringing the cat with us for the move from Canada to Australia, but unfortunately he fell ill about six months before and had to be put down," Schilling said. "Our son was 5 at the time and was devastated, but after a few years of living here in Australia, and with the purchase of a new house, Thomas, then 8, was nagging us for a puppy."
Not long after that, Kristy and her husband, Peter, saw an adoption sign at their local vet. They stepped inside and spotted a quiet tabby kitten huddled at the back of a cage. The tiny cat walked right over to them, and Schilling said they fell in love and decided to surprise Thomas with the new family member.
"We brought him home, and our boy couldn't have been happier," she said. "Yoshi is very special because he ticks the boxes on the list of why our son wanted a puppy: a pal to cuddle with and follow him around the house and play."
The Schillings knew that Yoshi would be an indoor cat because they wanted to protect the native birds, but they also wanted to include him when they spent time in the yard, so they purchased a harness and leash. Yoshi took to the harness quickly when he realized it was his ticket to the outside world, and he soon learned to come when called every time outdoor playtime was over.
MORE: Could your cat be an adventure cat?
Most of Yoshi's adventures were backyard ones at first, but when he was about a year old, the Schillings took him on a short trip to visit a family member and were thrilled to see how well Yoshi handled the car. After that, they started including him in more of their outings, and Yoshi would look to Thomas to see how to behave.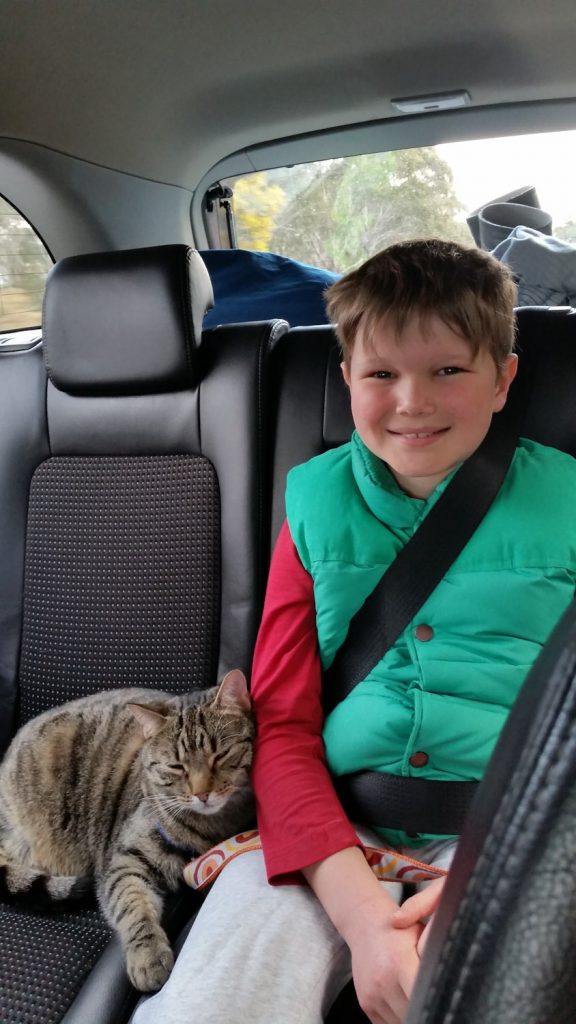 "Yoshi takes on the same relaxed attitude that Thomas does," Schilling said. "If it's a bushwalk, Thomas is very quick to climb on logs and large rocks, and Yoshi will follow keenly. When we go on the boat, there is a lot of sitting, so Yoshi will once again follow Thomas' inactive state and curl up and sleep. When we camp, he understands that the tent becomes the house, so he is happy to hang in there while we are out cooking. We always bring some comforts of home — a familiar water bowl, food bowl and litter box. As long as he knows we are there, Yoshi kicks back and relaxes."
How did Yoshi take up tubing?
Several months ago, in the heat of an Australian summer, the Schillings were out on the lake in their fishing boat. Yoshi had long ago gotten comfortable on the boat and would simply curl up for a nap or watch his family as they fished and tubed. When they jumped in for a swim, he'd keep an eye on them from the safety of the boat.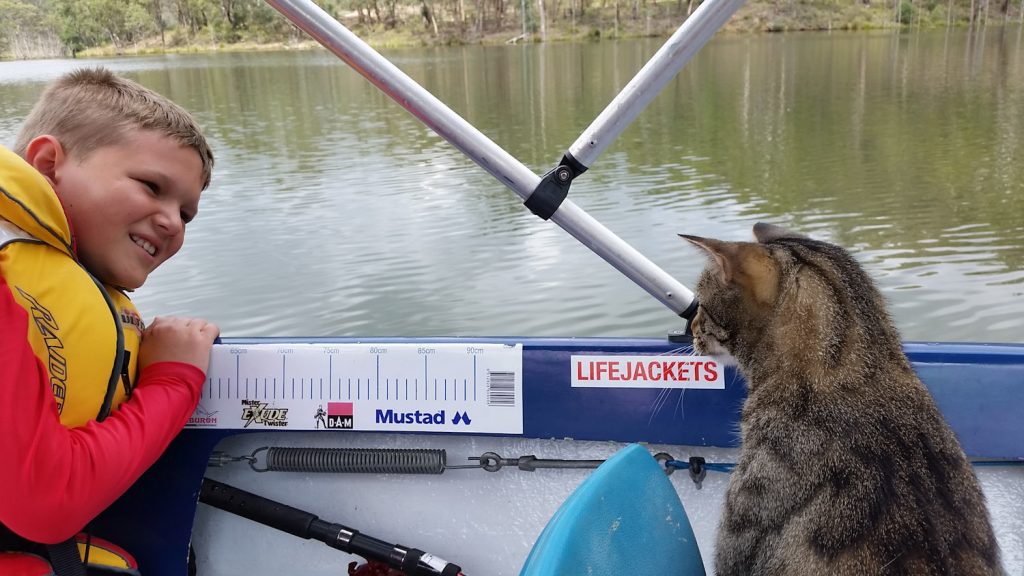 "Usually whilst we are swimming, Yoshi would be curious and look out to us, maybe meow, and we would meow back. But on one particular day, we had dropped anchor in a small quiet cove at the lake and all three of us jumped in for a swim. This time, the tow tube was tied to the side of the boat, rather than placed on the roof, and Yoshi decided he would climb on in an effort to swim out to us without getting too soaked.
"So Peter swam over and hopped on the tow tube with Yoshi and floated around a bit, and Yoshi cuddled in and loved it. So the next progression was to see if he would enjoy it with the boat moving — very slowly — and he did! So now we have a tubing kitty, and autumn has arrived, and we don't know how to break the news to Yoshi that for the next six months boating will only include fishing as the water is too cold for tubing."
MORE: The complete guide to boating with cats
Although Yoshi seems right at home both in the boat and on the tube though, Schilling says they still take plenty of safety precautions.
"We do have a floatation device in the event we have to evacuate. When we drop the anchor and swim, we stay nearby watching him. Tubing is also done with a human riding with him at very slow speeds and in an area where other watercraft are not — and near shore in the event he does decide to go for a swim. But we thoroughly checked out his actions on the tube and saw that he was very comfortable, so we do not feel that he is a flight risk whilst on board."
The adventures of Yoshi and Thomas
Schilling says there are numerous benefits to bringing the family cat along for their outings. For one, they're more relaxed knowing their kitty is safe with them and not home alone missing them.
And she says spending time in nature with Yoshi inspires the whole family to "slow down and notice the small stuff."
But the best part of taking Yoshi adventuring? "My absolute, hands down favorite part is seeing the joy it brings our son to have fun with his Yoshi," she said. "Whether it be climbing a tree or lazing on the beach, we have our own Calvin and Hobbes."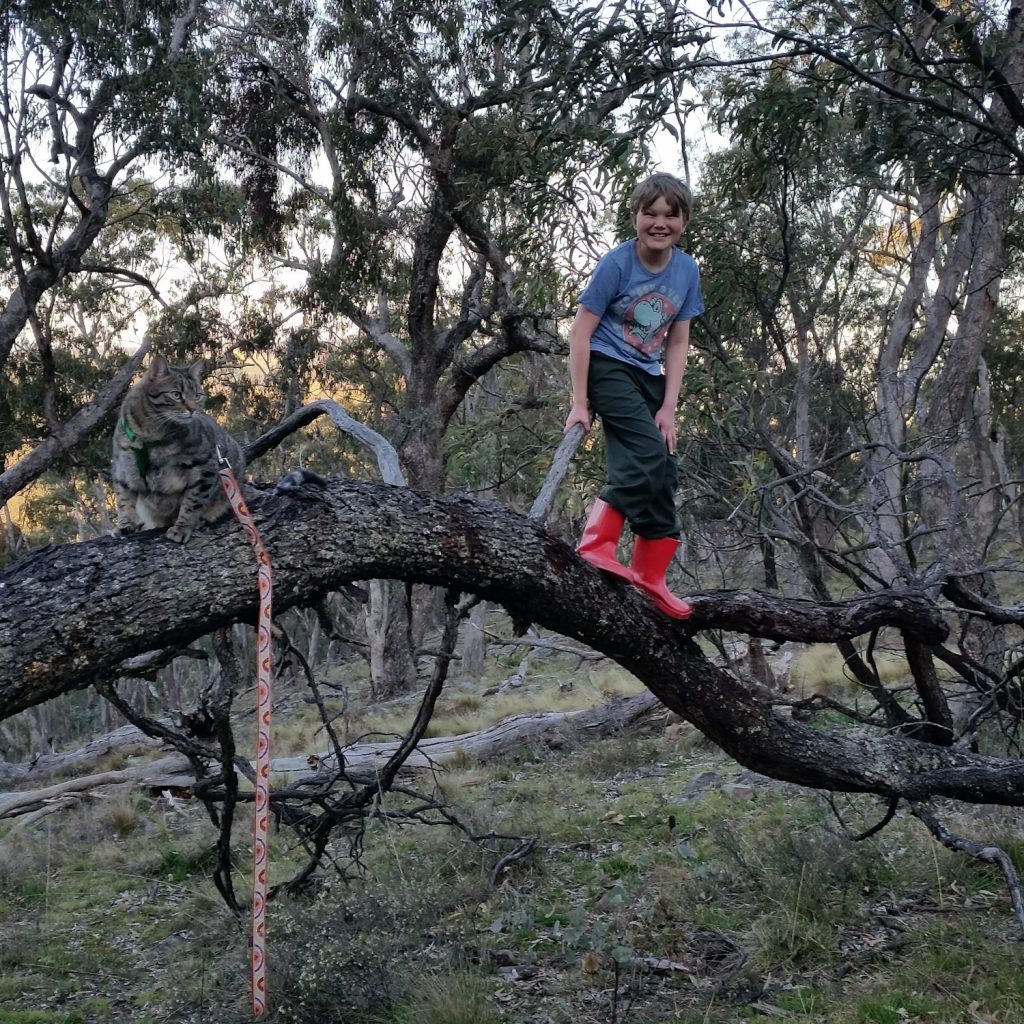 Scroll through the gallery at the top to see more photos of Yoshi, and keep up with all his adventures on Instagram.
All photos: Kristy Schilling/Caters