Selecting the purrfect harness is an important part of equipping your adventure cat for the great outdoors. A well-fitting harness will keep your kitty safe and comfortable when walking, hiking and participating in other outdoor recreation on a leash.
Harnesses are particularly important because it's generally considered unsafe to attach a leash directly to a cat's collar. Unlike dogs, cats have soft throats and can choke if walked this way.
But with so many harnesses to choose from, how can you select the right one?
The first step is understanding the two basic styles on the market: leads, which comprise a few straps attached to a leash, and vests, which are like little pieces of clothing for cats.
A standard lead fits around the cat's neck and back to evenly distribute pressure. Similar to dog harnesses, these come in varying sizes for adult cats and kittens.
The ASPCA recommends the Come With Me Kitty Harness & Bungee Leash which is available in a number of colors and three sizes. The bungee provides give for boisterous cats, and best of all, the harness and leash combo is available on many websites for under $10.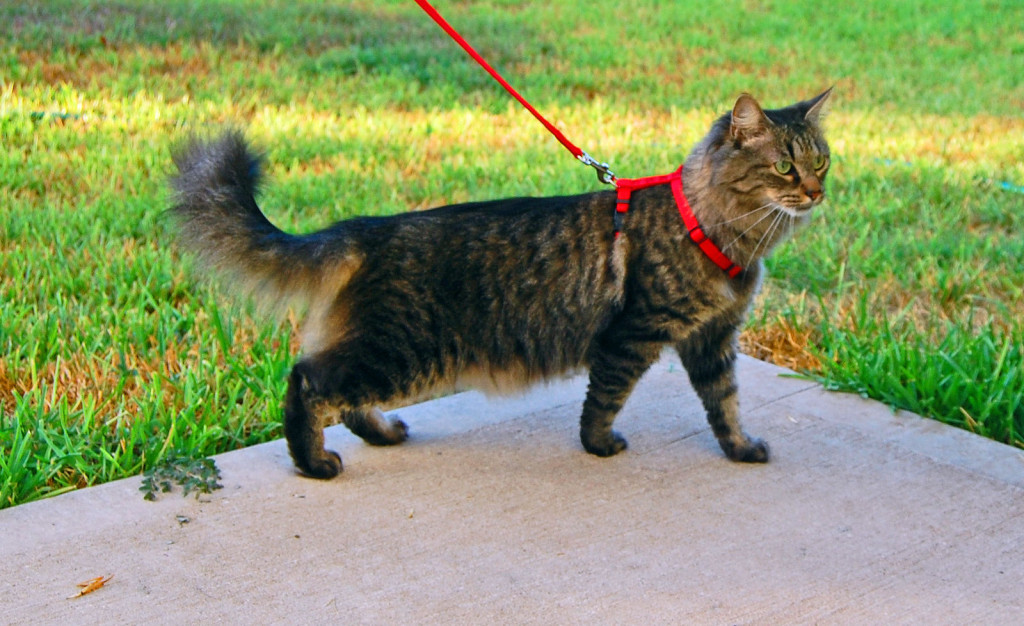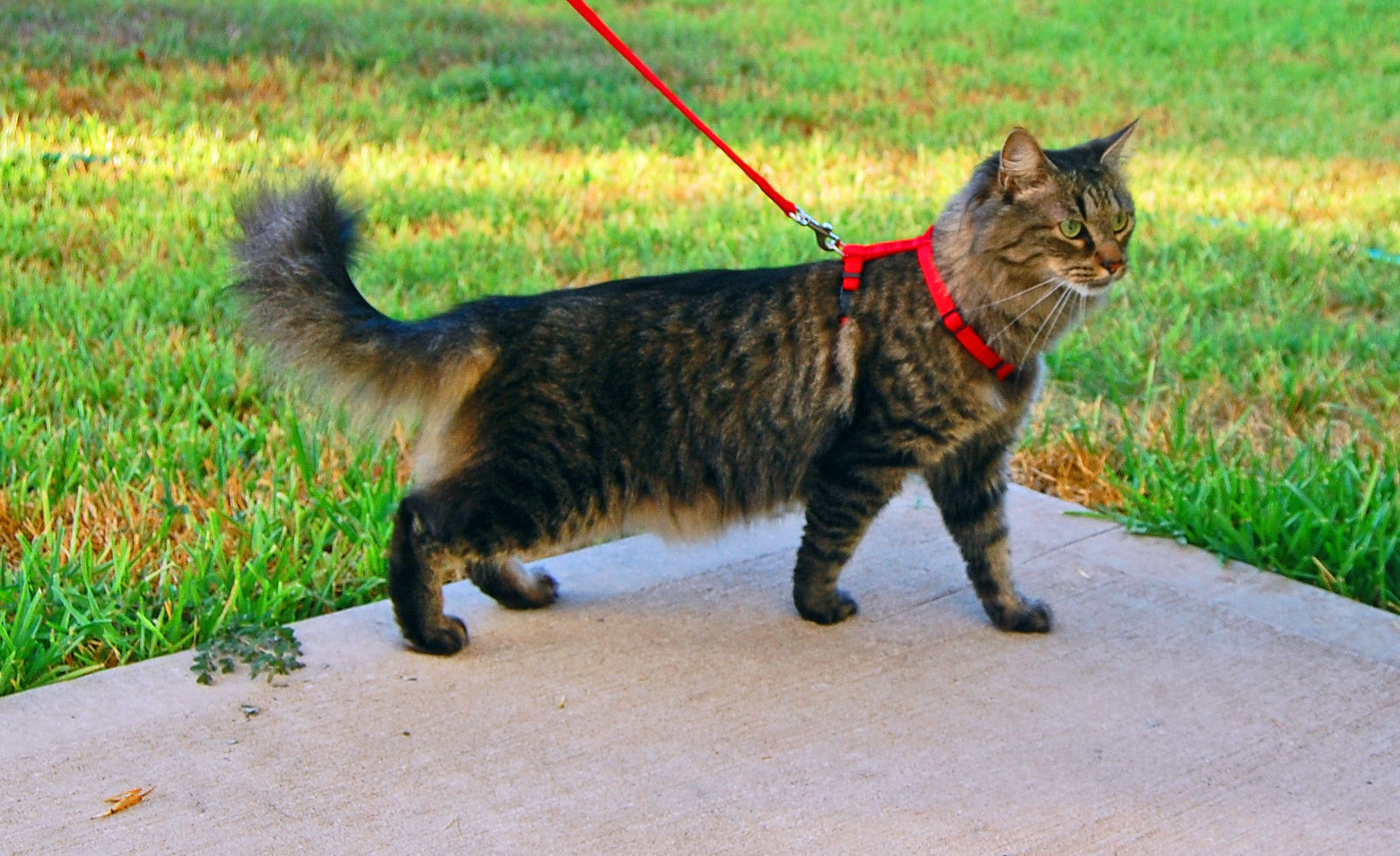 Laura Moss, Adventure Cats' co-founder, said one her cats slipped out of a lead while training in the yard, which is why she opted for a Kitty Holster walking vest (pictured below) one of two brands that cat behaviorist Jackson Galaxy recommended to The New York Times.
Walking vests — also known as walking jackets or holsters — provide more coverage and pressure distribution than leads, and they can be a good choice for cats who pull a lot during walks or for flexible felines who can wriggle out of a lead and scamper away.
Galaxy, who's also the host of Animal Planet's "My Cat From Hell," is a proponent of harness-training cats, particularly those who spend much of their time indoors.
"I believe very much in the concept of the raw cat," Galaxy says. "I believe that cats should stay true to their nature, and we can get them to do things that may be a compromise. So leash walking is a perfectly good compromise because it gets them out there."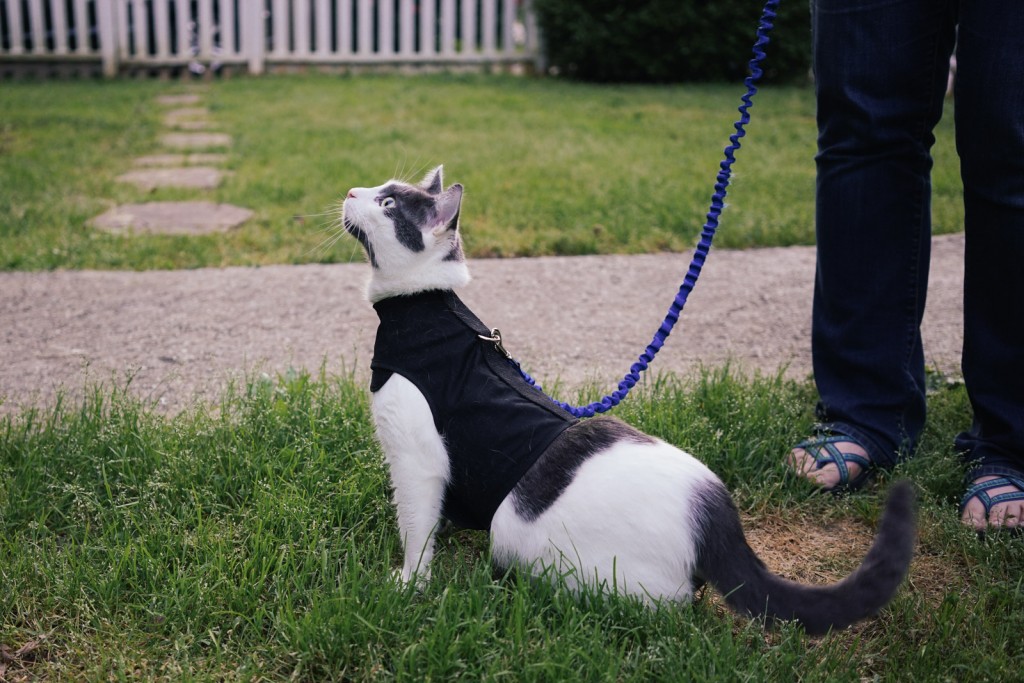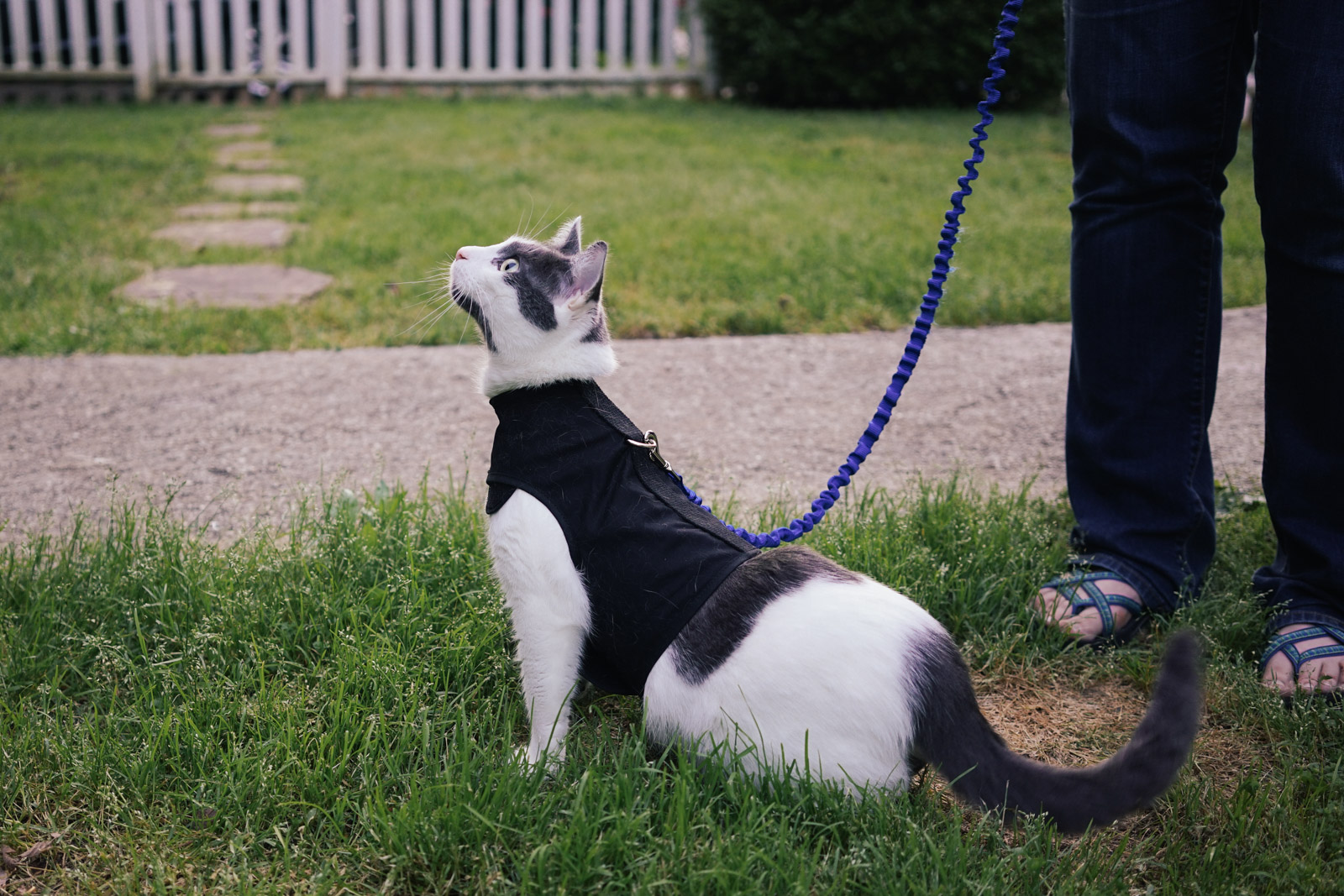 On his website, Galaxy recommends the Crazy K Farm Kitty Holster Cat Harness. The holster comes in four sizes and five patterns, guaranteeing that your furry friend will be both fashionable and comfortable.
Kitty Holster harnesses are made with easy-to-secure Velcro, which makes outfitting your cat simple. However, cats who are sensitive to the sound of Velcro may be uncomfortable in this type of harness. It can also be challenging to keep long-haired cats' fur from getting caught.
In that case, pet caretakers may want to explore vest that secure with snaps, such as the SturdiPet Walking Vest. This is a less expensive option than the Kitty Holster, but it comes in fewer sizes.
Adventure cat Yuki (pictured below) wears a Puppia harness, and her human, Nathalia Valderrama Méndez says it's the only harness she's ever used.
"We think it's perfect for her being such an active kitty as it doesn't restrict any movement," she told Adventure Cats. "It's also nice because it's a soft mesh material that doesn't suffocate nor overheat her when hot. We did thorough research on harnesses for cats before purchasing and we're really happy with it. We'd definitely recommend this harness."
Jesperpus, an adventure cat in Norway, also rocks a Puppia harness, and Moss says she recently purchased one for her cat.
"It may be meant for small dogs, but I really like this Puppia harness," she told Adventure Cats. "It fits snugly, and my cat Sirius walked normally with it on — which hasn't always been the case with other harnesses he's tried. The only downside is that my other cat, Fiver, doesn't care for having to put his head through the harness to get it on so I'm keeping him in the Kitty Holster."
Puppia harnesses are available in several styles, with a variety of colors, sizes, patterns and fasteners. The Bandit style even comes with an adorable attached hood for an extra dose of cattitude.
However, while Puppia makes harnesses especially for cats, many of the cat owners we've spoken to have actually purchased the same soft harness Méndez and Moss and referenced, which are marketed for dogs and sold in AdventureCats' store. Given the difficulty of finding a good selection of cat harnesses in pet stores, many other pet owners have also turned to the dog aisle.
"We actually use dog harnesses for Shade," said Alyse-Beth Avery. "Grreat Choice has been an easy pick — inexpensive and the sizes we have purchased fit Shade just right."
However, keep in mind that not all dog harnesses will fit a cat properly.
Regardless of which harness style you choose, fit is the most important factor, both in terms of preventing escape and making sure your cat is comfortable. According to veterinary website Drs. Foster and Smith, measuring your cat for a harness is simple: "Take your cat's girth measurement snug against her fur, and then add 2 inches to 3 inches to that measurement for comfort."
You want the harness to be snug, but not too tight. As a general rule, you should be able to fit a finger or two — but not more than that — under the harness.
Once you've selected the right harness, you can begin to train your cat to join you on all sorts of outdoor adventures. A little patience and some treats are key to helping your feline friend join the ranks of Adventure Cats.
Before you take your cat outside, please familiarize yourself with these adventuring best practices.
---
There are numerous types of leads and vests on the market. Before purchasing one for your pet, read product reviews. Also make sure the product you purchase is a good fit for your cat and test it indoors before taking your adventure cat into the great outdoors. Love your kitty's harness? Let us know in the comments.

Inset photos: (cat on lead) Wikimedia Commons, (cat in walking vest) Cody Wellons, (Yuki in Puppia harness) Nathalia Valderrama Méndez