When Georgia resident Emily Grant first laid eyes upon her cat, Eevee, she admits she was "a bit of a self-professed cat hater." But after discovering the 5-week-old tortie kitten and her three tiny siblings at a friend's shop, Grant knew she simply couldn't leave them there.
"I brought them home and right away Eevee — who at the time was simply "Kitten #3" — stood out among them. She was outgoing and adventurous from the get-go. It was never the plan to keep any of them, but there was something about Eevee that stole my heart," Grant told Adventure Cats.
By the time Eevee was 3 months old, Grant was attached to the adorable kitten, so she decided that if Eevee would take to a harness and leash, she'd keep her. "Basically, I wanted to train her to be a dog. I've always been a dog person, but when I moved in with my husband, I had to leave my dog with my mom. It's a void that I've been desperate to fill since."
To Grant's surprise, Eevee was purrfectly comfortable walking on a leash, and the two of them were soon embarking on outdoor adventures all over the Peach State. Now, Grant shares their excursions on Instagram, and with more than 13,000 followers, it's clear that her owner's heart isn't the only one Eevee has stolen.
We recently talked to Grant about her special kitty and what it's like to be a proud and adventurous cat lady.
Adventure Cats: When did Eevee begin accompanying you outside?
Emily Grant: As soon as I knew she was mine, we started going outside all the time, and my little catdog impressed me over and over. I'm actually more active now because of her. I love seeing her curiosity in action, so I want to take her with me everywhere and show her everything.
So far Eevee has joined me for lots of hikes, and we went on our first camping trip in October.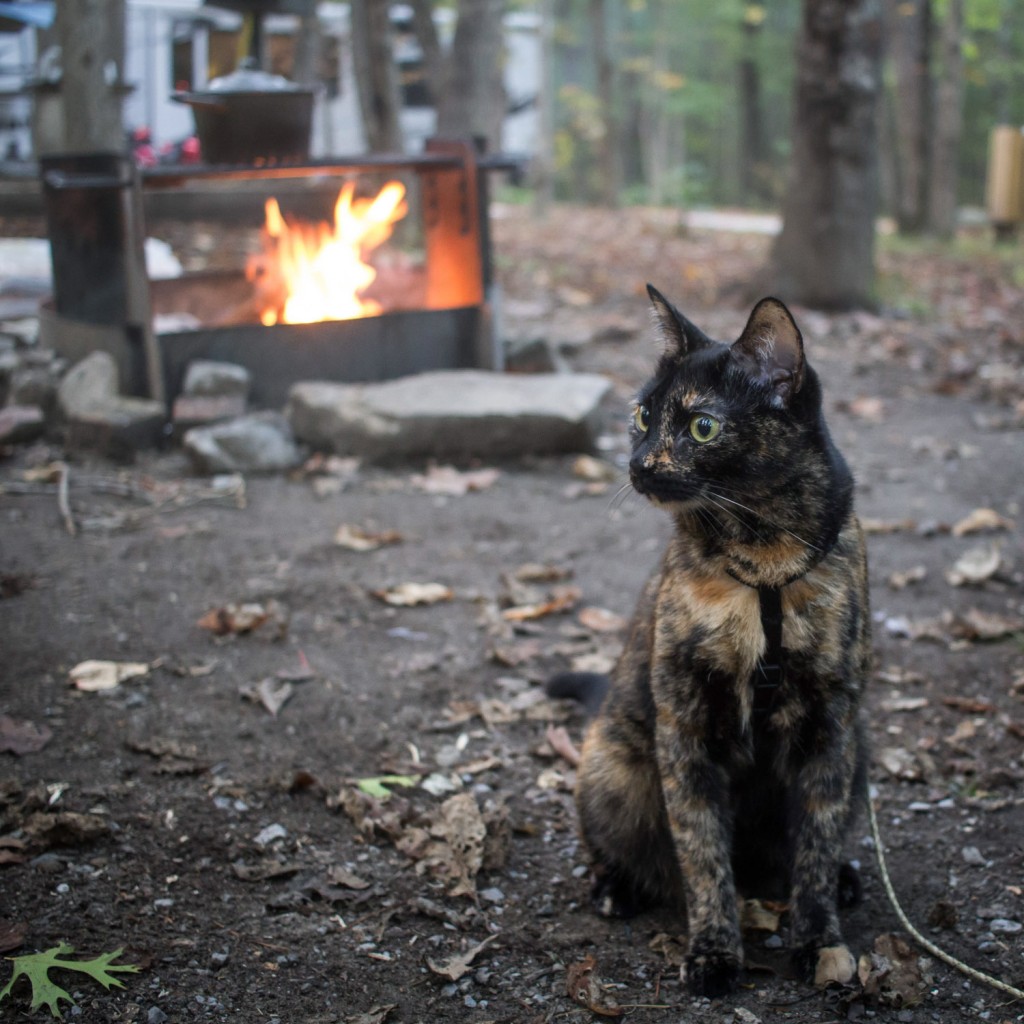 What's a typical excursion like for you both?
Typically, our adventures are just day trips. Whether it be a hike or just a trip up to the lake to sit by the water, Eevee is happiest when we're on the go. Sometimes if I know I'm not leaving the truck long, I'll just throw her in with me for a few errands. She loves the ride. She's always excited just to go somewhere, anywhere.
What's the best part of adventuring with a cat?
One of my favorite things about adventuring with a cat is the reactions from people. I love the "Is that a cat?!" reactions. There are a lot of adventure cats these days and I'm so glad it's catching on, but it's definitely not the norm yet. So most people on the trail have never seen a hiking cat before, and I love talking to those people.
Are there any disadvantages?
Probably the biggest disadvantage of traveling with a cat is that — and this may be my personal experience — Eevee definitely gets moody. I usually plan our outings around her naps. It's a bit like hiking with a toddler at times. When she's tired, she gets cranky and doesn't want to walk anymore.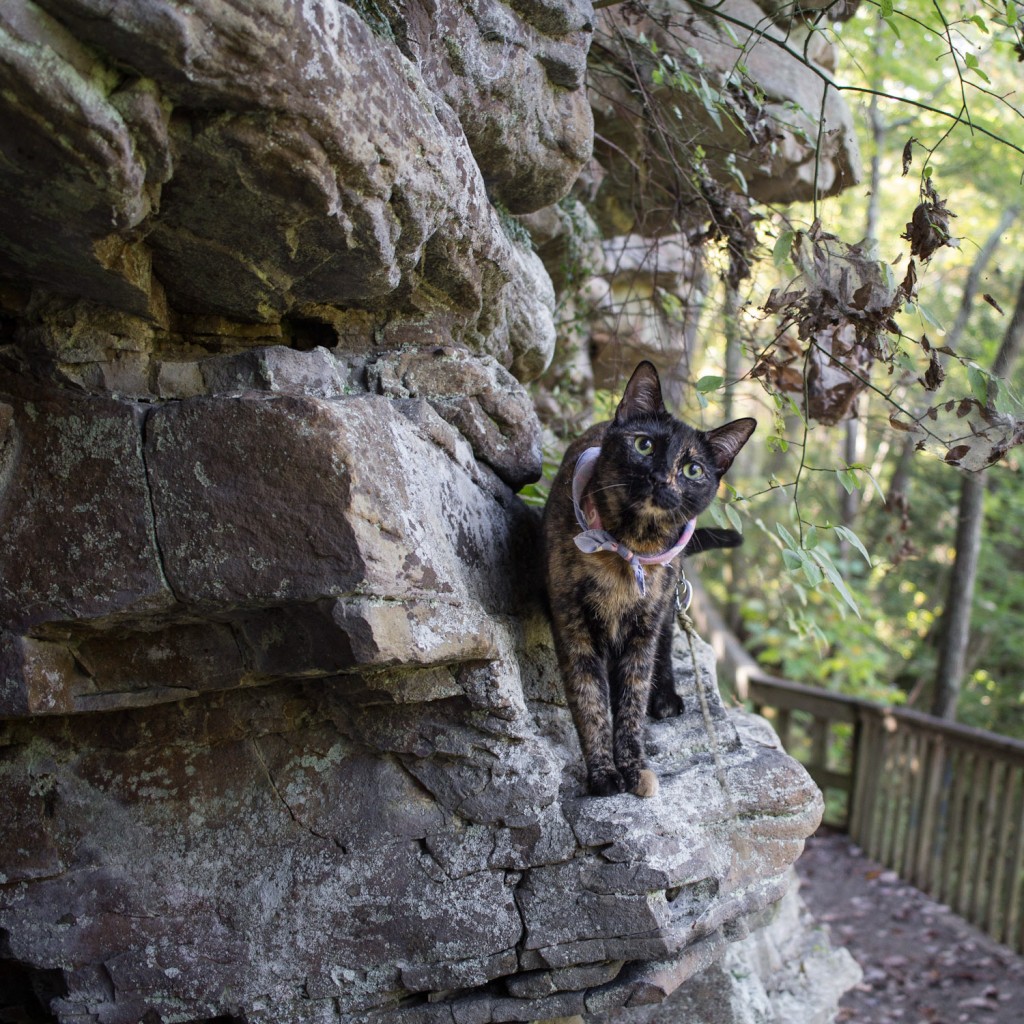 What's one of your favorite memories with Eevee?
My favorite memory has to be the first time I ever took her on a proper hike. I was fully prepared that day for a struggle and to carry her most of the way, but to my surprise she had her tail up and was walking ahead of me like she'd walked that trail a hundred times before. That day was when we found our local favorite spot — "our spot" — which is still my go-to spot for a quick hike close to home.
Did you do any training with her?
Eevee doesn't really have any proper training. She's well harness trained, and she understands that gentle nudges mean to follow me. She's really great at staying on the trail. I've always been curious about clicker training, but haven't tried yet.
Do you use any special kitty gear on your adventures?
I went through a couple different set-ups as far as carrying bags go. I started with a sling-style carrier, but this was much too cumbersome and didn't allow for any other storage. She hated it anyway. I then found a backpack from Outward Hound that she fit in perfectly, but it also has pockets on it for a few small items. I finally found a small hip pack that fits around my waist underneath the backpack perfectly. It's only enough space for a day hike, but I'm hoping to get an external-frame backpack soon to modify and make a proper carrier for her so that we're both comfortable for backpacking trips.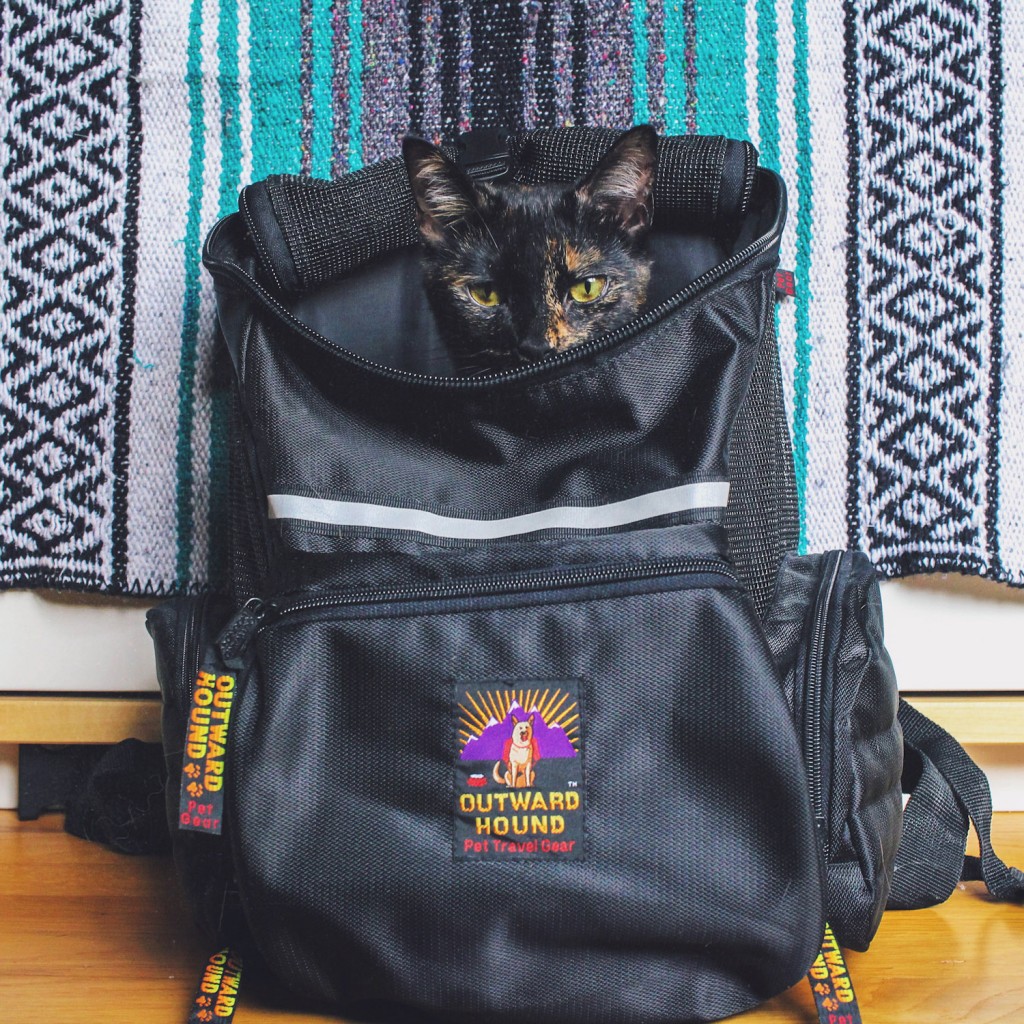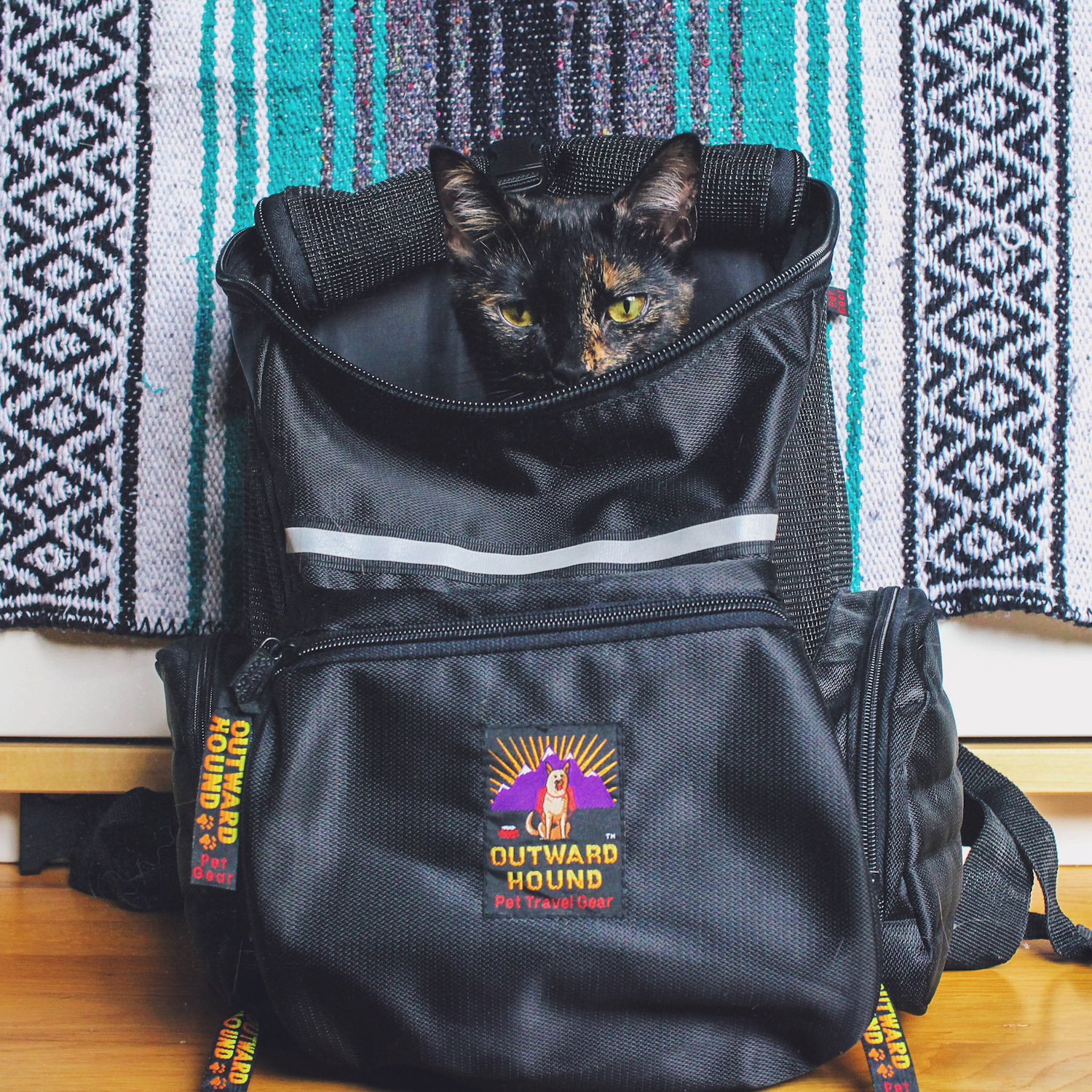 What kind of precautions do you take when you're out with Eevee?
The biggest safety precaution I take is just being very aware of what or who else is in an area. Unfortunately a lot of people don't follow leash laws on the trails around here. There have been quite a few times when I haven't been able to let her out for an entire trail because someone behind me had a poorly behaved dog off leash.
What has adventuring with a cat taught you?
My favorite lesson learned from adventuring with Eevee is to have patience, and to generally slow down. Trying to travel with a cat when she's being moody can be a real struggle sometimes. Eevee isn't afraid in the slightest to tell me exactly how much she doesn't want to do something, especially when it comes to taking pictures. Sometimes I'll be trying so hard to make a particular picture happen and she just wants nothing to do with it. I've learned from this that some pictures just weren't meant to be taken, which is a hard lesson for photographers to learn.
She's taught me to live in the moment, to slow down and really look at things. Obviously, hiking with a very small animal is a slow-going thing at times, but I've really come to appreciate this.
What advice do you have for people who are considering taking their cats outdoors?
The best advice I can give is to be patient. It's hard not to compare [cats] to dogs when you start leash training. The best thing you can do is to keep your expectations low and understand that it may not be for your cat at all. Some cats may take to it easily, while others may take months to get comfortable. It might be a real struggle for a while, and you may totally lose hope when your cat just flops over.
All that being said, it's totally worth it. If you do get past the struggle of training, they are adventure companions like no other. Eevee is the best dog I've ever had.
You're clearly now a proud cat lover. How else has Eevee changed your life?
Eevee is an incredible little cat. I've had a pretty long history of bad experiences with cats, so our bond is particularly special. It's amazing how something like a cat can enter your life and change everything for the better. Because of a cat, I finally managed to get out the first draft of a novel in which the main character is based on Eevee's personality, I now have a small Etsy business making cat collars, and I finally have a subject and a muse for my photography. She has consumed my life a little bit, and I've never been happier.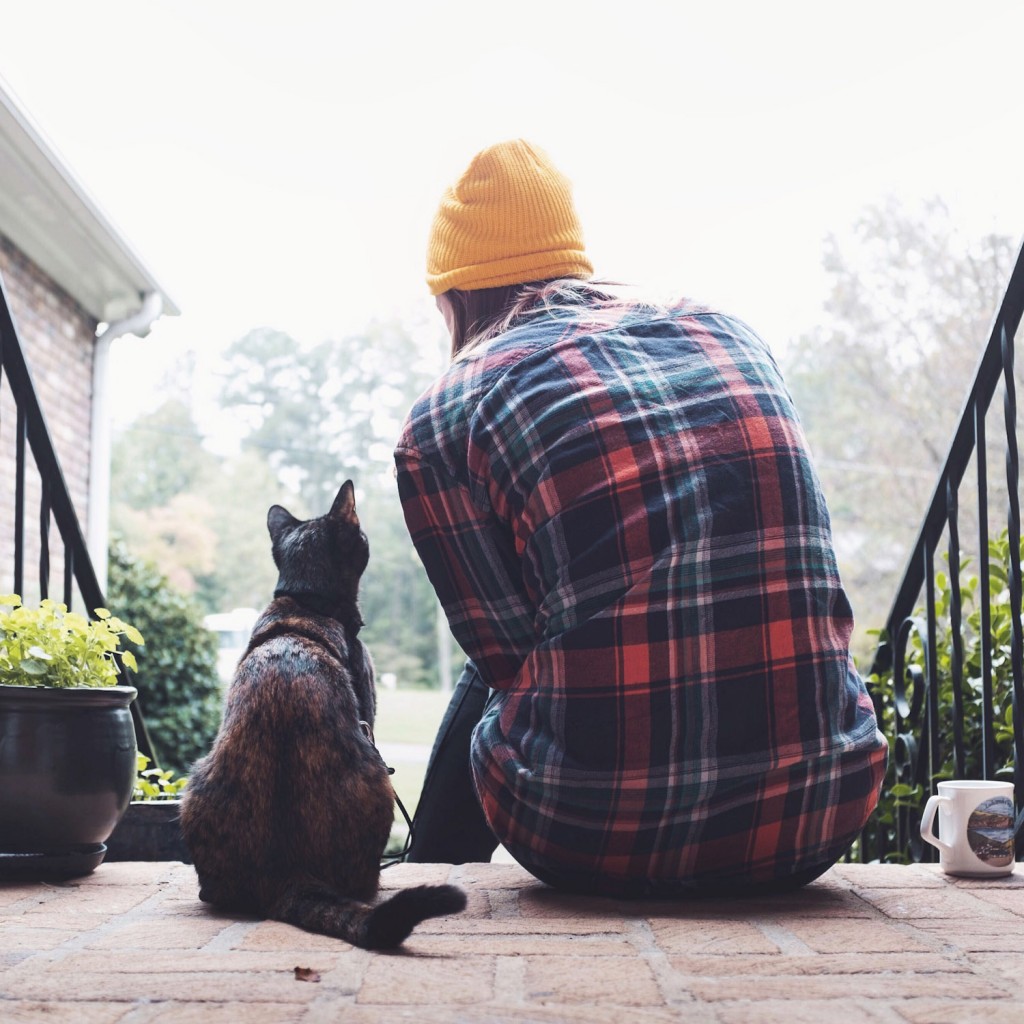 ---
Scroll through the gallery at the top to see more photos of Eevee, and keep up with all her adventures on Instagram.
All photos are courtesy of Emily Grant.