Training an adventure cat can be a bit of work, especially if your cat is wary of the process. But Samantha Christie's rescue cat Atlas was all about it. In fact, he loved it so much he's led other cats in adventures, and now Christie hopes Atlas will inspire more people to leash train their cats.
Christie rescued Atlas from the Hawaii Island Humane Society about a month after she moved to Hawaii from Delaware. Christie already had two cats, but she had to leave them behind for 120 days while they underwent the state's mandatory rabies quarantine. Lonely, and a bit inspired by Adventure Cats, Christie decided to seek out an adventure cat of her own.
Atlas, a medium-haired tabby, had been surrendered along with his mom and sister at 3 weeks old. When Christie brought him home at 8 weeks, she was pleased to find she had a very outgoing and adventurous kitten. Thanks to a caring staff at the Humane Society, Atlas had been socialized with both people and other cats, and he had boundless energy that could be quelled only by taking him outdoors.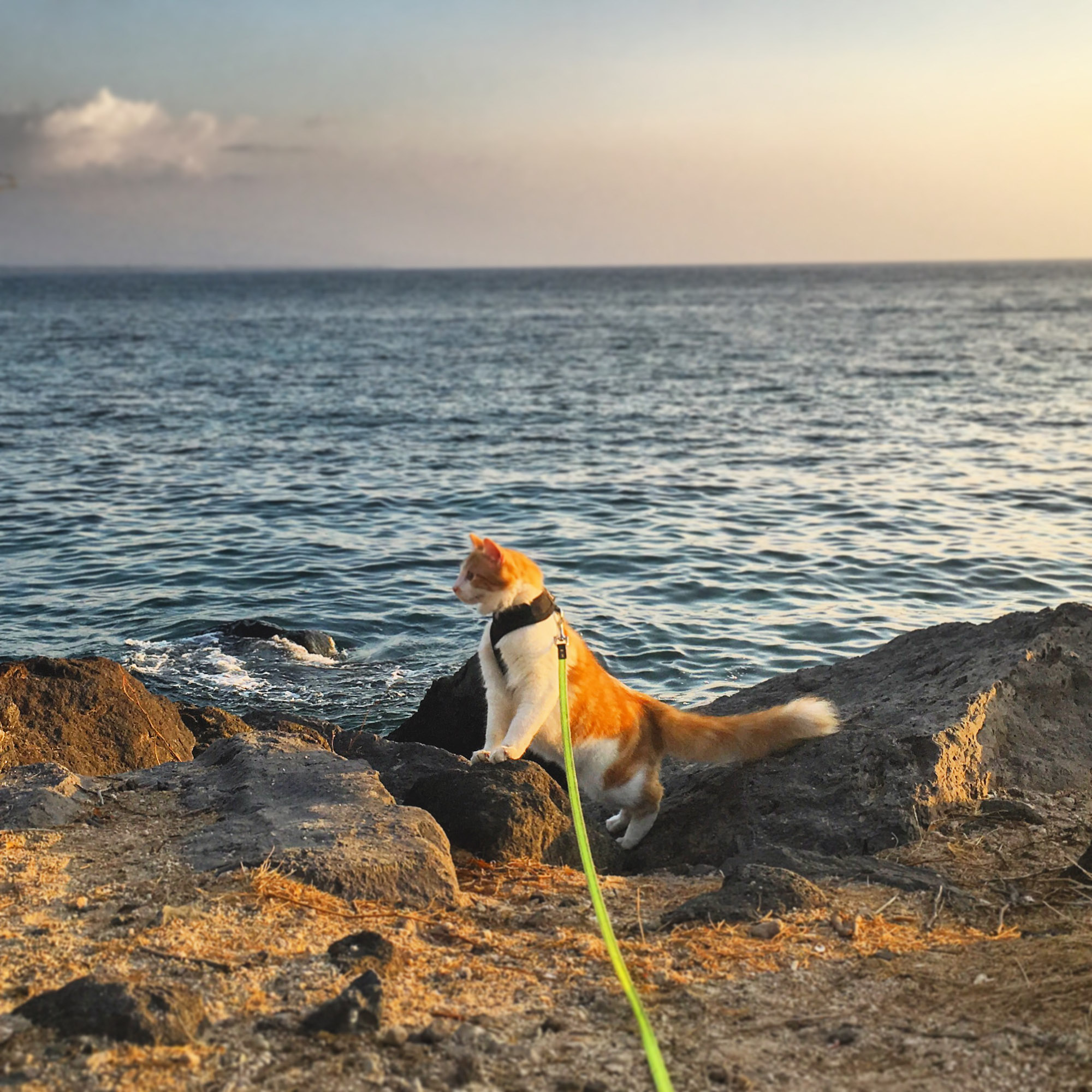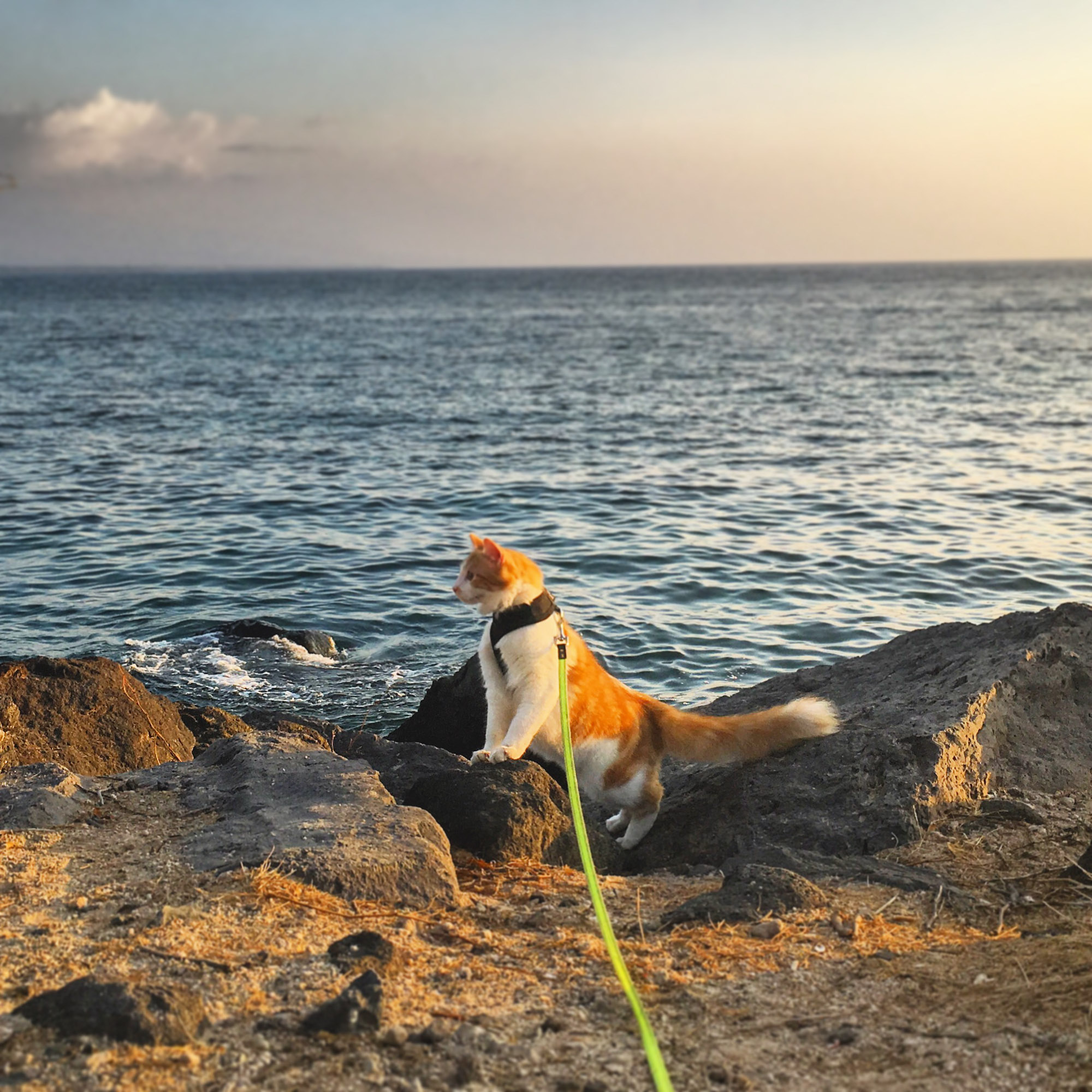 "Atlas was a very naughty kitten," Christie told Adventure Cats. "A part of me wanted to give up on leash training because he was such a bad boy most of the time, but I stuck with him and I'm so glad I did.
"I consistently brought him along for errands and even took him to work with me occasionally. I made an effort to expose him to as many sights, sounds and smells as possible while he was little. Kittens are so adaptable. If you take them everywhere and act like it's normal, they won't know any different. Atlas probably thinks all cats get to go on adventures!"
MORE: National Park Service hosts its first cat hike
Atlas has proven to be a force of nature, but he always comes running when Christie picks up his harness.
"He's mellowed out now, but he is still a piece of work," she said.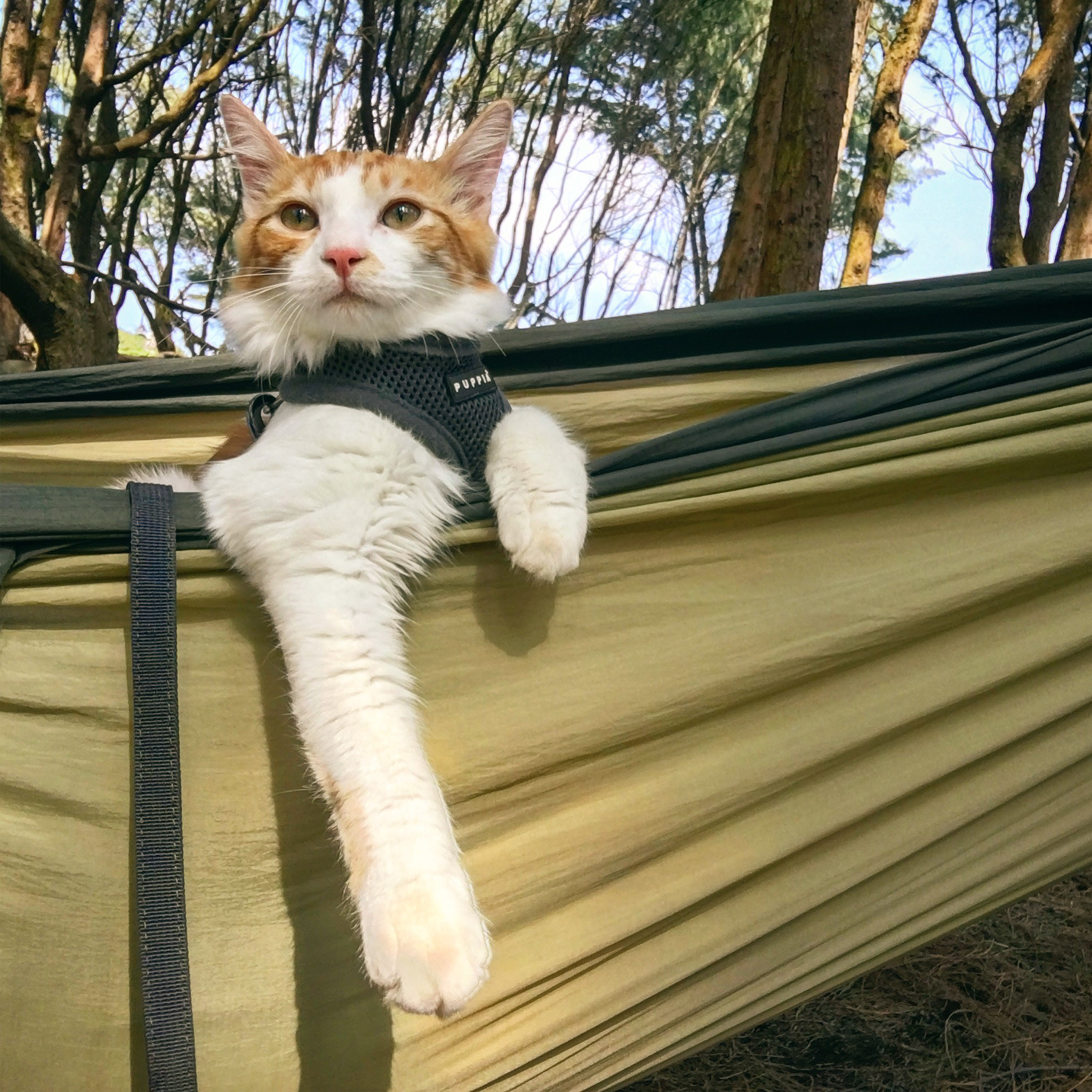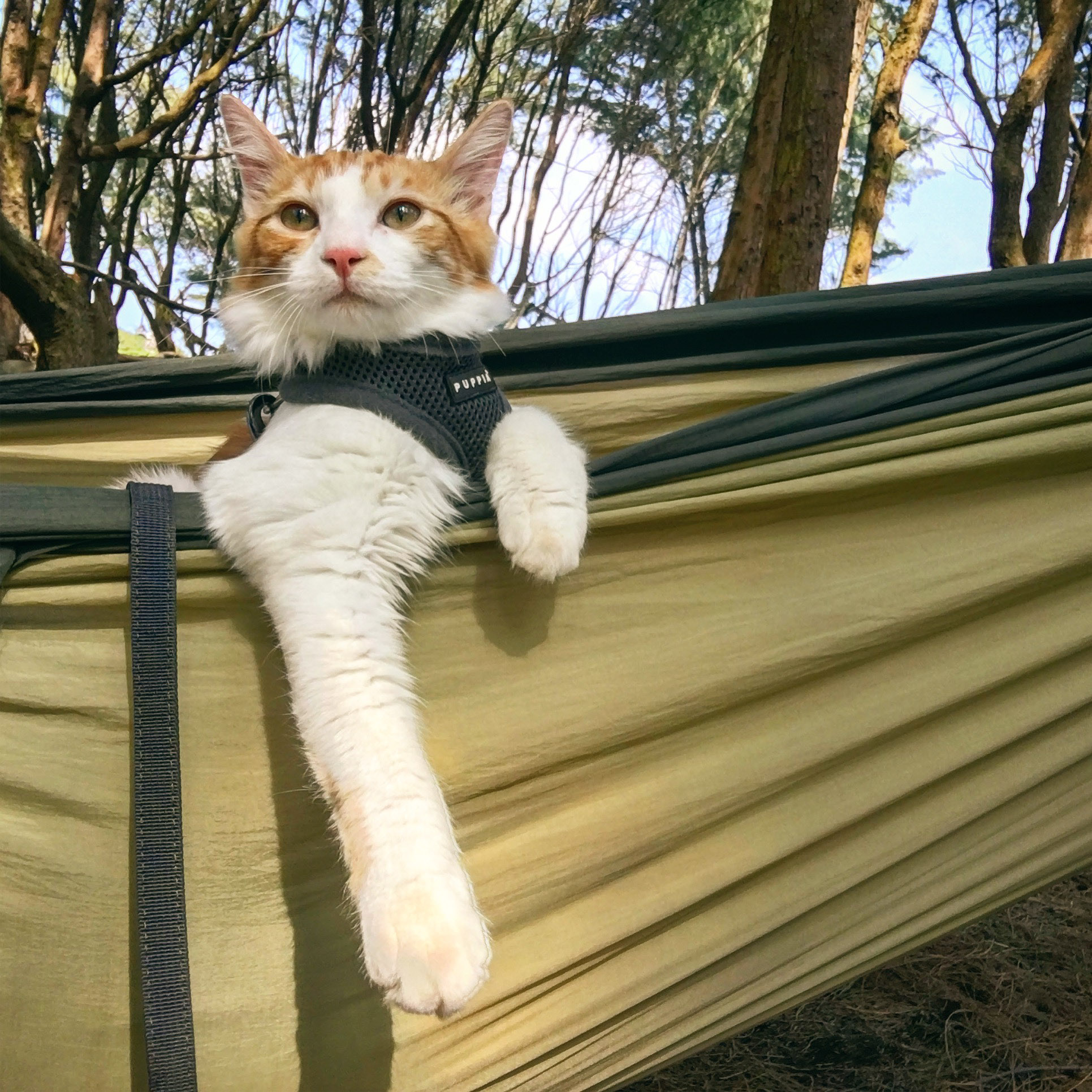 "A lot of people approach me when I'm out with Atlas and ask why he's leash-trained. It's a great opportunity to advocate for responsible pet ownership and wildlife conservation."
Over the past year, Atlas' adventures have taken him all over the Big Island — from Pololu Valley, where they hike down to the black sand beach for bird watching in Christie's hammock, to their favorite spot at the end of a nondescript road where they can hike along the coast at sunset.
"It's glorious!" Christie said. "It's a narrow trail, which seems to help keep him focused and moving in one direction. He gets distracted on wider trails and wants to sniff everything."
Atlas gets to stalk crabs and Christie says the whale watching is "phenomenal" in the winter. Atlas also loves to hike with Christie, even the challenging switchbacks of Pololu Valley.
"He's a good sport on the steep hike back up," Christie said. "I carry him when he's tired, but he likes doing the rocky parts himself."
Christie adds that harness training can do more for "pawsome" felines like Atlas than simply provide stimulation and exercise. She says harness training provides a smart alternative to having an outdoor cat.
"I work at a wildlife hospital and I've seen a lot of birds killed or severely injured by free-roaming cats," Christie said. "Free-roaming cats kill billions of wildlife each year. Hawaii in particular has an overwhelming feral cat problem."
Christie believes by simply taking Atlas out on his harness that he can help educate people about the benefits of leash training and the dangers of leaving a cat to fend for itself outdoors.
"A lot of people approach me when I'm out with Atlas and ask why he's leash-trained. It's a great opportunity to advocate for responsible pet ownership and wildlife conservation."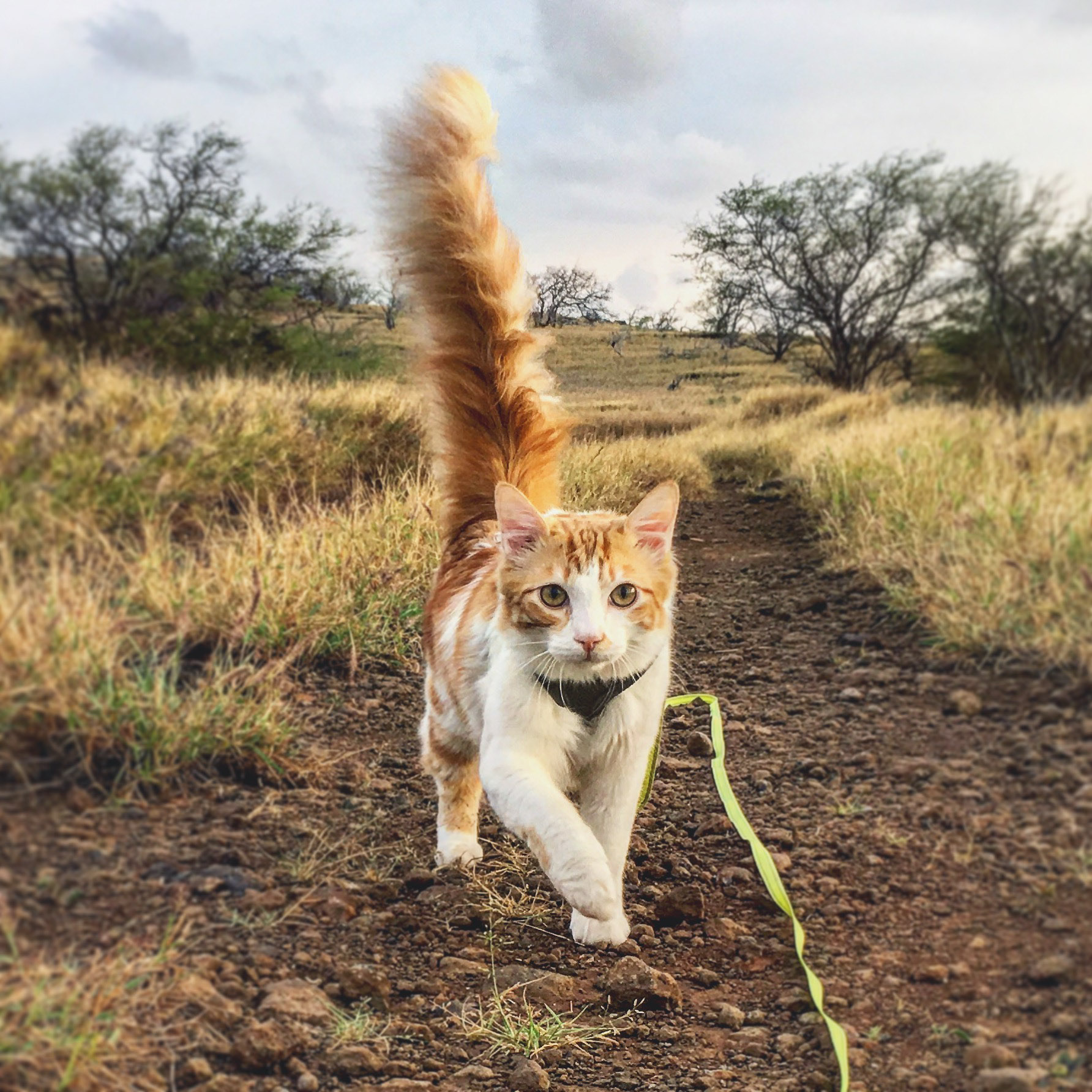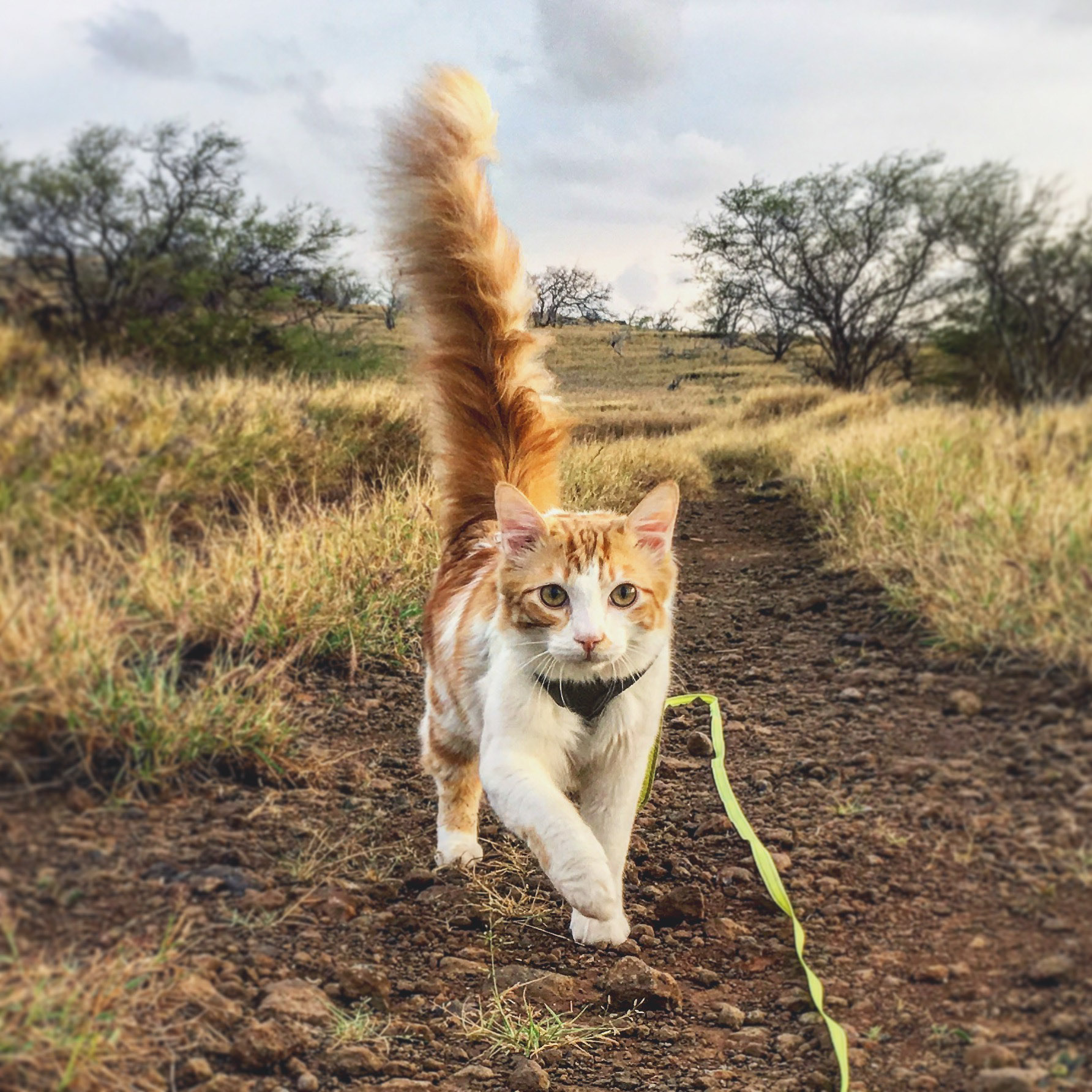 And it's not just people the pair has educated. Atlas has adopted his own rescue cats and has even shared his love of adventuring.
"I've been fostering cats and kittens for years," Christie said. "I planned to take a break from fostering when I adopted Atlas because he's such a handful on his own. He would do parkour across my kitchen counter and scratched through the veneer of my front door. The only time he behaved was out on adventures."
Atlas had other plans, though, yelling at the top of his lungs whenever Christie left the house. The sound attracted a stray.
MORE: 6 things you can do to save kittens' lives
"He was pitiful — skin and bones with missing patches of fur," Christie said. "Darby is still a work in progress as we get him used to living indoors."
Of course, Darby isn't Atlas' only adoptee. A few months ago another stray kitten showed up.
"Atlas heard her before I did and waited by the front door for me to figure it out," Christie said. "I found the little kitten hunkered down in some grass, brought her inside and cleaned her up."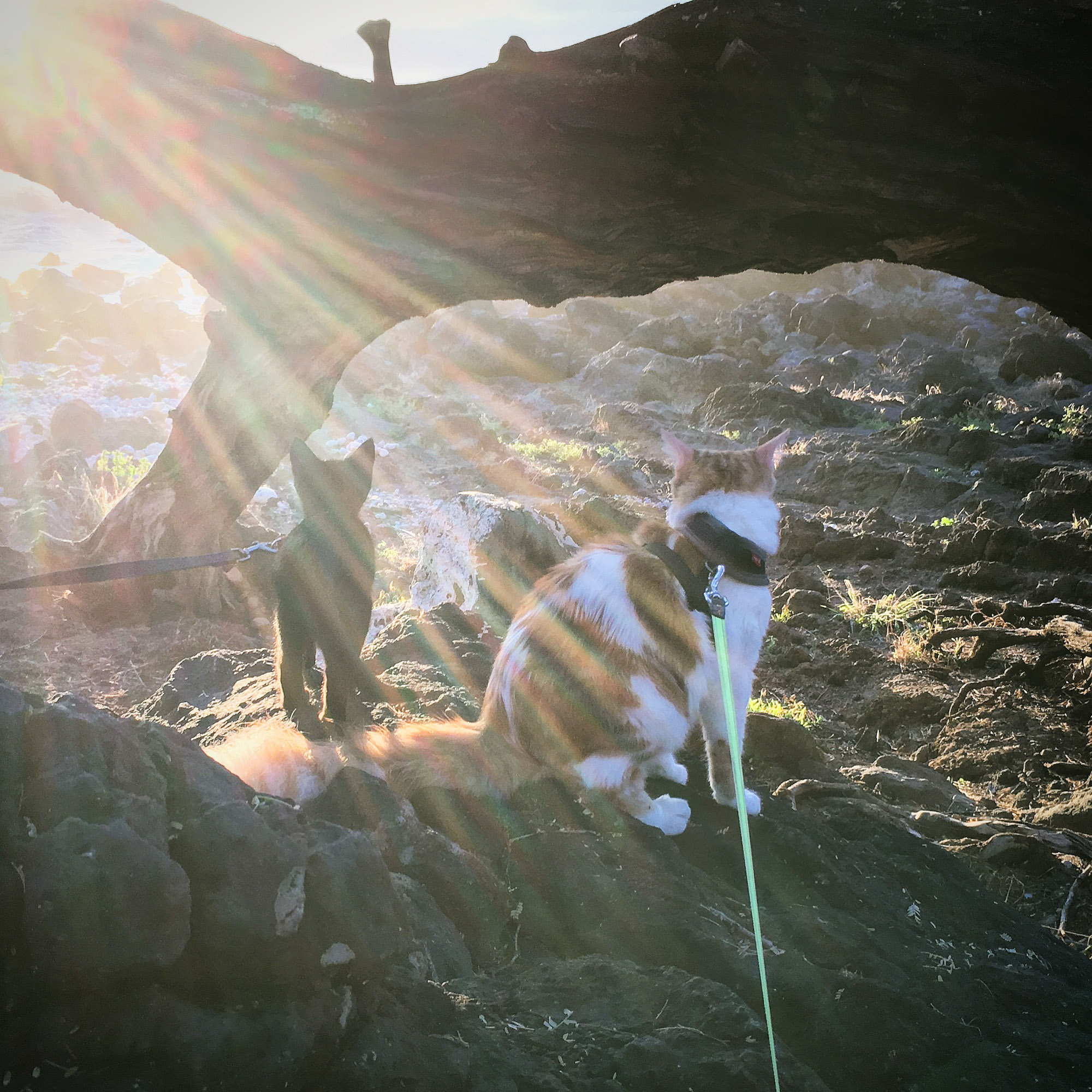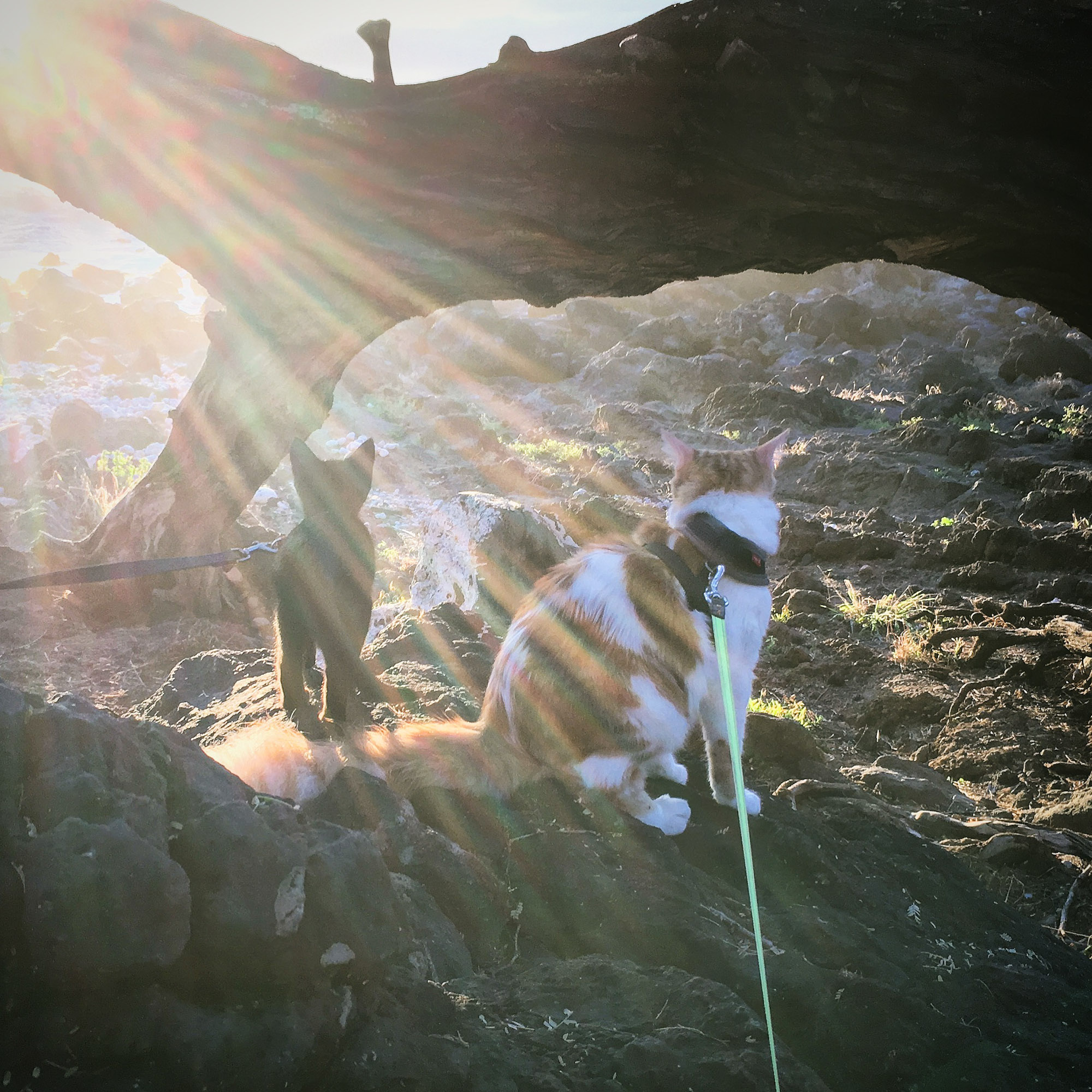 Thanks to Atlas' friendly personality and love of adventuring, she and Atlas hit it off.
"She joined us on one of Atlas' adventures and loved it. I tried carrying her in a bag, but she insisted on following Atlas on the trail. Atlas is a great foster brother. He shows the fosters how to behave indoors and how to be comfortable around people."
The kitten, Nell, was eventually adopted by one of Christie's friends.
"In the future, we'll foster more kittens so that Atlas can continue teaching the next generation of adventure kittens," Christie said.
Atlas' next big adventure will be moving to Idaho in the fall when Christie relocates again. But first, Christie says she wants to take Atlas camping at Volcanoes National Park. Once in Idaho they'll have their pick of national parks to visit.
"Hawaii has been a wonderful playground for Atlas, but we're excited to see what Idaho has in store for us," she said. "I'm looking forward to seeing how island-blood Atlas reacts to snow. I already bought him a little coat to wear."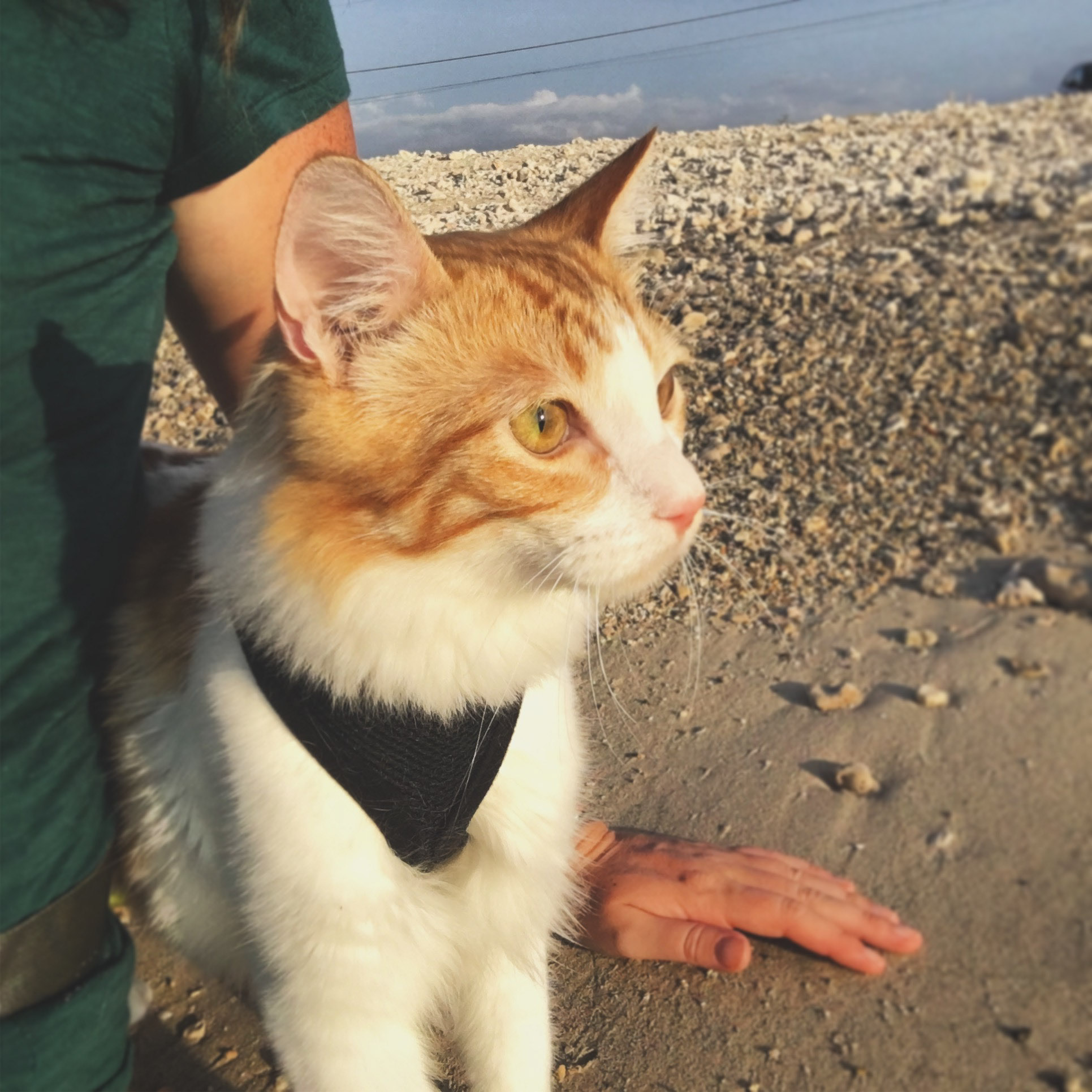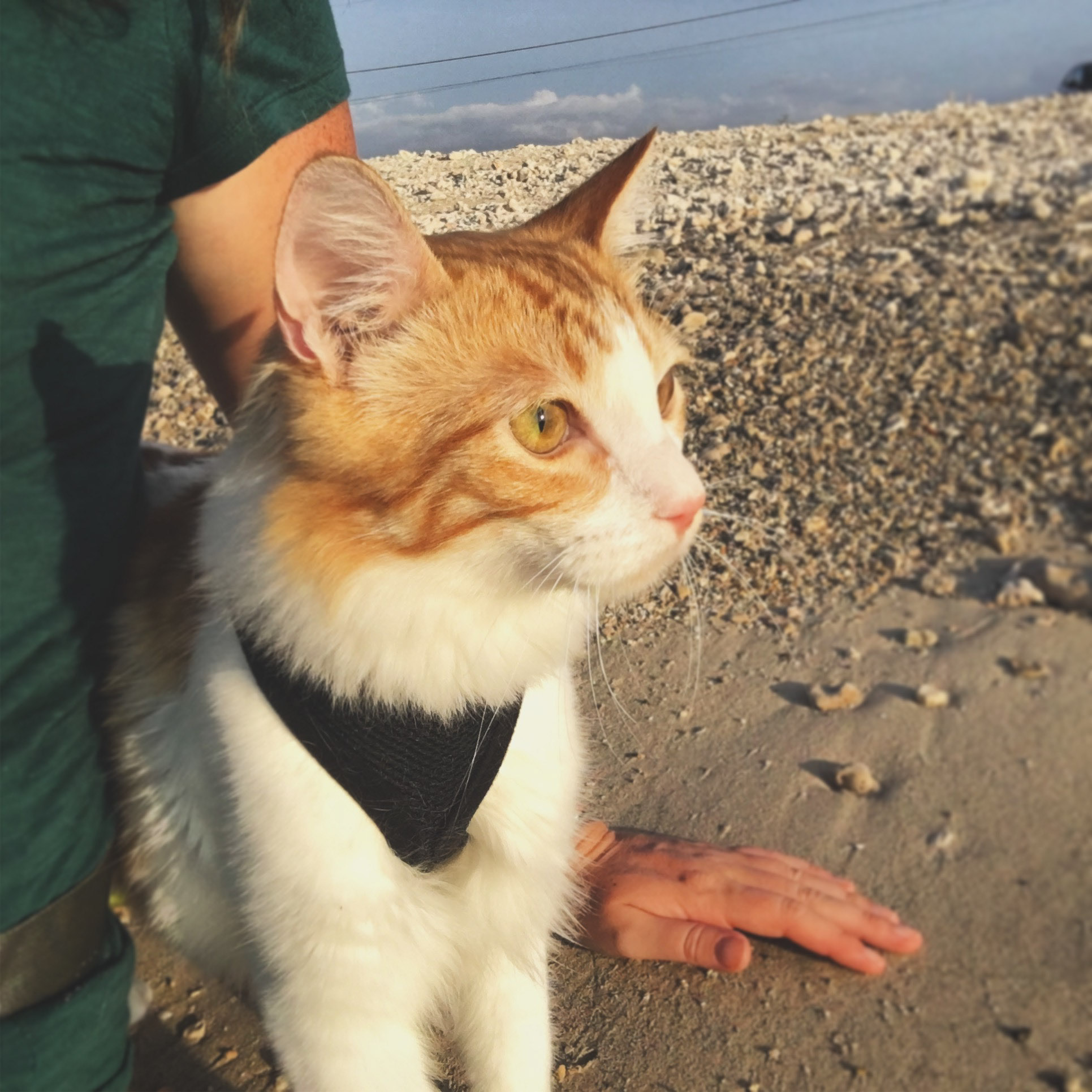 Scroll through the gallery at the top to see more photos of Atlas, and keep up with all of his adventures on Instagram.
Save
Save
Save