Not many people can say they've visited every U.S. national park, and as far as we know, no feline can yet make that claim. But in a few months, a black-and-white kitten named Vladimir will have that accomplishment — as well as several thousand miles — under his collar, and he'll make adventure cats history.
Vladimir is currently traveling with his owners, newlyweds Cees and Madison Hofman, in their 1989 Toyota motorhome, as they make their way to all 59 U.S. national parks. Their epic trip began on April 25, but the planning for it began two years ago when the Hofmans spotted a motorhome on the road.
"We really wanted to get one and take a graduation trip," Madison told Adventure Cats. "We thought, maybe we could visit a bunch of the national parks. And then, when we found out that we would graduate during the parks' 100-year anniversary, we thought 'Why not try and get to all of them?'"
The Utah couple was still in college when the idea took hold of them, but they immediately got to work making their dream a reality. When they found an affordable motorhome for sale, they drove to Idaho to purchase it, and they committed every moment they weren't working or studying to prepping their new home for a cross-country journey.
"It was one leap of faith after another," said Madison. "We were newlyweds, and the RV was like our baby. In a few months, we managed to pull off the makeover, thanks to our friends and family, a lot of all-nighters, YouTube tutorials galore, and way too much Little Caesar's Pizza."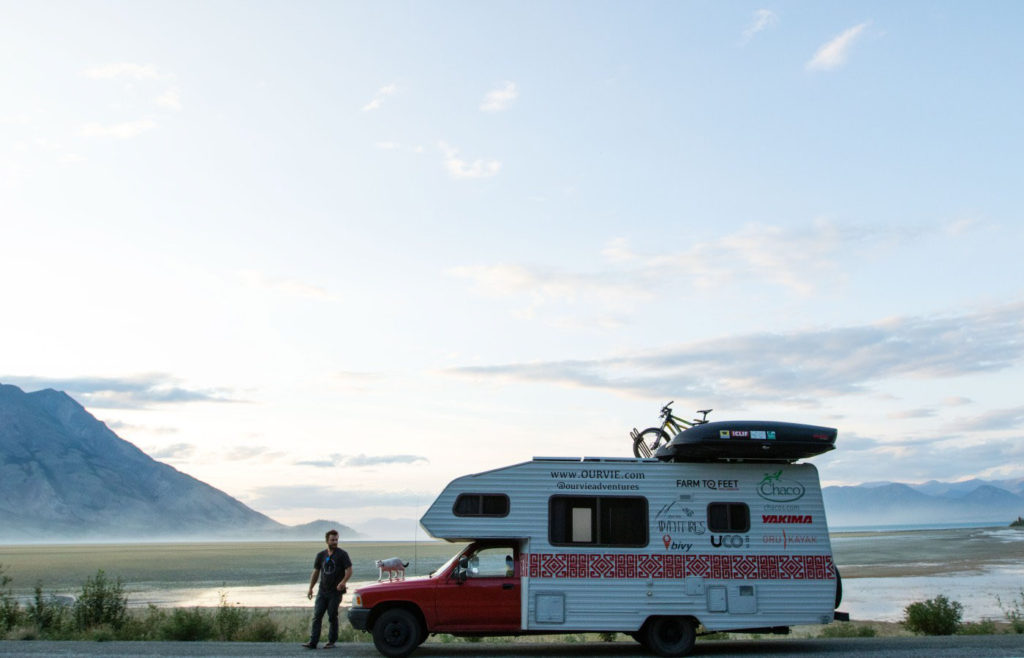 And kitty makes 3

However, Madison didn't want to hit the road without a furry companion, so she began laying the groundwork to change her husband's mind about cats. "When Cees married me — a crazy cat lady — he didn't know it yet, but he, too, would come to love cats," she said.
Madison had been wanting to adopt a cat for a long time, but Cees — who hadn't grown up with cats and knew little of their snuggly feline magic — wasn't quite onboard with the idea. But one evening, as the couple was shopping, Cees decided to make a deal.
"He somewhat jokingly said, 'Fine. You can get a cat, but today is the only day, so hopefully you can find one tonight,'" Madison said. "It was already 9 p.m., so he thought he was safe since the animal shelters would all be closed. Little did he know, I had already talked to a woman earlier that day whose kittens needed caring homes ASAP. Conveniently, we were in Target, and so I started loading up the cart with kitty supplies."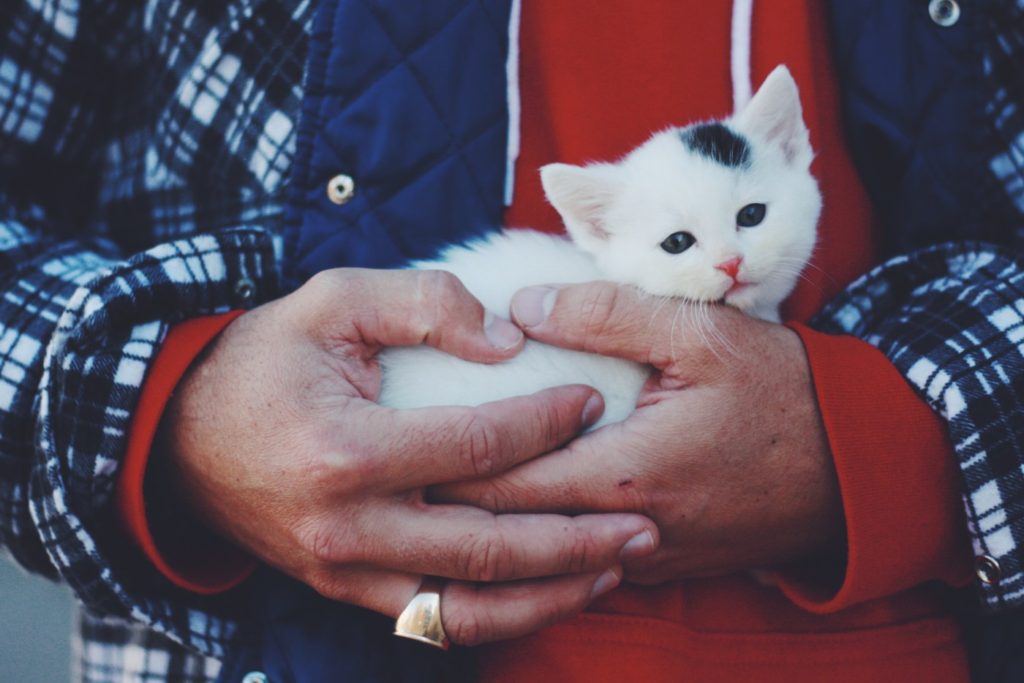 That night, the newlyweds picked up the new addition to their family: a tiny white kitten with a black tail and a black spot on his head. It was love at first sight.
"It didn't take us long to decide on a name for him," Madison said. "Cees and I both lived in Russia for a few years and speak Russian and are obsessed with everything Russian, so we named him Vladimir Kitten. We also call him Gorby for short because there was a Russian leader named Gorbachev who has the exact same birthmark on his head as our kitty."
Cees and Madison began leash training Vladimir, and once he was comfortable in a harness, they introduced him to the outdoors. His adventures began in the backyard, and later he began exploring the local parks. Before long, his parents thought he was ready to embark on their national park journey.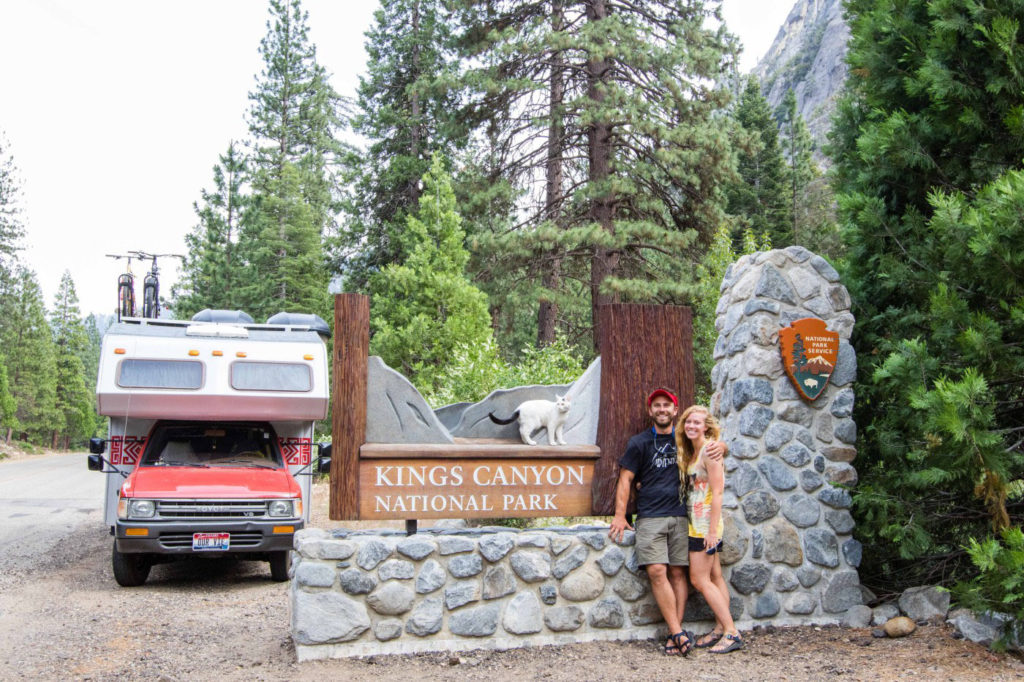 Life on the road
Cees, Madison and Vladimir have been driving, hiking and adventuring for months now and have visited nearly 30 parks, including seven in Alaska. And while pets aren't allowed in many areas of national parks, they've still managed to let Vladimir see the sights.
"If a trail or area says no pets, it's for a good reason," Madison said. "Pets are almost always allowed in parking lots, campgrounds and paved areas. It's so fun when we find pet-friendly trails in the parks though. A lot of times you can bring your pets in kayaks on the lakes, so that's a fun option too. You really just have to research ahead of time and see what kind of adventures you can expect to have with your pets."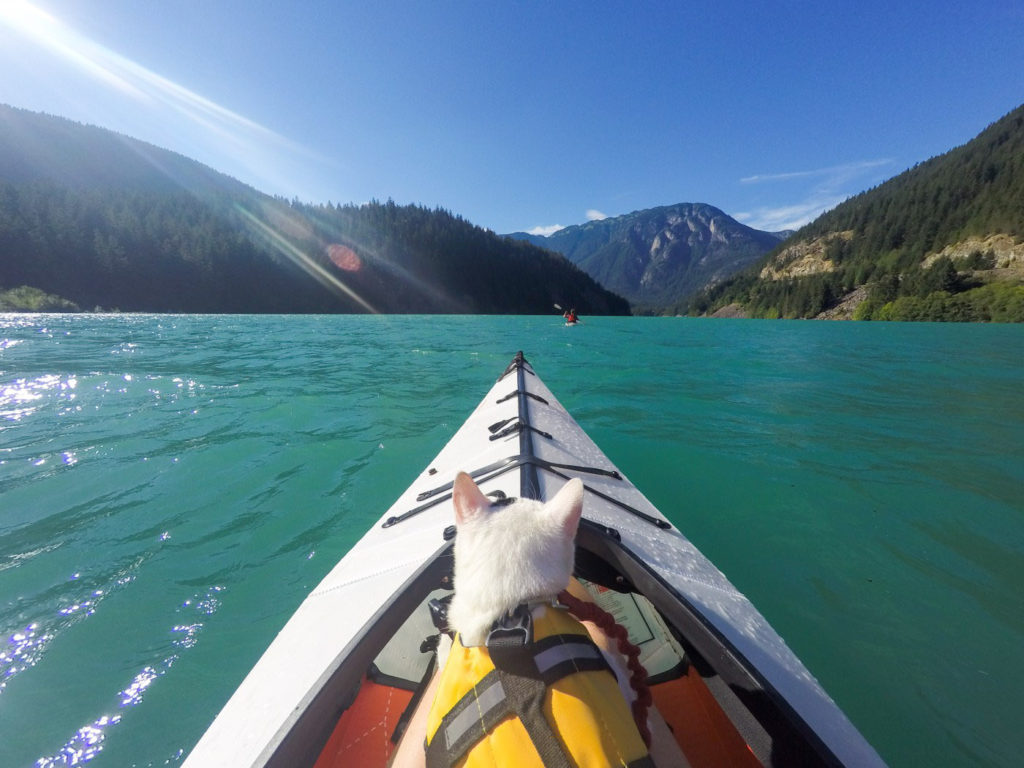 When Vladimir does tag along, it's only when the weather is comfortable, and he's always on a leash. He typically hikes alongside his parents, and when he gets tired, he takes a break atop a backpack. Sometimes he gets distracted by all the fascinating scents in the great outdoors, but if Cees and Madison want their adventure kitty to hurry up and stop sniffing everything in his path, they'll whistle and Vladimir will usually catch right up — but not always.
"It is both an advantage and a disadvantage that cats adventure at their own pace," Madison said. "Sometimes Vlad is slower than us, sometimes he has to sniff everything, sometimes he thinks he needs to climb every tree — but that's the beauty of it. It makes us humans slow down and appreciate the little things. Slowing down and enjoying the journey is the beauty of adventuring with a cat."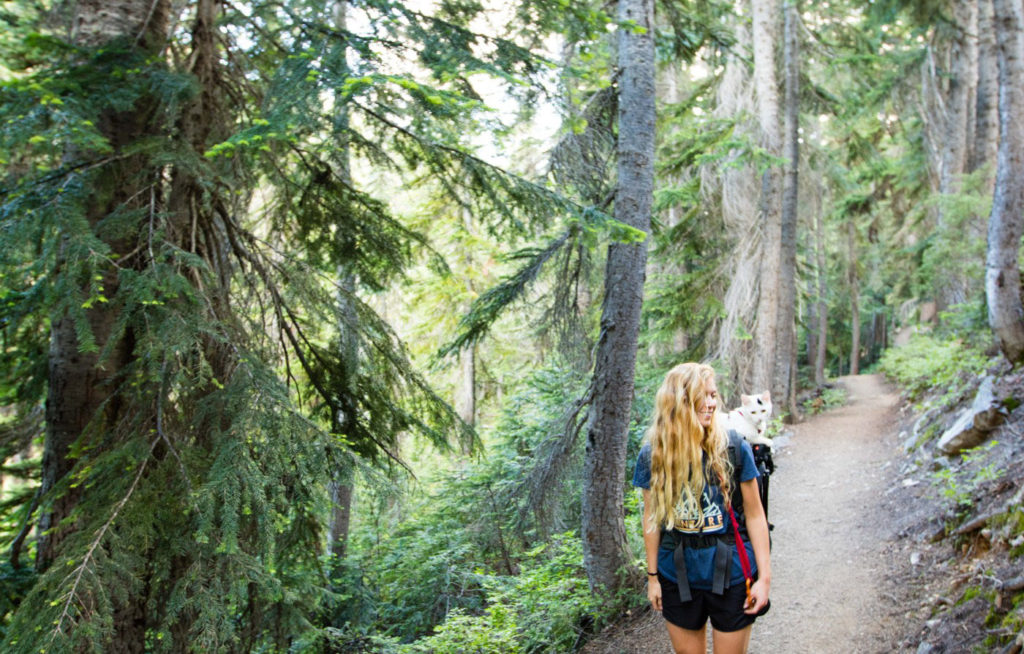 The Hofmans spend about three days in each national park; however, they rarely sleep inside the parks. Instead, they set up camp nearby in national forests or on Bureau of Land Management land, which is free to camp in and allows pets.
"Vladimir gets most of his adventure time in the evenings after we leave the park and head to the kitty-friendly places. Sometimes we go on awesome trails just outside the park boundaries, so it has the same feel of the national park," Madison said.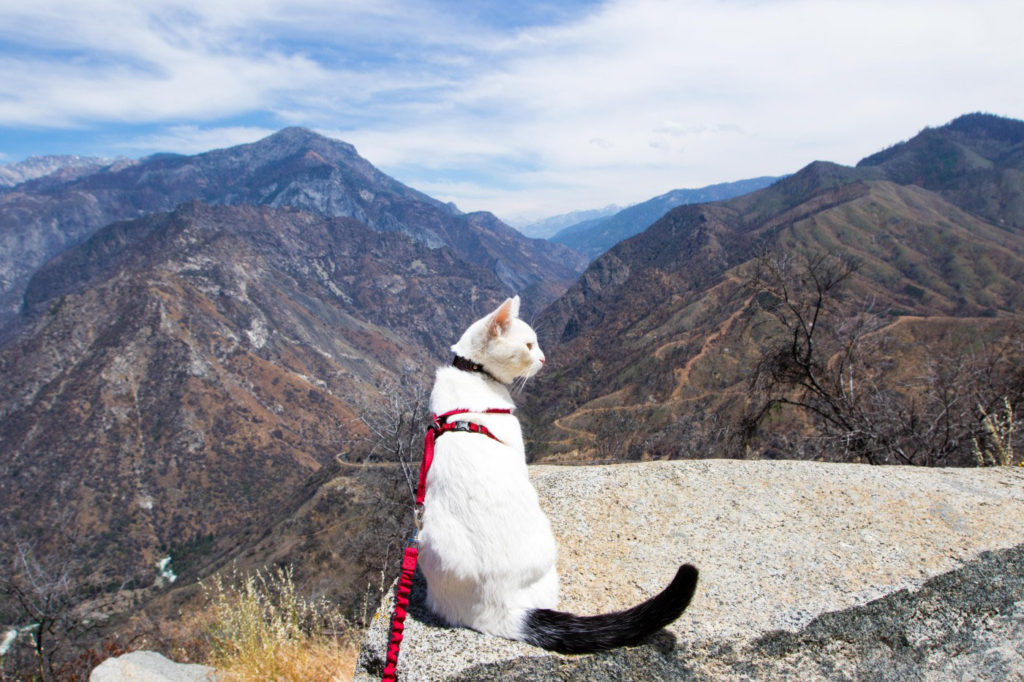 As for life on the road, while it may occasionally have its disadvantages Madison says she and Cees are both grateful for the opportunity to tour the parks and see the country's beauty. It's not something many people ever do — especially people their age, according to one park patron.
While hiking in Bryce Canyon, the Hofmans met a fellow hiker who told them, "To explore is to live. No offense to your generation, but a lot of you are already dead." Madison says those words have stuck with her and made her truly appreciate this experience.
"It's so fun to wake up every day in a new place and know that the day holds endless opportunities for us," she said. "Every time we watch the sun go down on another beautiful day, I am filled with so much peace and an overwhelming sense of gratitude for the Earth and all that it gives us. We are truly so blessed with everything that is around us."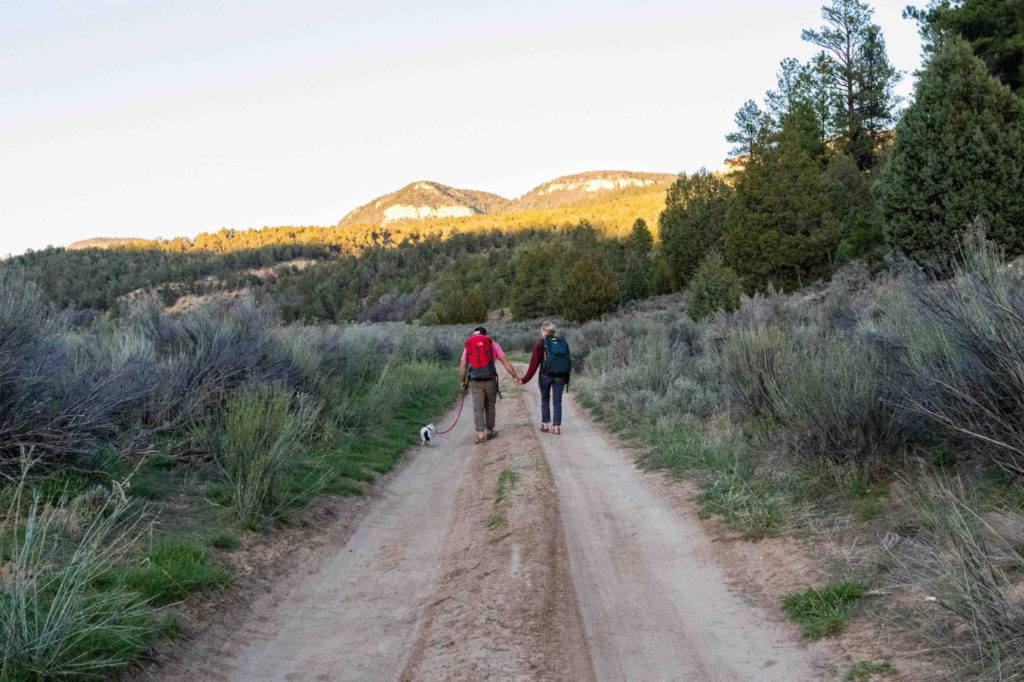 Tips for RV life with a cat
After several months living in a motorhome, Madison says they've "purrfected" sharing a small space with a feline, and she offers the following words of advice.
Vlad has a pretty cool kitty crate ("Catagonia"), and at bedtime he knows that he has to go to Catagonia. He purrs when we take off his collar and tuck him in. We put him away at night not only to create a routine, but also to keep him safe while we're snoozing.
We have little Tupperware containers for his food and water dishes. They aren't cute, but they work because, after he's done eating, we can put the lids back on and store them, so they don't spill while we're driving.
We keep his litter box in the shower because it keeps the litter all in one place, and we use natural corn- and cedar-based litter so it doesn't cause problems if it goes down the drain.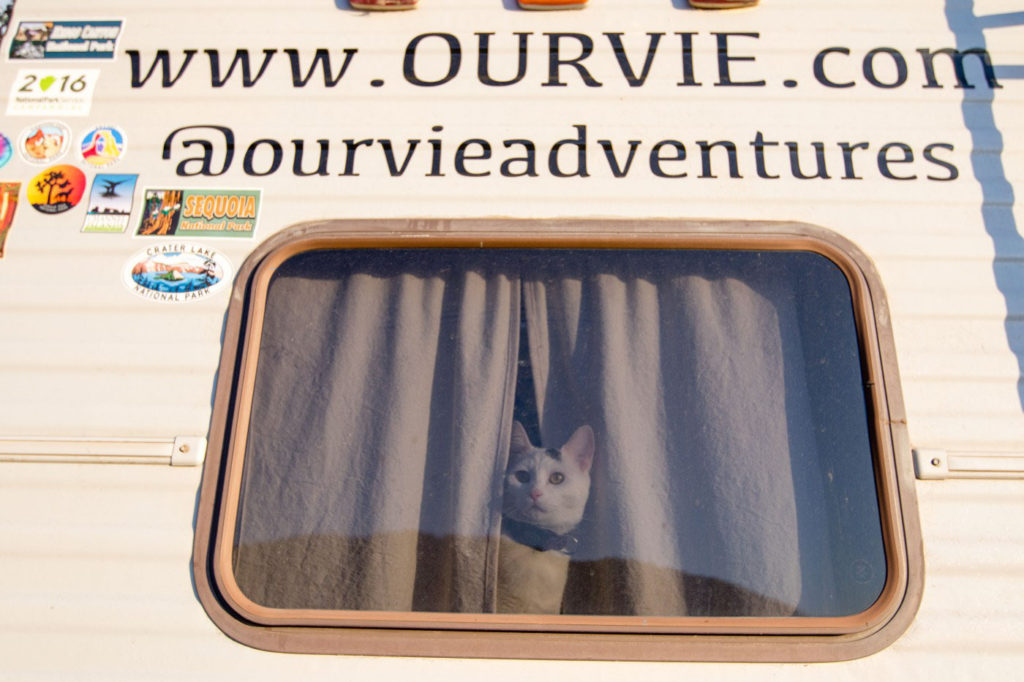 Scroll through the gallery at the top of the page to see more photos of Vladimir, and keep up with all his adventures on Instagram and on the Hofmans' blog, OurVie.com.
All photos are courtesy of Cees and Madison Hofman.
Save
Save
Save
Save