While plenty of cats traverse the globe by bike, sailboat and RV, for many felines, a trip around the neighborhood or even just a stroll through the backyard is all that's necessary to quench their thirst for adventure. And while they may not be traveling the world, these close-to-home adventures still open up a whole new world for cats like Figaro.
Austin resident Ann Marie Klacko adopted 4-year-old Figaro and his sister, Olive, when they were tiny foster kittens. While Klacko already had three adult cats, she couldn't resist taking in Figaro and Olive after meeting them and hearing about their struggle to find a forever home.
Figaro and his sister settled into their multi-cat home, but it soon became clear to Klacko that her new black cat required a little more stimulation than he was getting indoors.
MORE: These cats have different ideas of adventure
"Figaro can definitely be described as a bold cat," she says. "Some have even said he's intense. He's incredibly smart, interactive and overall a sweet guy, but he stresses incredibly easily and has anxiety. He also suffers from feline lower urinary tract disorder as well as bladder disease."
Despite his specialized wet food diet, Figaro experienced severe urinary blockages in August and had to undergo perineal urethrostomy surgery.
"We knew his long term care would be even more important than his short-term surgery recovery but no one ever really gives you ideas for long-term maintenance besides a prescription diet," Klacko says. "We started taking Figaro for regular leashed walks after his surgery when I read that walks outside can be a good experience for cats with stress. [It gives] them the exercise all cats need, [it gives] him one-on-one time with us in a multi-cat environment, and all that stimulation that comes with being outdoors [is] a satisfying experience for Figaro."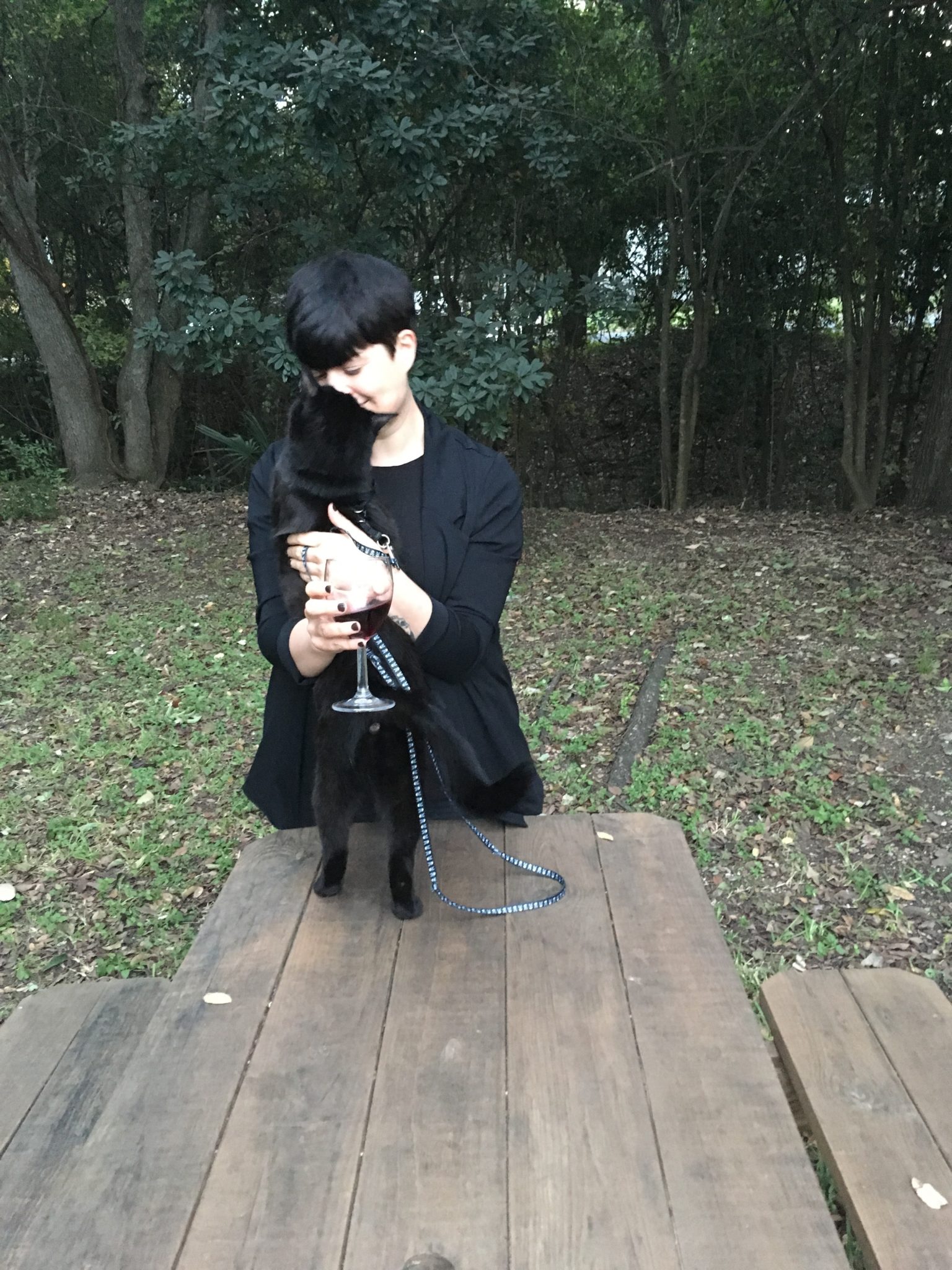 Klacko mentioned Figaro's walks to veterinarian Dr. Katrina Breitreiter of South Austin Cat Hospital who fully supported the idea, and soon leashed walks became part of Figaro's daily routine.
"Typically we just walk around the perimeter of our house," Klacko says. "Figaro's leash and harness hang by our back door and he waits by it every morning. He likes to sit on the picnic table with me and sniff grass and trees. If he's feeling particularly energetic, we'll jog around the house. His walks and leisure time outside are anywhere between 5 minutes and 45 minutes."
MORE: Try 'catting' to get a new 'purrspective'
Soon though, Figaro will be leaving his Austin home behind and relocating to an apartment in the Windy City, and while he won't have access to his very own backyard anymore, Klacko says they're moving to a pet-friendly building where Figaro will still have access to the great outdoors.
"My plan is to talk to my future neighbors about Figaro potentially going outside around the building," she says. "I'll have to make sure there isn't anything toxic in the yard, as well. Ultimately, it will be up to him, as always, if he wants to go outside. With a whole new set of smells and stimulators his behavior toward walks could change, but we're hoping he'll still enjoy them — Chicago weather permitting, of course!"