Captain Ahab was just a kitten when Hurricane Irma struck the Sunshine State. The SPCA in Marathon, Florida took in the ginger tabby and sheltered him for a few months until the winds changed, and Captain Ahab went from storm survivor to adventure cat.
On December 26, 2017, travel bloggers Kach and Jonathan Howe adopted Captain Ahab from the SPCA and took him to his new home: a 37-foot 1971 Finnrose sailboat named Empress. The furry sailor is now truly living nine lives to the fullest by enjoying beautiful ocean vistas, napping in cat hammocks and exploring seven seas full of delicious fishes.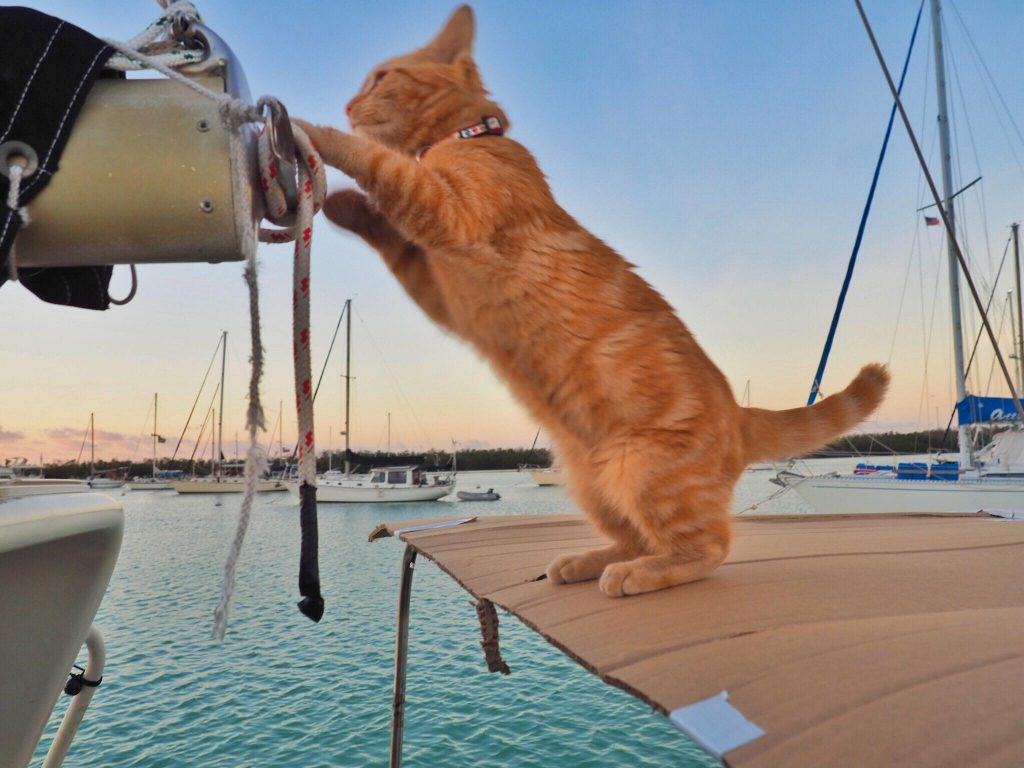 Kach and Jonathan Howe are intrepid globetrotters and "digital nomads" who have traveled to more than 100 countries and visited all seven continents. They run Two Monkeys Travel Group, and Kach recently launched MrandMrsHowe.com, a lifestyle blog that  documents her adventures in married life. Kach and Jonathan's love story and shared adventures have been featured in Forbes, Yahoo, PopSugar and more.
And now these globetrotters are taking to the seas.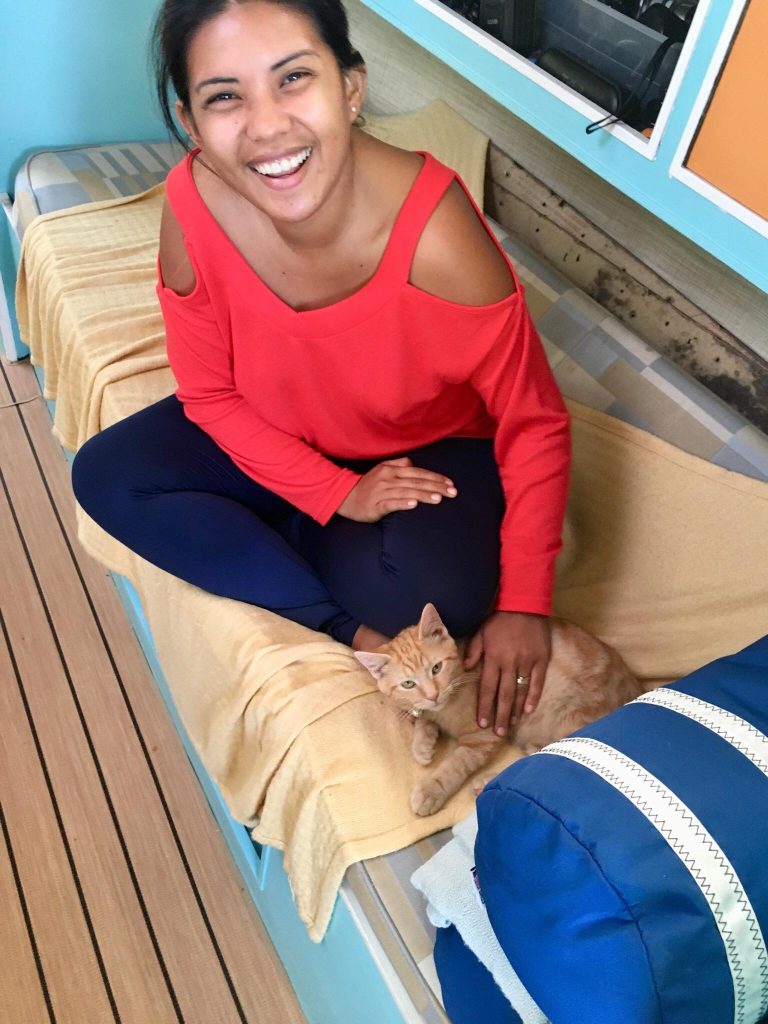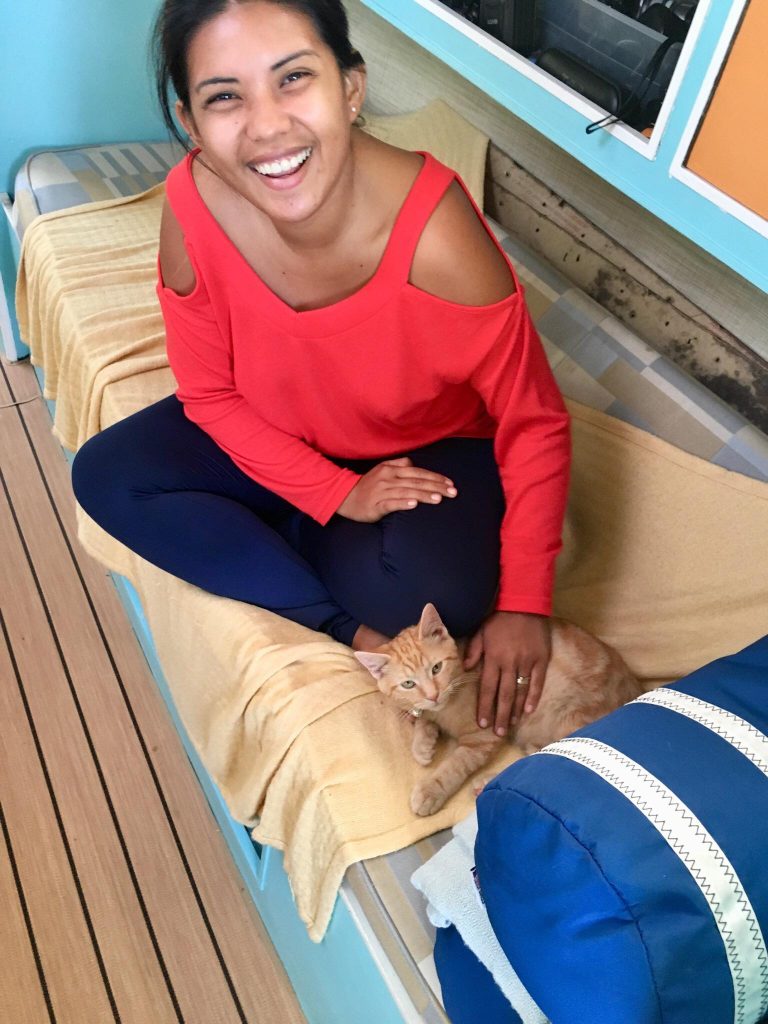 Before adopting Captain Ahab, Kach and Jonathan spent seven months restoring their sailboat, and they're now sailing in the Bahamas. Adventure Cats got in touch with Captain Ahab and the Howes to learn about the nautical family's plans in the crystal blue waters of the Caribbean and beyond.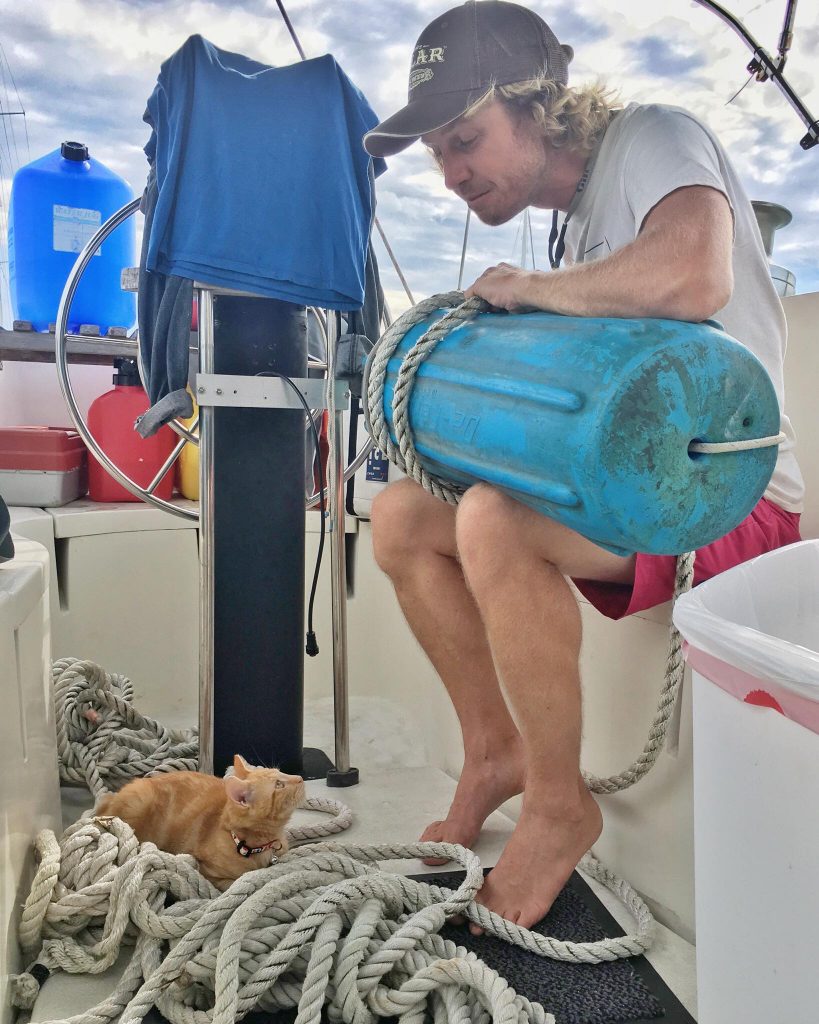 Adventure Cats: How long have you been sailing?
Kach Howe: Neither of us have had a great deal of sailing experience before buying Empress, so the 29-hour journey from Marathon to Bimini across the Gulf Stream was our first real sail together! Almost two weeks later we are now tied up at New Providence Island near Nassau and waiting for the weather to improve so we can make the day trip across to the Exumas.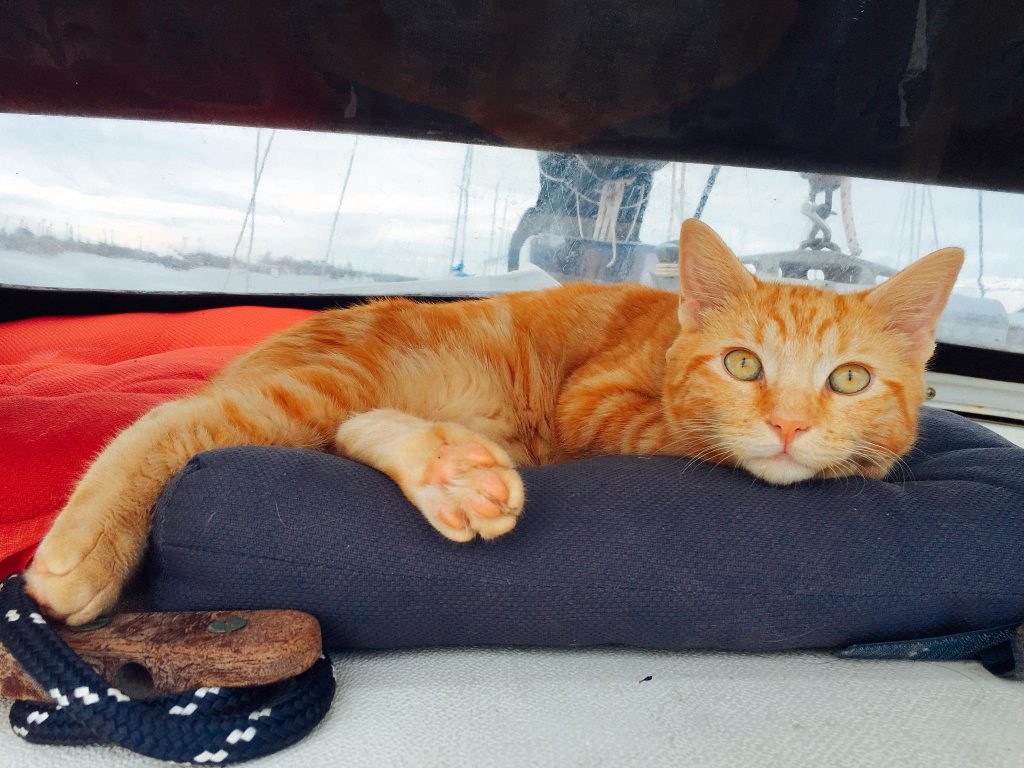 What influenced you to include Captain Ahab on your travels?
We talked about having a pet on board for quite a while, but Jonathan wasn't convinced at first. He grew up with cats and dogs who had all the freedom they wanted to explore outside, so the idea of such a small territory for a cat didn't seem right.
Then, over the course of a few months, we kept meeting more and more sailors who had cats on board; some from kittens and some that moved aboard as adults. It was really clear that they all loved the boat life and had adapted to it perfectly!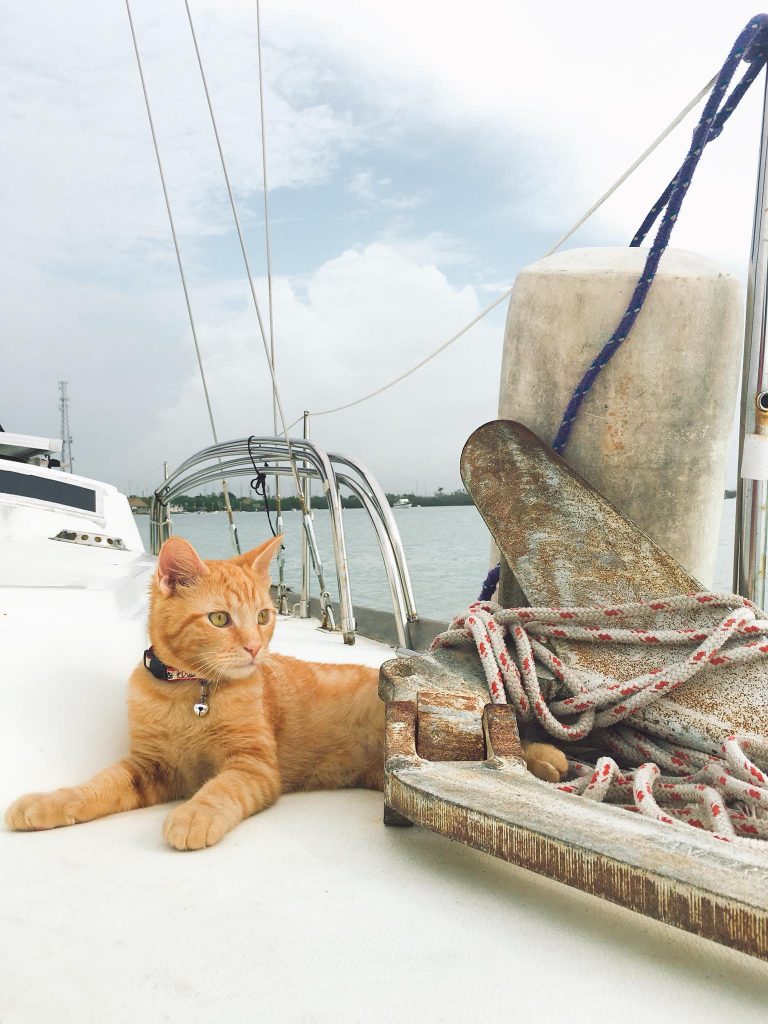 How did you come up with the name Captain Ahab? Are you big Melville fans?
Since we knew he was going to become a boat cat, Jonathan was trying to think of names with a nautical theme. He remembers liking the book, film and cartoon adaptations of 'Moby Dick' when he was younger so he came up with Captain Ahab.
As it turns Captain Ahab is starting to live up to his name. When he decides he wants something or to get somewhere, it's next to impossible to stop him or distract him from his mission. He'll spend hours coming up with all manner of devious trickery in order to get around you to whatever his 'Moby Dick of the day' happens to be!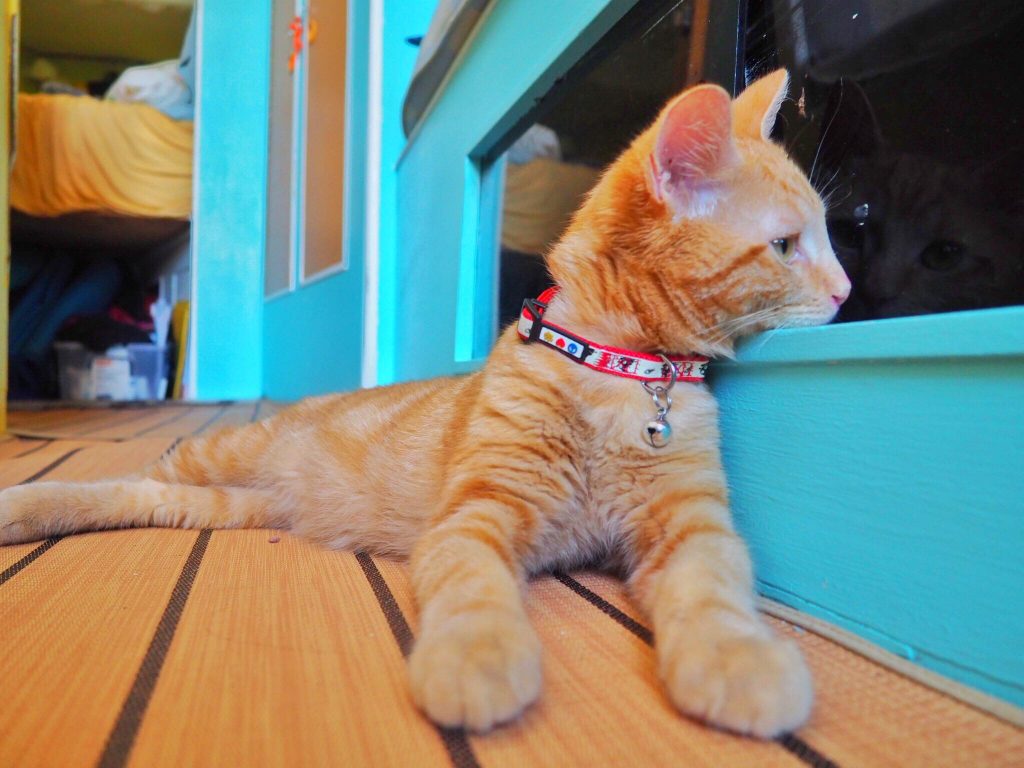 What kinds of steps did you take to prepare Captain Ahab for your journey?
First of all, we just let him get used to the boat without actually sailing anywhere. After about a week, Jonathan wrapped a large boat fender in thick rope and tied it to the side of the boat in the water, for Captain Ahab to climb back onto the boat in case he fell overboard.
Of course, we had to teach him how to use it, which involved lowering him into the water from the dinghy to swim back to the boat and climb up the fender. It's not something we enjoyed doing, but he actually swims really well and wasn't even slightly phased by his 'swimming lesson.'
Does Captain Ahab have a favorite spot on your boat?
He has several favorite spots depending on what we are doing. While we're underway he wears his harness and is tethered safely inside the cockpit with us, so he usually curls up at Jonathan's feet while he's at the helm. He occasionally stands up on his hind legs to look outside and check where we are.
If he gets cold, he goes inside his Blue Whale Cat Ball with his blanket and some treats. When we're at anchor or in a marina he likes to run around the deck, climbing the boom and mast or just sitting behind the sailbags to shelter from the wind.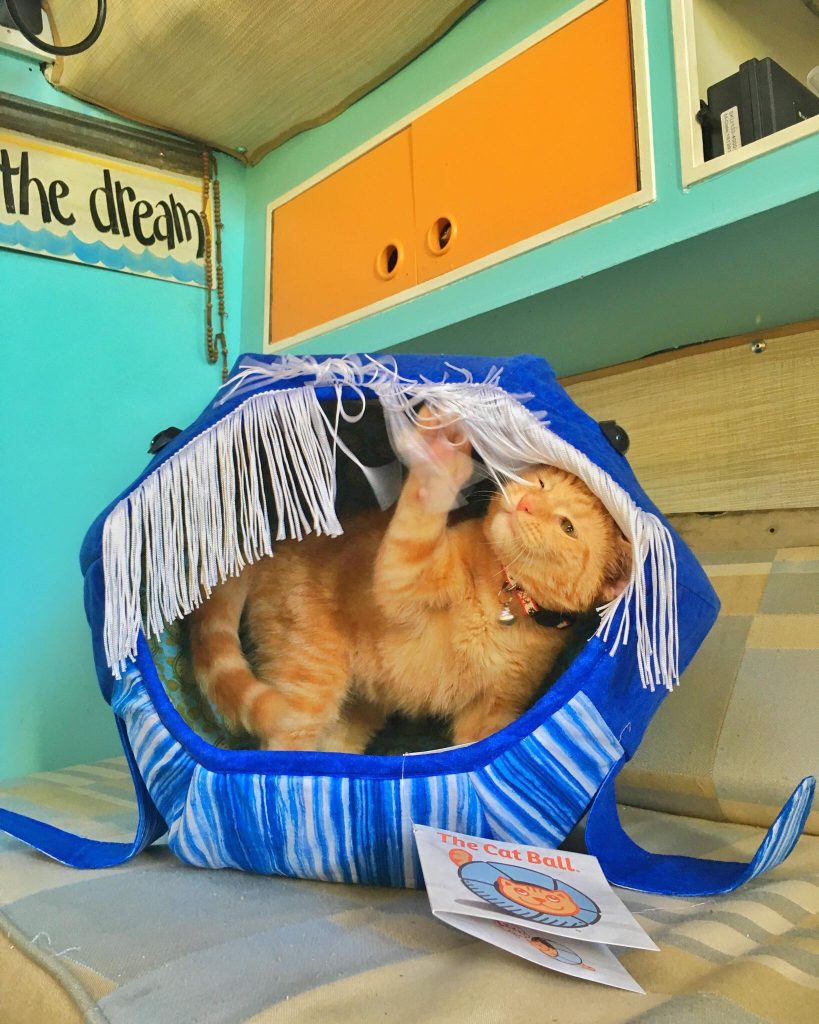 What gear does Captain Ahab use?
Captain Ahab has his own life jacket for use in emergencies and two types of harness that we use to tether him in the boat for sailing, or to take him on land to stretch his legs and explore a bit. Aside from those few bits of sailing gear, he has more toys than we can carry and two cat hammocks for chillaxing in.
What kind of litter box does Captain Ahab use on the boat?
We have a large enclosed litter box that helps with the smells he makes in there, as well as with the movement of the boat as it can be secured in place more easily. The only issue we have found is that he hates the noise from our diesel engine, so if we are motoring anywhere we have to shut it down for a while so he can go do his thing.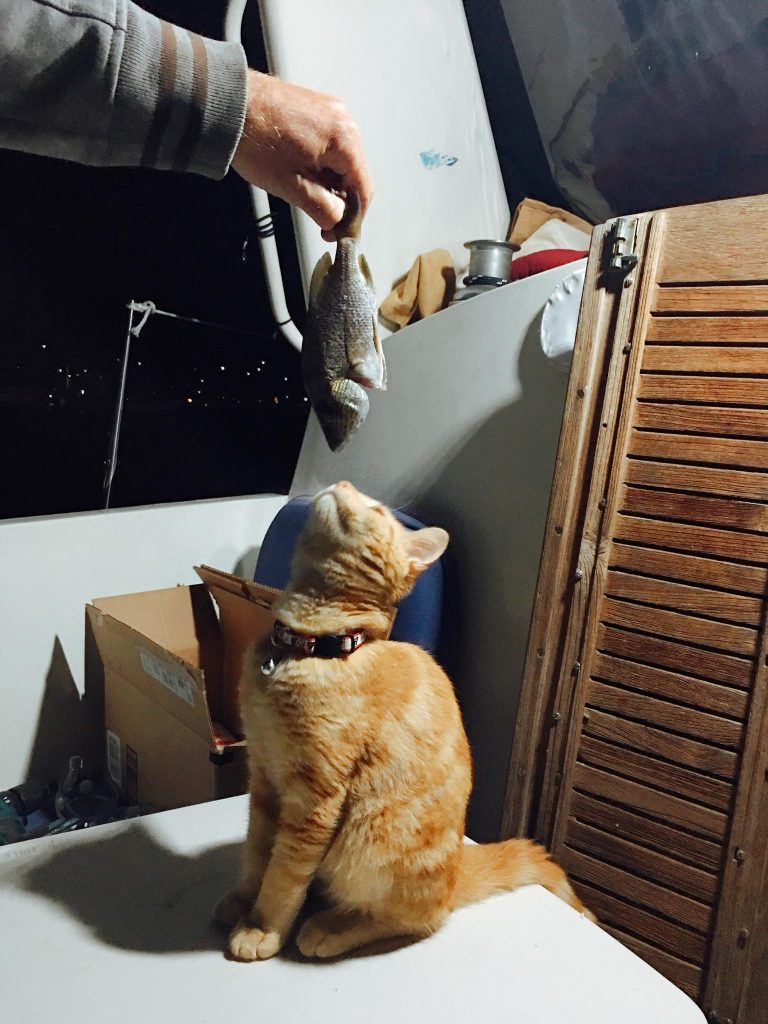 What kind of food does Captain Ahab enjoy?
He loves eating, but he is becoming a bit fussy! We feed him a mix of wet and dry food to make sure he gets enough hydration and, luckily, he drinks plenty of water without any extra encouragement. So far, we know that he prefers chicken over fish and that he will choose to go hungry for up to a day if we try to use up a tin of the food he decides he doesn't want that day. He's a stubborn little guy!
What are your upcoming sailing destinations?
At the moment we're looking at the Bahamas, Cuba, Cayman Islands, Jamaica, Haiti, Dominican Republic, the Grenadine and eventually across to Cartagena, Panama and Guatemala — in whatever order the winds and currents will allow us!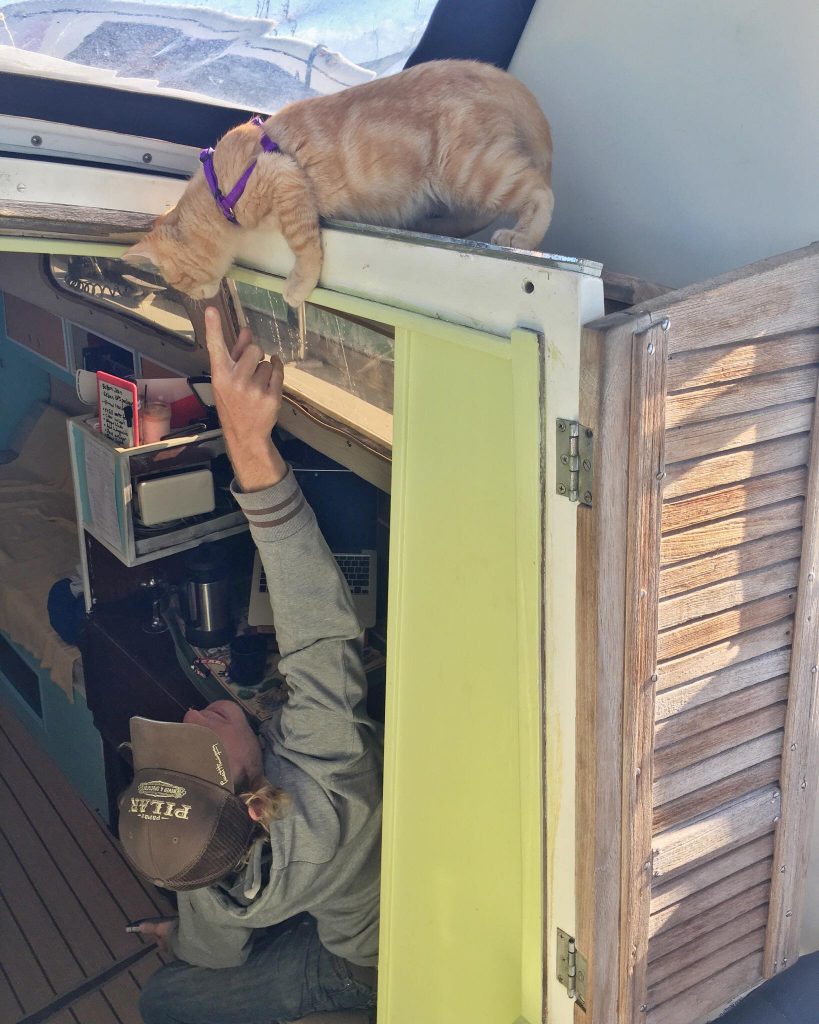 What inspired you to go on this adventure?
Jonathan fell in love with the sailing life when we sailed from Panama to Cartagena via the San Blas Islands on a friend's boat several years ago. We were still budget backpackers without much money back then, but he said, 'I'm going to buy a sailboat and we're going to travel around the world,' without a hint of doubt in his voice. Almost exactly two years later we bought Empress.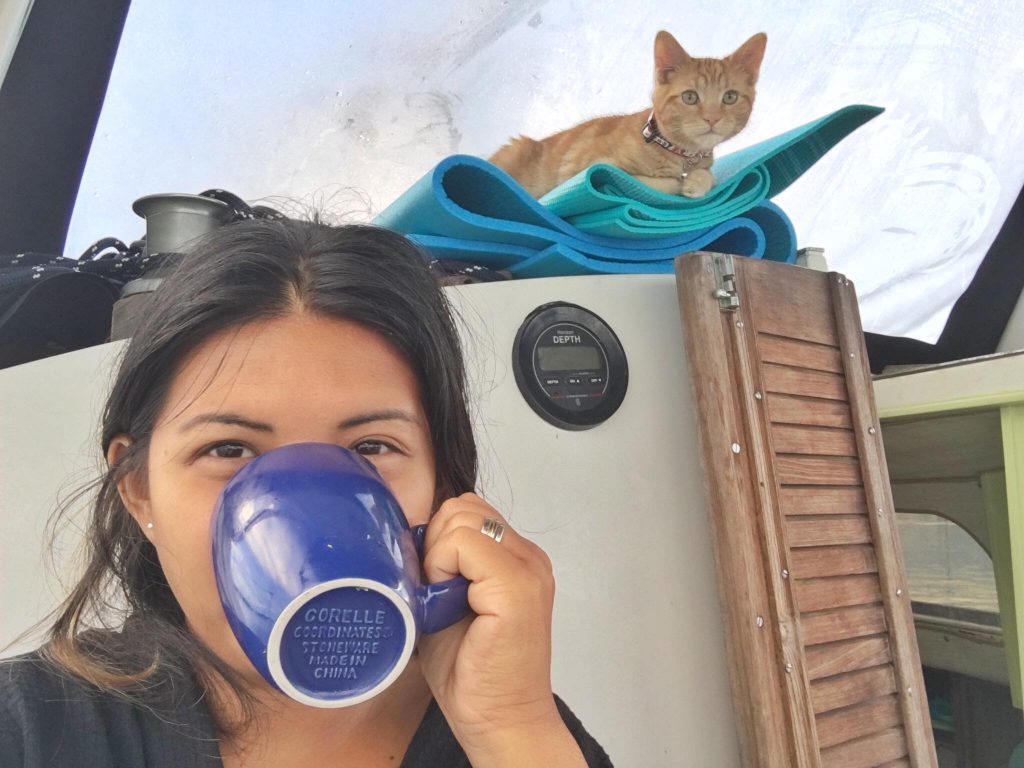 What advice would you give cat owners who are considering bringing their feline friend on sailing adventures?
After our first big journey we decided that Captain Ahab shouldn't be down inside the boat because in big waves there are things that can and will fall over, despite being well tied down. He's much happier in the cockpit with us, and the movement of the boat is far less exaggerated at the stern.
Another tip we've learned from experience is catnip and plenty of treats! The drier biscuit type treats also prompt him to keep drinking water regularly, but we pay attention to him and if he doesn't drink for a while, we'll wet the fur around his mouth wso that he licks it off.
Mostly though we consider Captain Ahab in our route planning and have found that when we plan a route around his comfort, we actually create a much more pleasant journey for ourselves in the process.
What are you most looking forward to about having Captain Ahab with you on your voyage?
He just makes us laugh every day with all his crazy behavior and quirky personality! We also love seeing the look on his face when we arrive at a new destination, reaching up to look over the side of the cockpit taking in everything around him!
Find out more about Captain Ahab, Kach and Jonathan on Facebook, Instagram, Twitter, Pinterest, YouTube and at Two Monkeys Travel Group and MrandMrsHowe.com. 
All photos courtesy of Jonathan and Kach Howe.