Salty Sea Cat is a 4-year-old, 20-pound Turkish Van who hails from the United Kingdom. He lives with his owners Berni and Andy Lockwood on Camargue, a 45-foot Bruce Roberts yacht.
Sailing the high seas alongside Salty and his humans are Pippa the Springer Spaniel and Jib the goldfish. Pippa, or "Pip," as she is often referred, to is Salty's best friend, and Jib is a relatively new addition to the crew, a lucky soul who was rescued from a fair last summer.
Salty, whose full pedigree show name is Premier Yenicizgi Tam Kizil, is more than just a clawed captain — he's also daring darling on social media who's amassed more than 21,000 Instagram followers. It's no surprise, though; Salty is one photogenic and purrolific adventurer. He's been known to canoe, hike and backpack.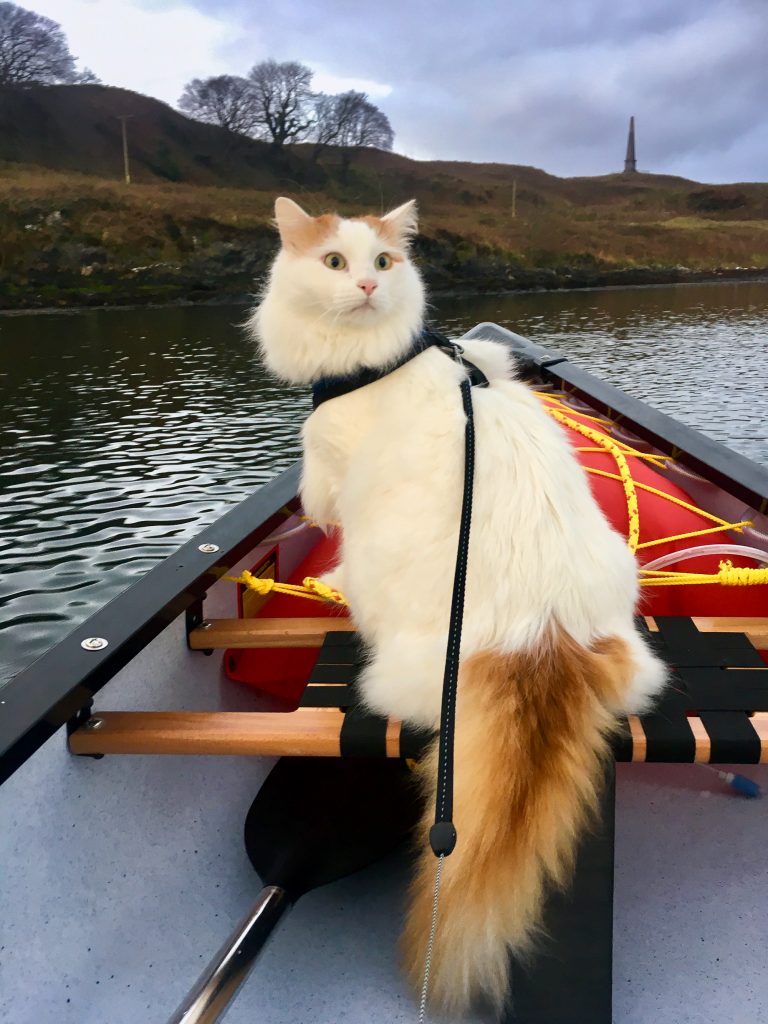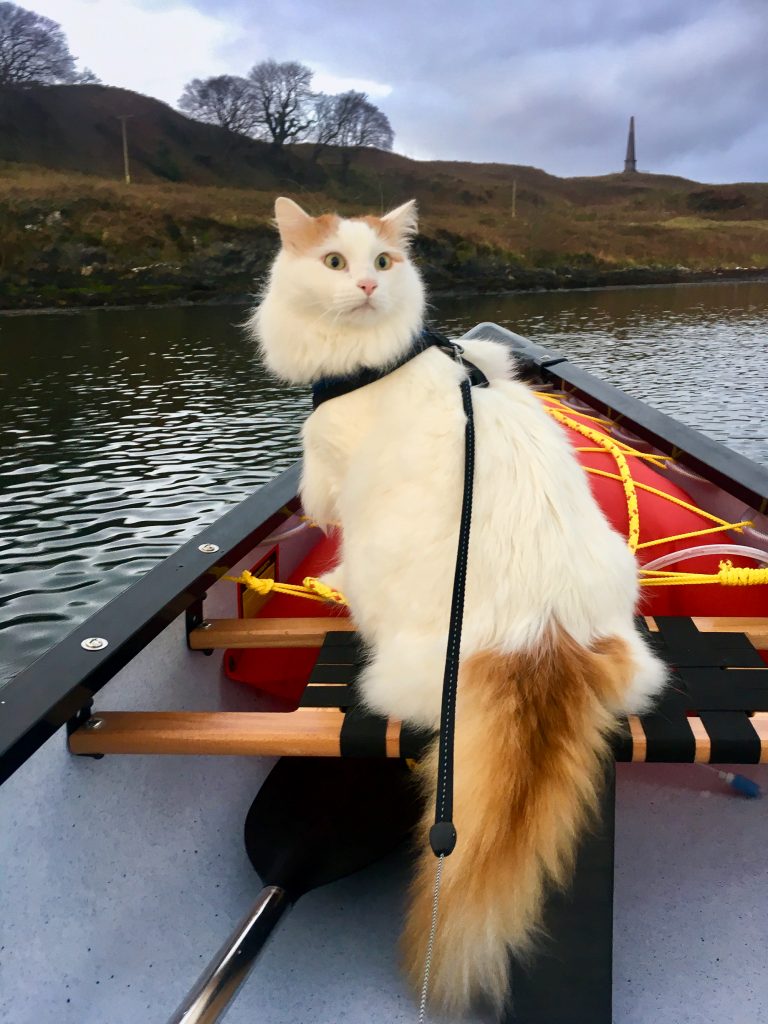 We had a chance to ask Salty's owners some questions about life on a boat, how this meowing mariner joined their crew, and how he became such an accomplished adventure cat.
Berni and Andy enjoyed leisure sailing for 15 years before making the move to give up life as landlubbers.
MORE: Main Coon acts as deaf sailor's ears at sea
"In 2010 we decided to sell our home and most of our belongings to buy a bigger boat to live on," Berni said. "This took us about a year to organize, and we have been living aboard since then."
As for making a living while on the high seas, Andy and Berni work remotely in healthcare management.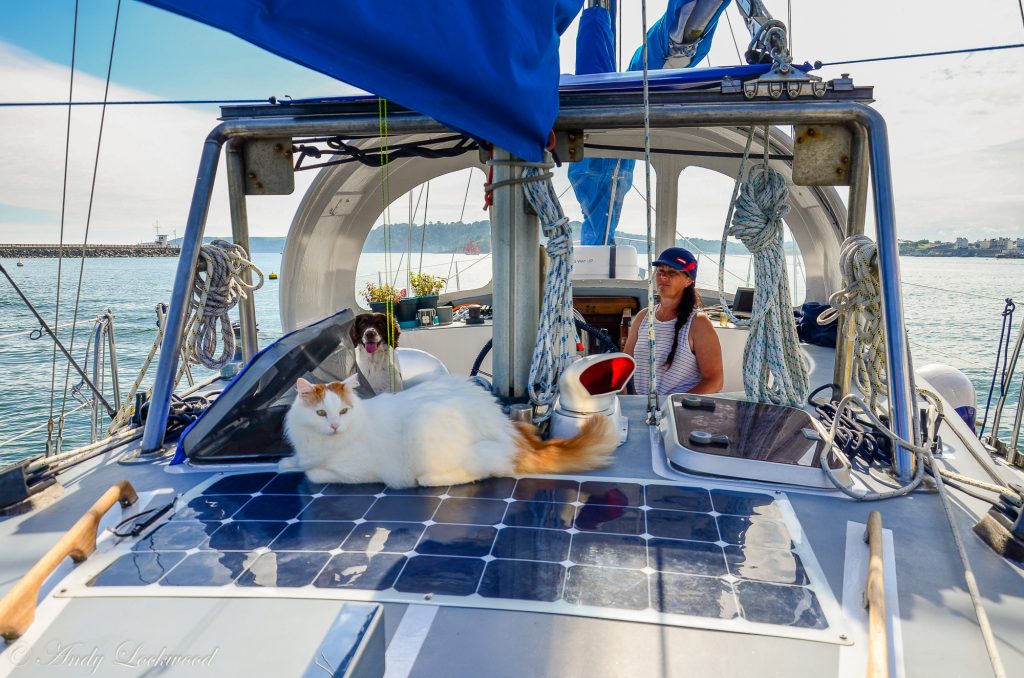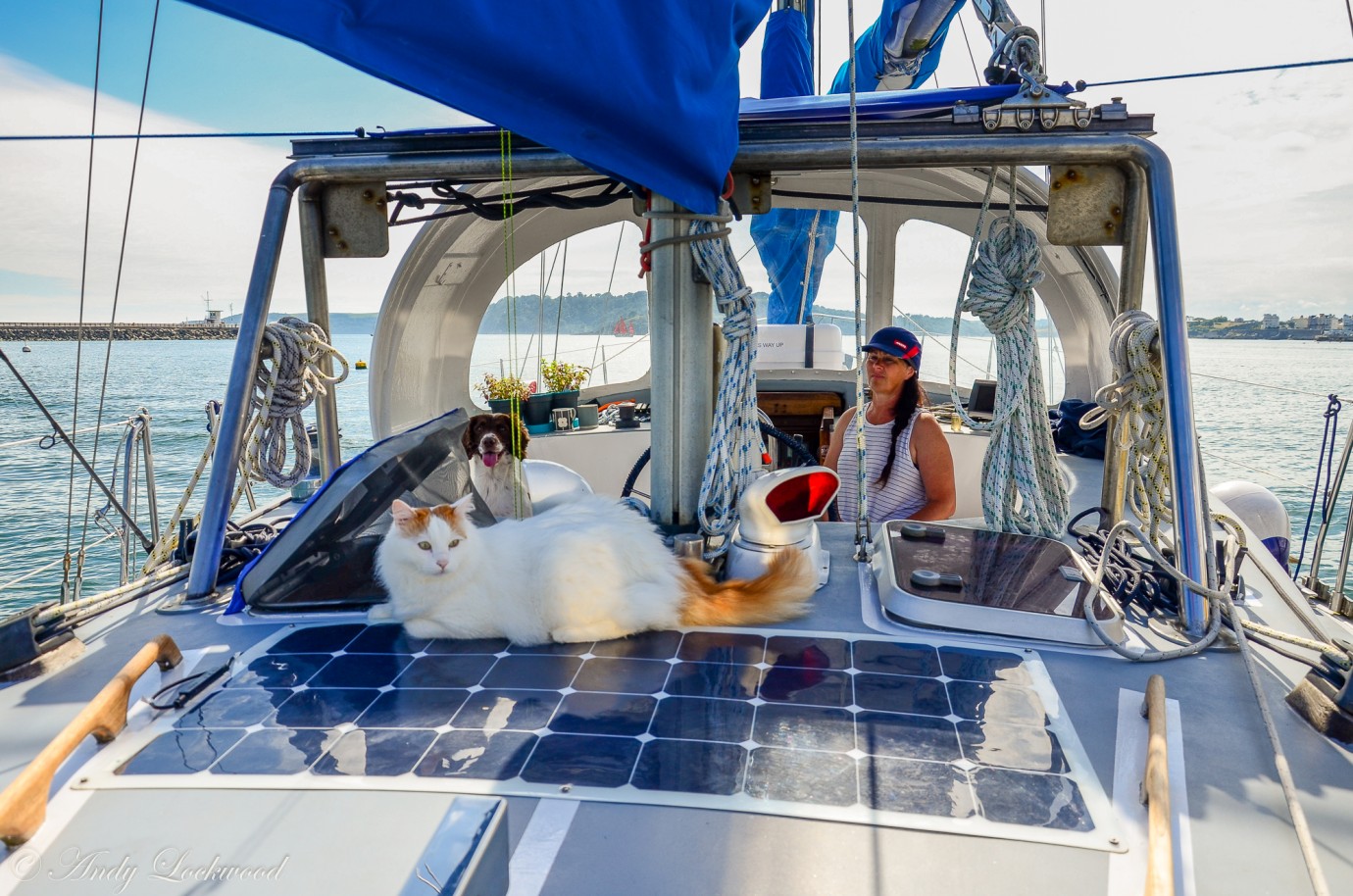 Berni and Andy adopted the 13-week-old Salty in December 2013.
"Salty has always liked to be on deck watching everything that goes on, and he wanted to follow Pip on her walks off the boat," Berni said. "He was already harness trained when he was a kitten, [and] we found he really enjoys going for walks and just doing everything with us. He especially wants to go where Pip (pictured below) goes."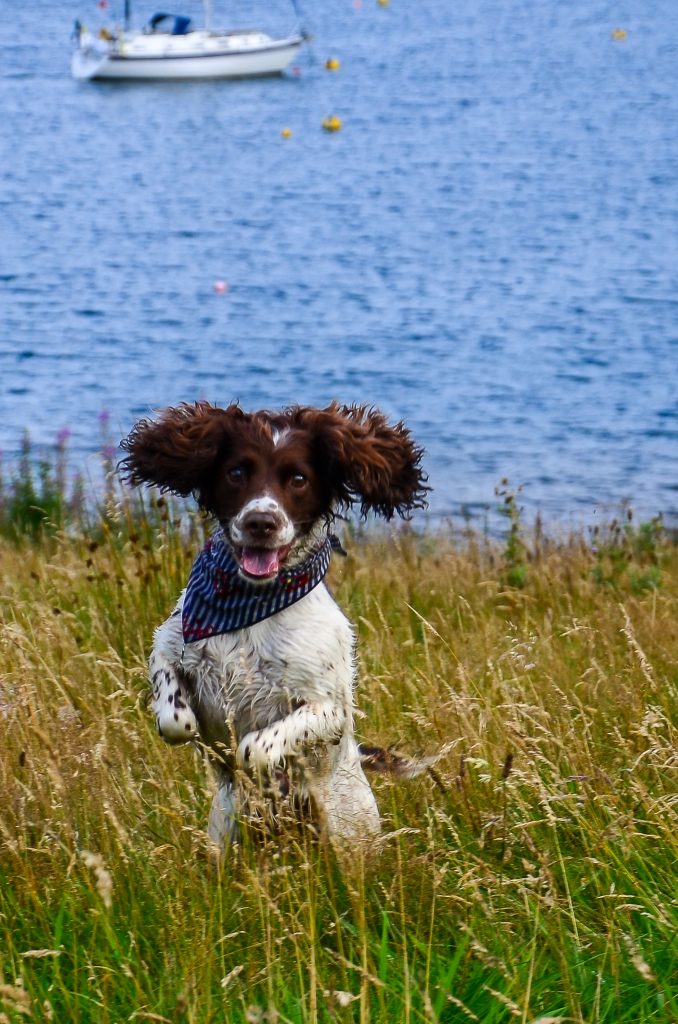 As far as sporting accoutrements, Salty has quite a variety of accessories.
"He has a good harness for canoeing and for longer hikes," Berni said. He travels in a backpack pod and gets out for a wander every 20 minutes and a snack or play, and then jumps back in so we can carry on. If we are going on longer journeys exploring in the car he has a travel carrier."
As for dressing for his adventures," Salty doesn't like wearing clothes at all but will tolerate having pet sunscreen put on his ears and nose on hikes," she said. "I usually wear a scarf that I can wrap him in or he snuggles into."
Aboard Camargue, Salty is quite the cozy skipper. His favorite spots include his very own cabin, which has a mezzanine shelf and day bed with a view out a porthole. He also enjoys spending time in the captain's chair. Above deck, Salty likes to perch on the hatch roof.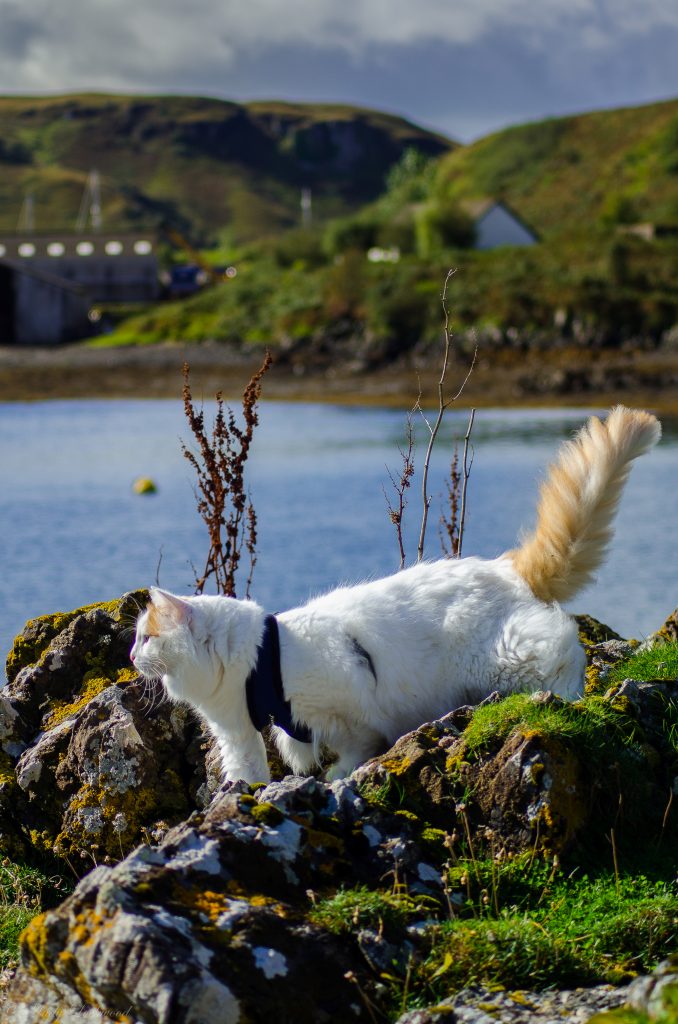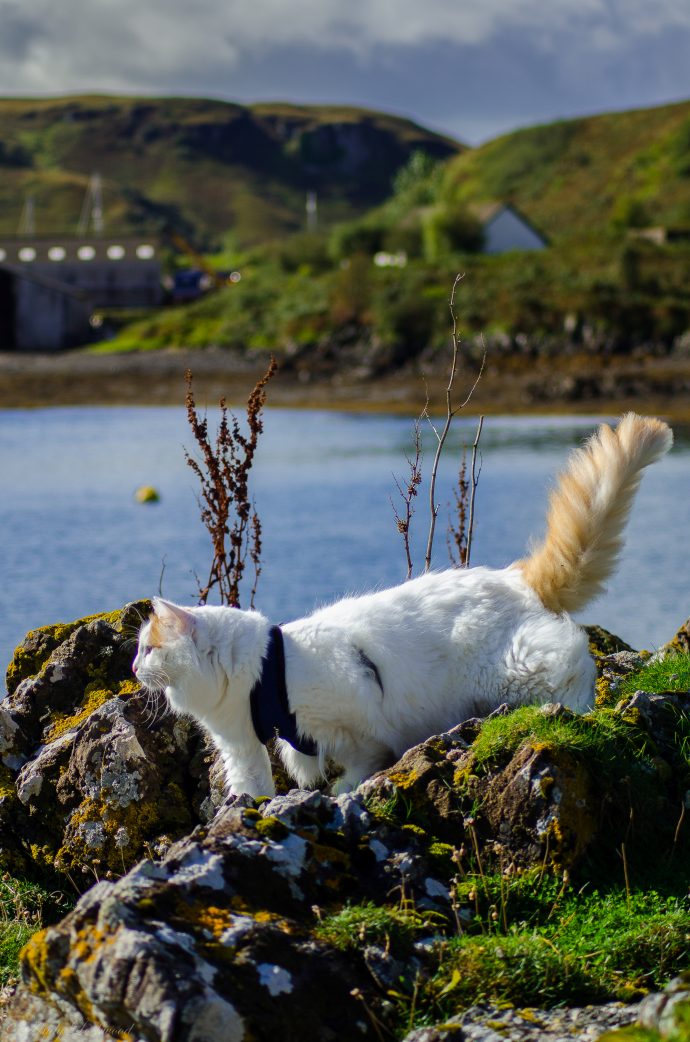 As for hitting the head while at sea, Salty uses a Litter Robot. When off boat, he has a variety of options.
"On adventures, we use three different types depending on the type of travel. On walking hikes, we take a foldable cardboard bag with litter in it, and for journeys in the car he has a ferret corner box." Berni explained that the corner box goes inside his large travel box which is designed for dogs. "He is really adaptable and smart, so any container or box we put litter in, he uses," she said.
For meals, Salty prefers kibble, but he occasionally enjoys tuna in spring water as well as the catch of the day. "He really enjoys fresh fish when we catch it, and sometimes fishermen give us tasty treats for him like langoustine," Berni said.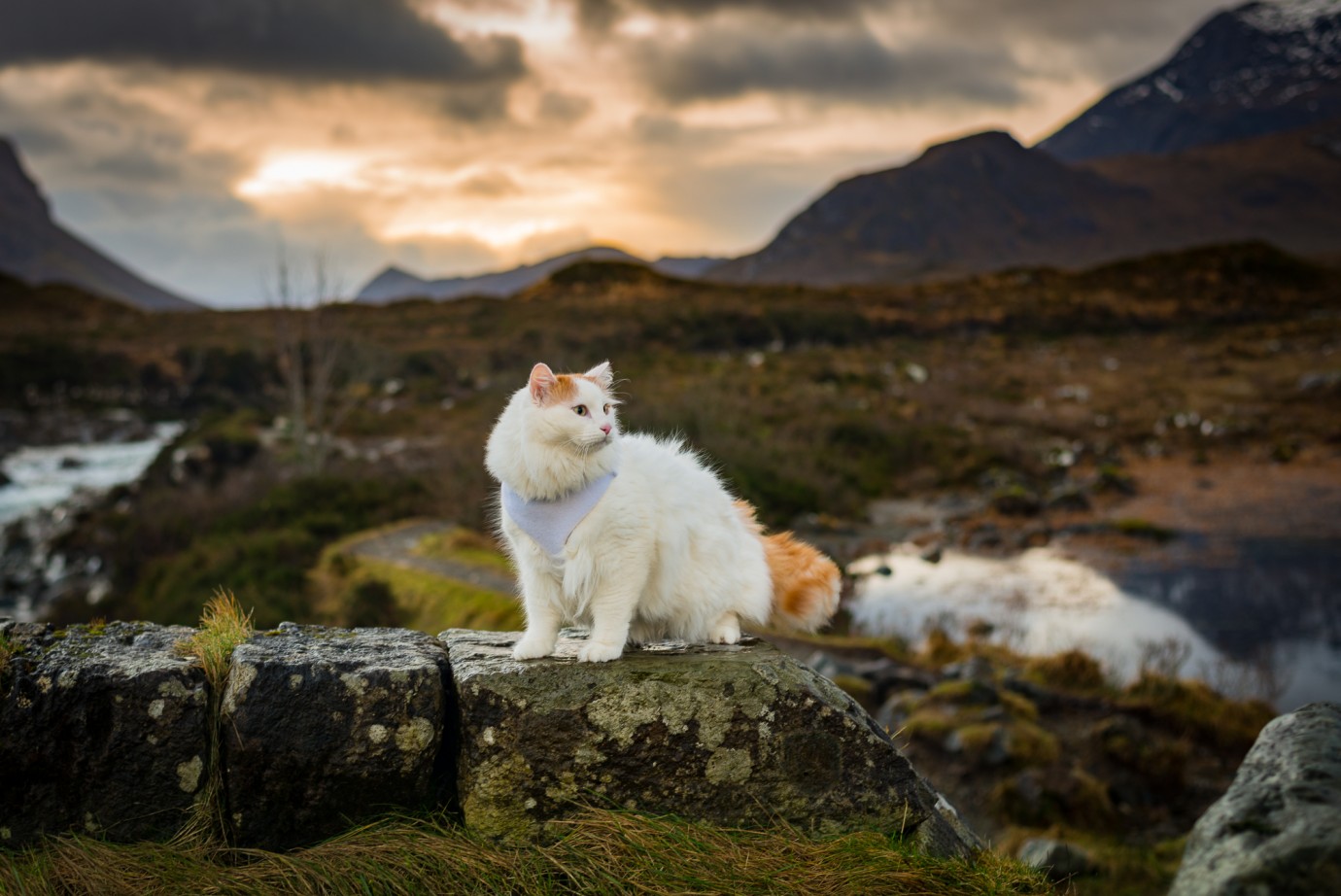 In addition to hanging out with his humans and his pal Pippa, Salty finds entertainment in watching the variety of wildlife he encounters at sea. He's been known to watch cormorants, dolphins and seals.
On land, he and Pippa like to watch rabbits though Berni noted, much to the appreciation of bunnies everywhere, "They aren't allowed to chase them."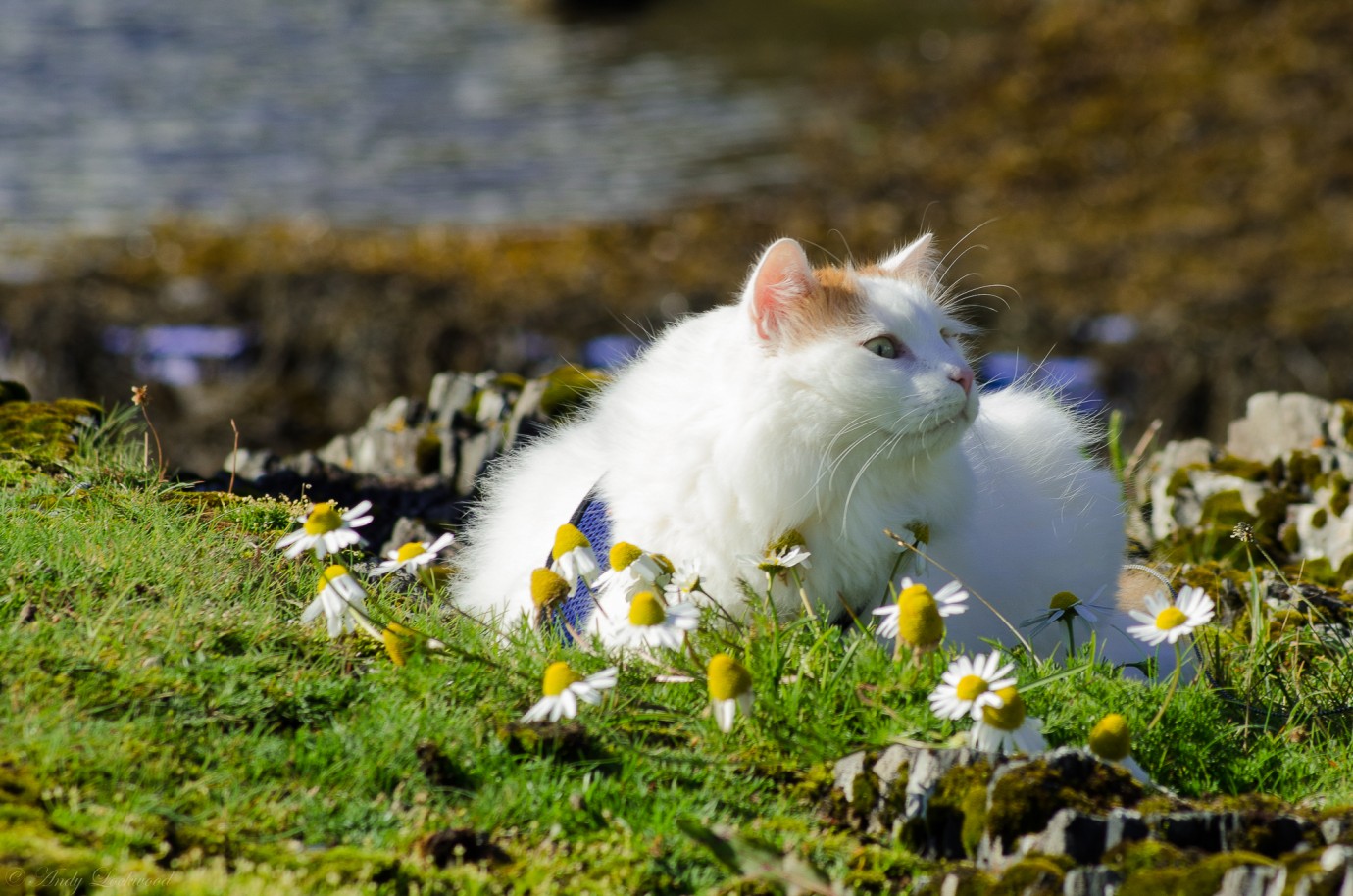 Since Salty is so well traveled, inquiring feline minds wanted to know if he had any recommended travel destinations for other courageous cats.
Berni told us, "Recently we spent a week exploring the Isle of Skye that has a lot of waterfalls and mountain streams that he really enjoyed." Berni noted that the Turkish Van breed likes water, "So he really enjoyed walking along the streams and jumping about on the rocks."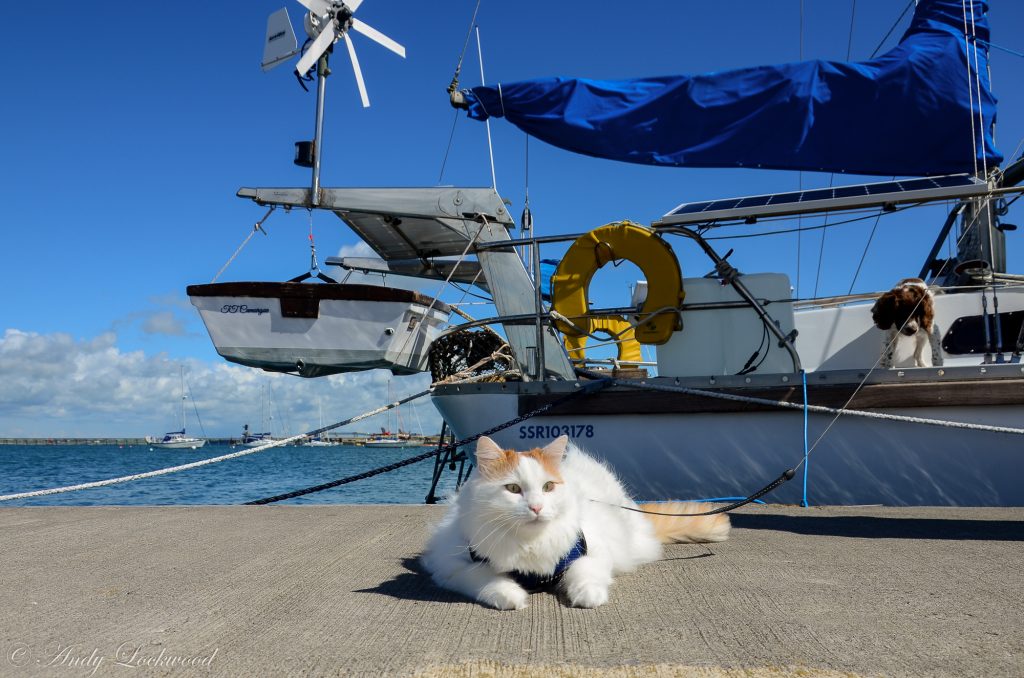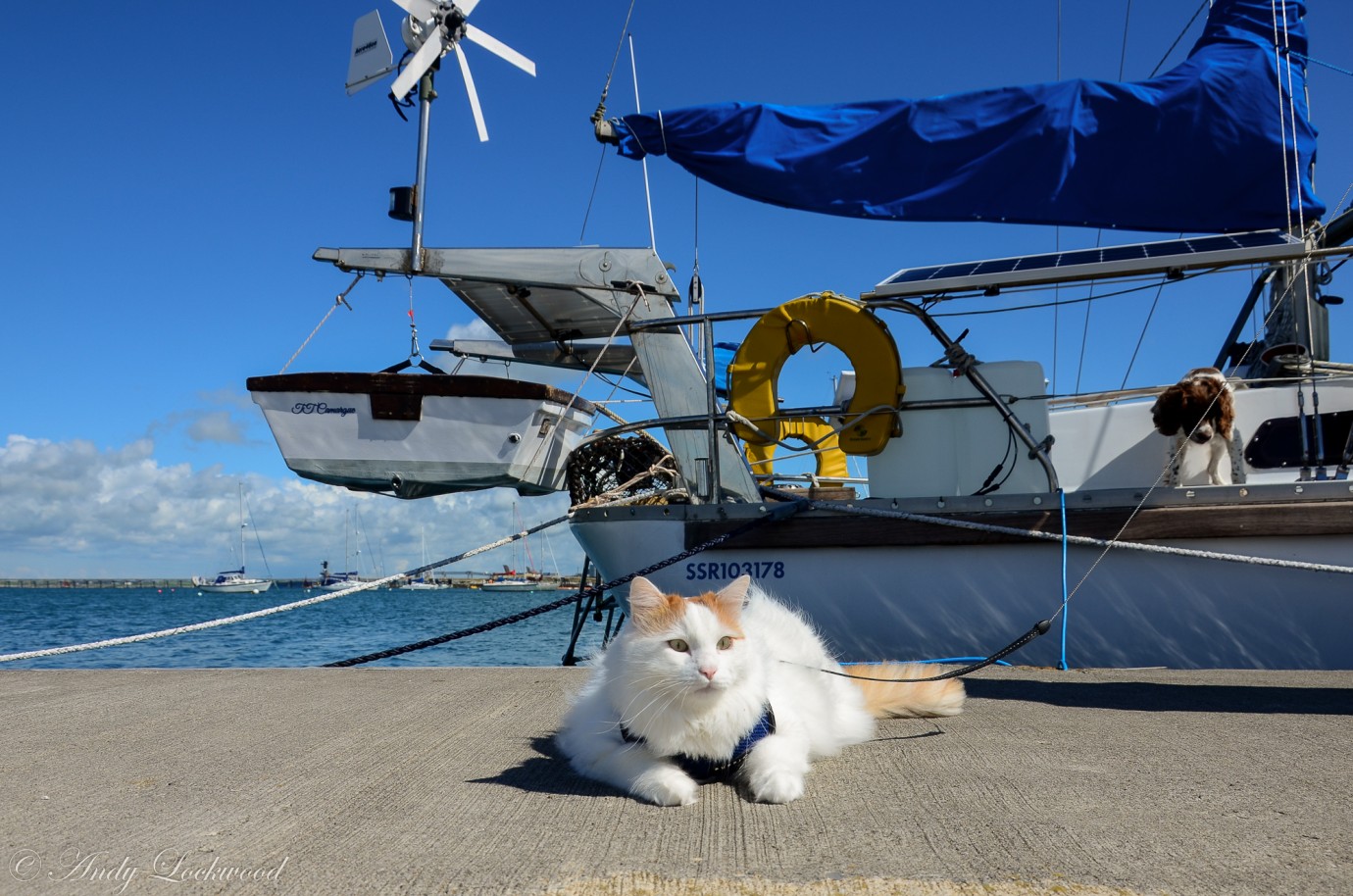 What advice does Salty have for other potential seafurrers?
"Cats can live just as well in sailing vessels as static houses or apartments,' Berni said. "Two things we would recommend are to make sure you have a good 'cat overboard' routine figured out and practice on a regular basis. On really stormy nights, pack a small essentials grab bag in case you have to get off your vessel in a hurry. Ours is for both pets and includes leads, harnesses, a tin of food, a plastic bowl and a small pouch of litter."
While Berni and his crew have never had to use their emergency bag, he says it's important to always put safety "furrst."
Follow Salty Sea Cat on Instagram, Facebook, Twitter, YouTube, and be sure to check out his blog!
All photos and videos courtesy of Bernadette and Andy Lockwood.