As more cat fanciers discover the joy of an adventurous lifestyle, it's important to recognize that people have been enjoying the great outdoors with their cats long before the first Instagrammer posted a photo of a cat wearing a harness and leash.
One such woman is Teresa Kaufman, an American photographer living in Chamonix Mont Blanc, France, who has spent the last several decades exploring the French countryside with her cats.
Kaufman's journey began in the 1970s with her two Siamese cats, Gino and Gato, who helped her master the art of capturing what photographer Henri Cartier Bresson calls the "decisive moment."
"This type of self-taught photographic training is what allowed me to follow a career in photojournalism outside of the cat world, as well as giving me the grounds and material for teaching others," Kaufman tells Adventure Cats.
While Gino and Gato were the driving force behind her occupation as a photographer, Kaufman only began documenting outdoor walks with her feline friends in the 1990s. By that time, Gino and Gato had passed away, and Kaufman was living life with two new cats — a Siamese named Jimmy and an Abyssinian named N'Arthur. These two breeds have a notorious reputation for being alpha cats, which made relations between Jimmy and N'Arthur difficult at first. It wasn't until Kaufman began taking them on outdoor walks that they managed to find a groove.
"Our bonding moments came during our walks in the forest — outside the confinement of our little chalet," Kaufman explains. "Once outdoors, the cats became a team. Sometimes I was the odd-man out of the team, but that was OK by me as their solidarity in the wilderness was most reassuring."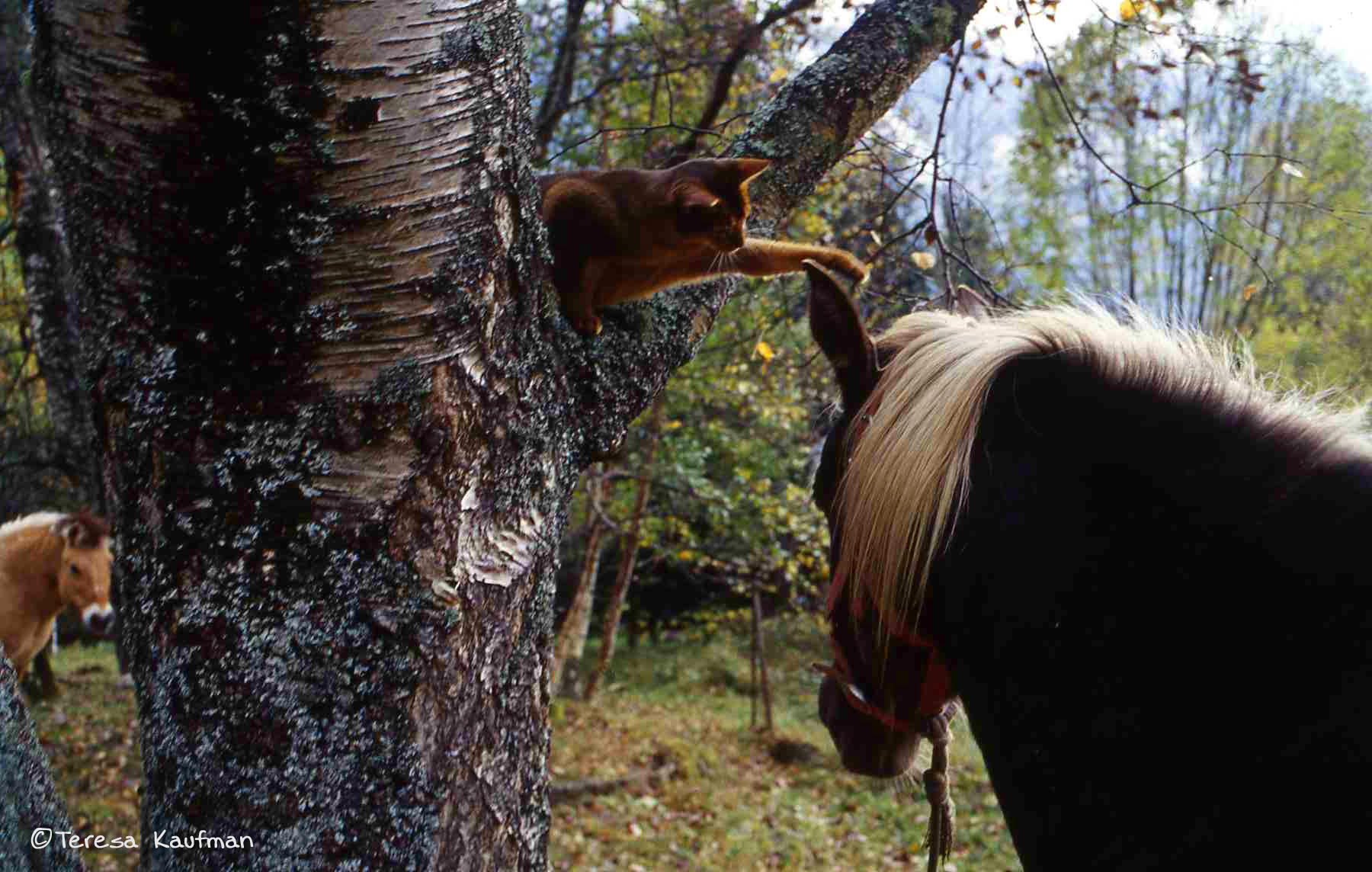 Putting the cats' experience first
Although the walks were a great opportunity to photograph rural France, Kaufman's main priority was always to make sure the cats were having a safe, positive experience.
"Whenever I take the cats on a walk, it is their walk," Kaufman says. "The distance, the pace and the environment have been carefully taken into account so that they will enjoy the experience and ask for more."
Kaufman's cats are not usually leashed during their walks in the rural French countryside; however, she likes to have a leash available for emergency situations.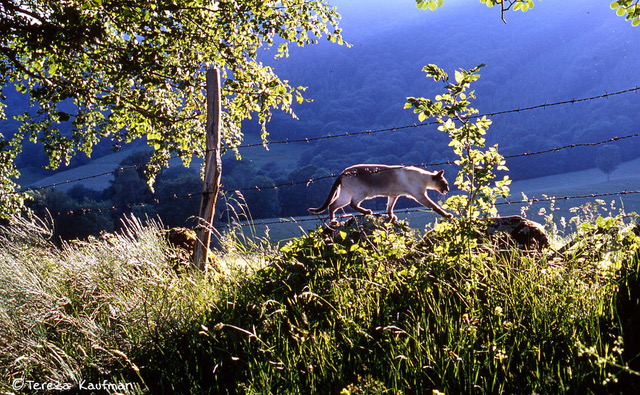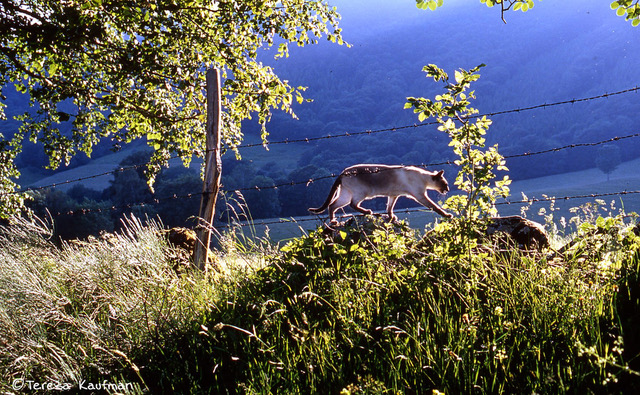 "In the beginning, I actually wasn't sure if they would follow me to the ends of the Earth, so I introduced to them the leash when they were kittens," she explains. "They accepted it quite easily and on two different occasions, it did come in handy when the immediate environment was too urban for my comfort and their safety. However, as long as I managed to organize the trips and stays in rural and stress-free zones far from cars, the leash wasn't necessary."
While the cats regularly take walks without leashes, Kaufman explains that it doesn't absolve her from keeping a watchful eye on their surroundings and any potential threats.
"They will follow me everywhere, as they would their mother," Kaufman says. "Yet their mother cat would have the good sense not to bring them into dangerous situations. That's why I must think as a mother cat and anticipate at all times any problems that could present a hazard."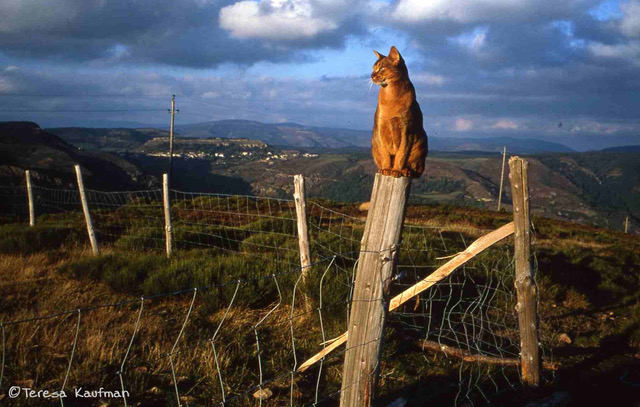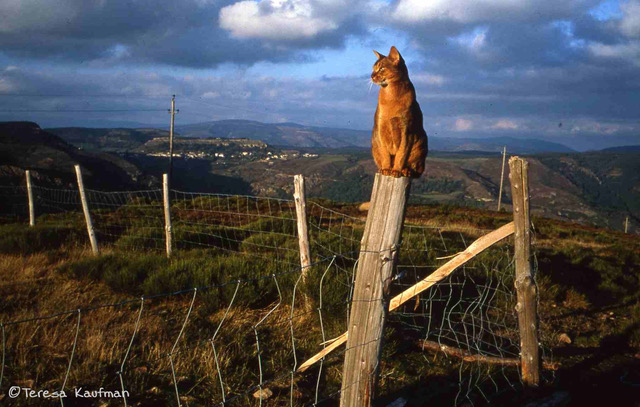 Feline 'Geiger counters' for beautiful places
After decades of feline-centered travel, it's only natural that Kaufman and her cats would become experts in finding the perfect cat-friendly destinations.
"We are very sensitive to some places that give off good safe vibes for the cats. They are like Geiger counters for those kinds of places," Kaufman says. "It works both ways, too. Some places that I thought would be perfect — with no obvious sources of stress — just didn't work with the cats. Obviously, we don't return to those places."
MORE: 11 tips for photographing cats
Naturally, the places that did turn out to be perfect for roaming with cats became staple destinations in their travels.
One place Kaufman and her cats return to again and again is Corniche Des Cevennes. Located in France's Massif Central region, the scenic road is distinguished for its dolmens and burial grounds dating back to neolithic times. Another cat-friendly destination they frequently visit is Luberon, a massif located in France's Provence region that features forested paths lined by ancient Roman walls.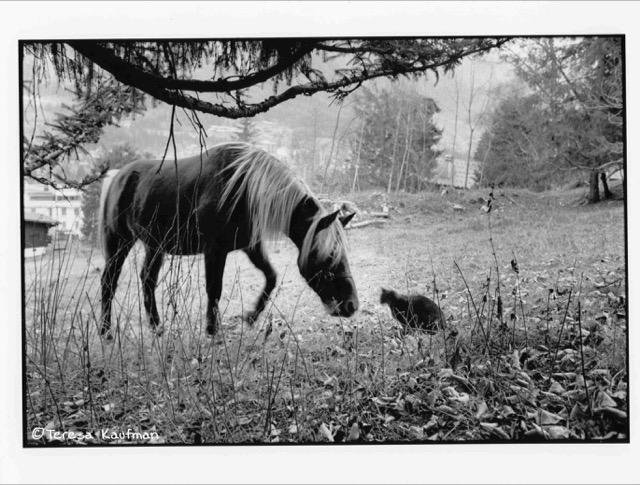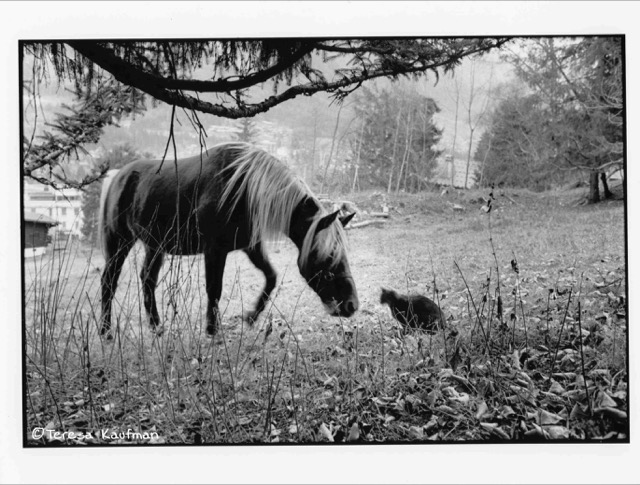 Start 'em young
For anyone interested in taking walks with their own cats, Kaufman recommends acclimating your furry friends as early in their life as possible. That's exactly what she's done with Tender and Moos, the Siamese and Abyssinian cats who now join Kaufman on her adventures following the passing of Jimmy and N'Arthur a couple years prior.
"Each type of cat is different," Kaufman explains, "but when they are kittens, the trust and bonding with their new parents will be strong and inspiring."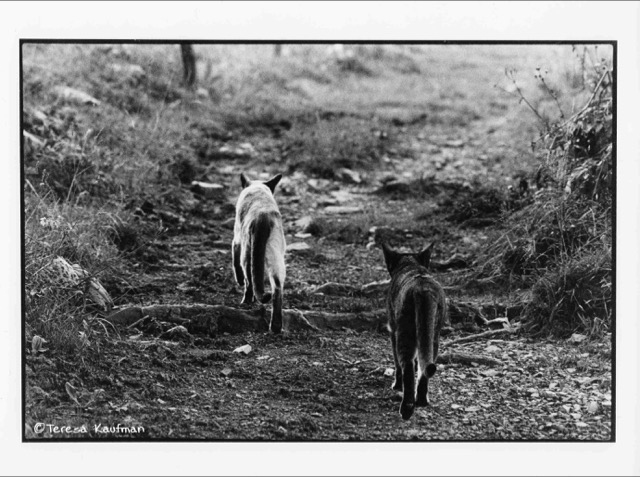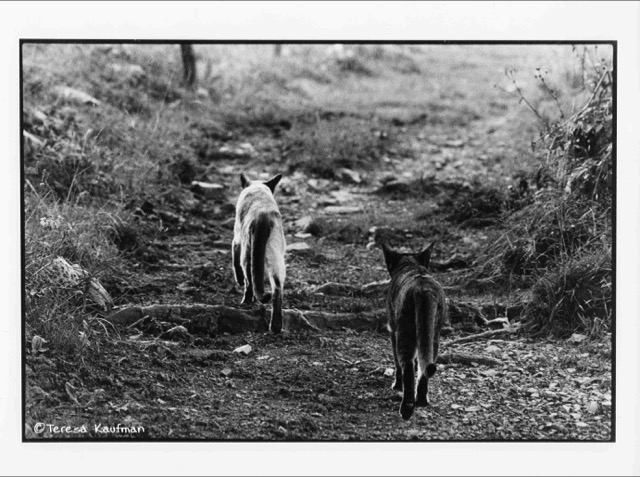 Scroll through the gallery at the top of the page to see more of Kaufman's photography, and learn more about her feline-friendly adventures on her website.
Save