Traveling across Australia in a van may not be everyone's ideal vacation, but for Rich East and his "purrfect" traveling companion, Willow, nothing is sweeter. The pair departed on their cross-country road trip in May 2015, and now the vivacious Willow has seen more of the land Down Under than most will in a lifetime.
"If they say a cat makes a home, then I would add that they also make a holiday," East told Adventure Cats. "I couldn't ask for a cooler travel buddy."
After realizing how well Willow coped with a short camping jaunt, it became clear that she wasn't the average house cat. Now, she's trekked across mountains, deserts and beaches while manning the van's helm with her human, and Willow's ferocious spirit and photogenic furry face have quickly made her an Instagram celebrity.
Traveling in style
East and Willow adventure through the Australian Outback in a van that would give anyone serious envy. A cozy bed fills the rear and provides storage for East's guitar and gear, and Willow loves to snooze on top of the van in the mornings while East charges the solar panels and plays guitar. The two can camp comfortably for about a week before needing to venture out for more food and water.
Most of the pair's day is spent outside — there's entirely too much to see and do to be locked in a van all day. Willow doesn't always accompany East on his treks though, especially if there's a nap to be had, but they both know another adventure is always right around the corner. Each journey operates around what Rich calls "cat time," a slower pace that is respectful of Willow's catnaps. Doing this has taught him to slow down and truly appreciate the world through a cat's eyes.
East says that cabin fever can be unavoidable sometimes, especially on rainy days, but he maintains that there's something special about sharing a small space with his cat. "Spending an afternoon watching the storms come in with a hot chocolate, board games and a cat curled up in your blankets… What more do you need?"
MORE: Have an indoor adventure with your cat
Traveling with Willow isn't all naps and sunbathing though — there's plenty of activity to be had. On one of their more memorable adventures, East and his kitty companion stopped at a stunning campsite along the Australian savanna with an incredible monolith rising from the flatness. They both crawled out to stretch their legs, looked at each other, and then in tandem started climbing toward the top. East slipped over rocks while adventurous Willow gracefully made her way to the top, stopping every few feet to impatiently wait for her companion.
"We made it to the top just in time to see the sunset," East said. "We just sat there together. It was such a special moment for me, realizing how fortunate we are to be able to experience this."
Safety 'furst'
East never trained Willow specifically for the ride, but their intense bond and possible telepathy — or Willow's innate sense of all things expedition — made the transition from house to vehicle fairly seamless. She settled right in and quickly made the van her new home. She learned to climb the back ladder of the van for rooftop snoozes and how to let her human know that she's ready to head back inside: by stomping across the roof and sliding down the windshield.
Willow has also learned to sit, turn around, and lie down on command. She can even wow new camping friends by jumping through a hoop!
Yet, for all her tricks, Willow is still a cat and cats have strong personalities. While she wears a harness when she's let out of the van, Willow isn't yet fully leash trained and tolerates only quick walks with one.
MORE: Essentials for hiking with a cat
However, Willow's safety is important, so Rich uses two pieces of tracking equipment to keep an eye on her: a TabCat Loc8tor, which uses pinpoint directional technology to find Willow's exact location within an inch of accuracy, and a SPOT Trace tracker, which has unlimited range and provides Willow's rough location on a smartphone map.
Adventure buddies
East and Willow may be wildly popular on social media; however, East says that we should all take time to get away from our phones and computers. "Go see some cool places, and enjoy your time with your best friend," he said.
Touring Australia in his van has brought a whole new meaning of joy to East. Every day, Willow teaches him to slow down and look at the beauty in our world, and she challenges his definition of contentment in life and the need for a constant stream of materialism. Willow's excitement and the joy she finds in exploration has shown East that all a person really needs is food, shelter and a little bit of love.
"We have been together through mountains, deserts and beaches, and at the end of the day, Willow is there curled up in bed by my feet. I love to say that she is the cat that made my van a home and the whole of Australia her backyard."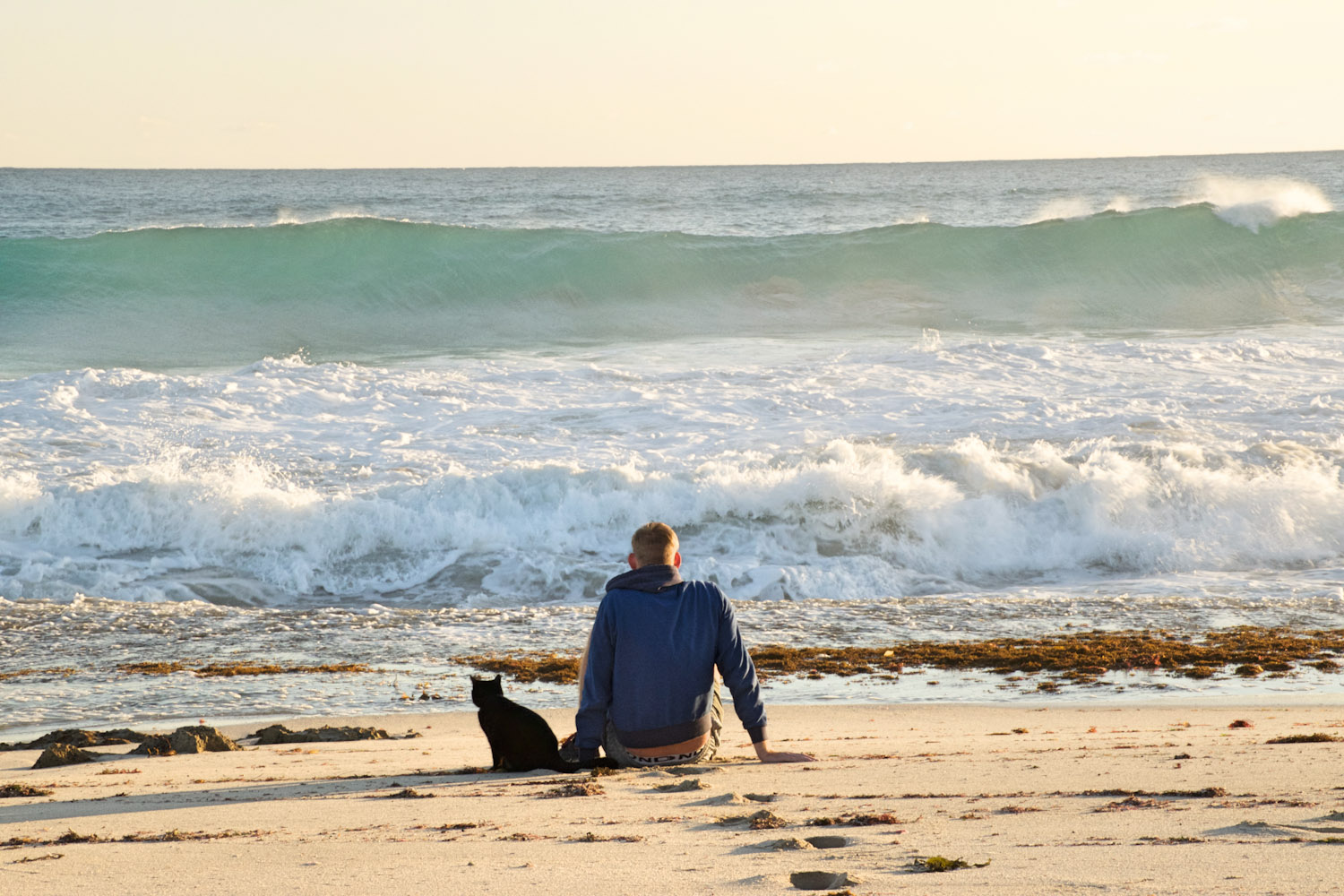 Click through the gallery at the top to see more photos of Willow, and keep up with all her adventures on Instagram and Facebook.

Save