One glance at Floyd The Lion and you may assume his name comes from his magnificent silky mane; however, there's much more to being a lion than simply looking the part. It requires strength, courage and a certain fearlessness when it comes to putting that whole cats-have-nine-lives rumor to the test — and Floyd certainly fits the bill.
Since he went home with Susie Floros in November 2013, this lion-like Persian cat has had one adventure after another — and not always the good kind of adventures. During his first year of life, Floyd underwent multiple vet visits and an MRI, and it was discovered that he was born with only one sinus cavity. Not long after, a German shepherd chased Floyd off a balcony, and the fluffy cat fell 20 feet onto the concrete below. (Luckily, cats tend to land on their feet.)
"He wasn't even a year old and I was convinced he was gone," Floros told Adventure Cats. "We rushed him to the emergency vet and after thorough tests and overnight observation, we found out Floyd miraculously only cracked his two front canines when he landed. Relieved, we brought the little guy home [and] scheduled his root canals."
Not even a week later, Floros was out of town when she got a call that Floyd had gotten into lilies, which are toxic to cats.
"His system was flushed out and Floyd proved once more that he was in fact as strong as a lion and that cats do have nine lives," Floros said.
Luckily, Floyd seems to be staying out of trouble these days, and he gets his fill of adventure by safely hiking throughout sunny Colorado. Most of Floyd's excursions take place around the neighborhood with his best friend, TUD Doodle, a Golden Doodle who helped Floyd adjust to life on a leash.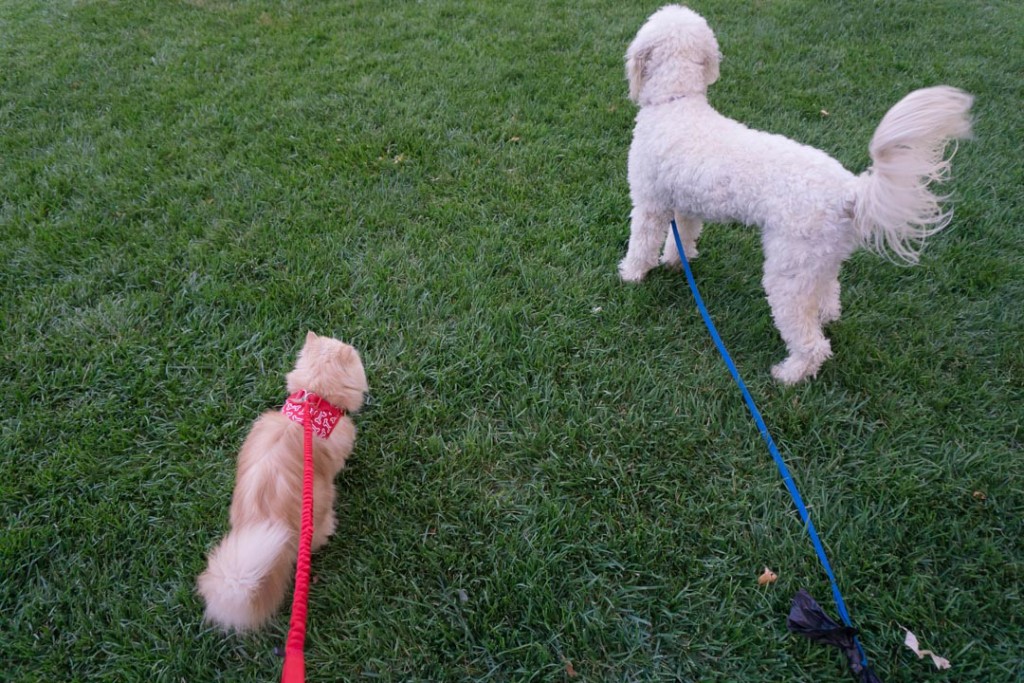 Floros says that walking with Floyd is always a "slow-paced adventure," but it's certainly a worthwhile one. "Adventures with Floyd have taught me to slow down and appreciate the little things along the way. Floyd likes to choose the obscure routes. He's taught me to slow down and watch the birds."
Recently, Floyd embarked on his biggest adventure yet with a trip to Moab, Utah, an outdoor paradise for mountain bikers, off-roaders and, of course, furry, four-legged explorers. During the trip, Floyd hiked alongside his owners and ventured all the way to Corona Arch, and when he got tired, he took well-deserved breaks in his Outward Hound backpack.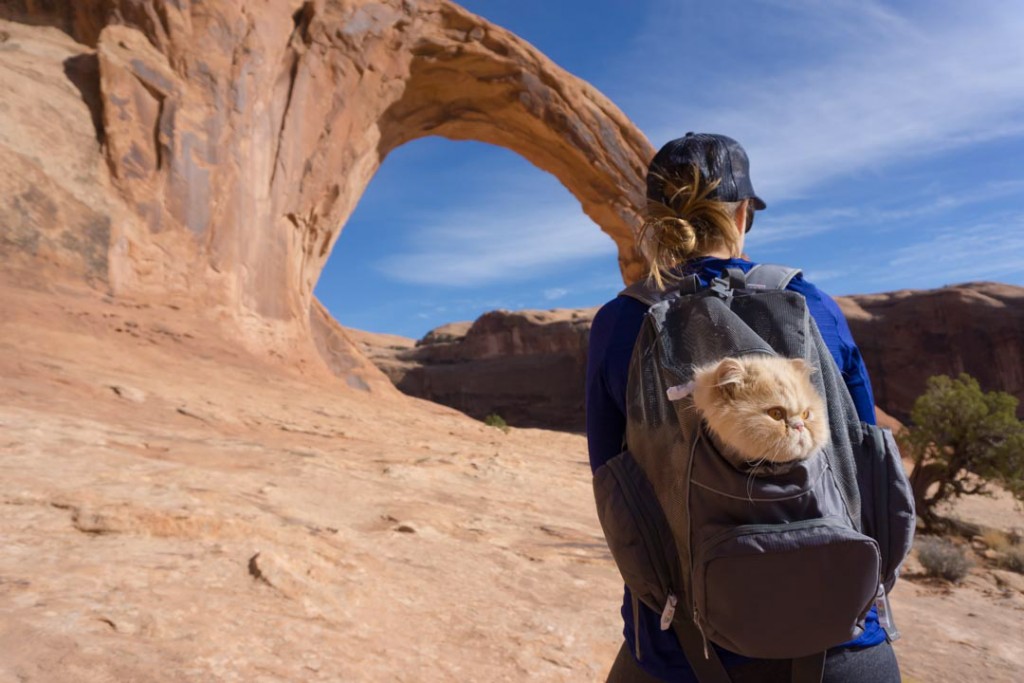 "The best part of adventuring with Floyd is letting him experience the outdoors in a safe way. He's an indoor cat, and it's fun to see him so happy and curious when we go for walks," Floros said.
When they're outside — whether it's on the trail or in the neighborhood — Floros does everything she can to preserve Floyd's remaining lives, so she always puts safety fur-st. "Floyd travels in a cat carrier for road trips, is always in a harness, is chipped and has a collar with his ID tag," she said.
And while this little lion may look a bit fierce with that full mane, Floros says he's all cuddles. "Floyd brings so much love and happiness into our lives. I love how he crawls onto my pillow early morning and rests his chin on my head while he purrs. He also greets us with his tail up whenever we come home. He's a very loving cat who makes our lives full."
Looking to take your own kitty outside? Floros offers this advice:
Be patient and attentive to your cat's needs. Trust is the key for every great adventure partner.
Pay attention to their tails! The tail is a great communicator and will tell you your cat's mood.
Remember that sounds that are normal to the human ear, like cars, can be scary to a cat.
Scroll through the gallery at the top to see more photos of Floyd, and keep up with all his adventures on his website and on Youtube and Instagram.
All photos are courtesy of Susie Floros.