Alaska is home to the nation's tallest peak and largest glacier, as well as some of the most pawsome kitties you'll ever meet. In addition to Stubbs — a Manx that's served as Talkeetna's mayor for nearly two decades — there's another fearless feline who's making her mark on the 49th state. Meet Emma Deans, an adventurous tabby who's exploring America's last frontier by bike, canoe and even skis.
Emma Deans' story actually begins in the lower 48. She was a shelter kitten at the Kent County Animal Shelter in Grand Rapids, Michigan, when Nicole Gaunt and her partner, Brian, stopped by "just to look." (We've all been there, right?)
"Immediately Brian was drawn to Emma Deans and requested that we get the chance to meet her face to face in one of their animal petting rooms," Gaunt told Adventure Cats. "As soon the shelter employee brought her in the room, Emma Deans affectionately greeted us with warm licks on the nose.
"She especially grabbed our hearts though when she leaned into us and melted like butter. She was so trusting right away. She would allow her body to go limp as we pet her and loved on her. She was so floppy and sweet, we knew that we needed to bring her home as soon as possible."
Emma Deans had her first outdoor excursion that very day during a bike ride to her forever home.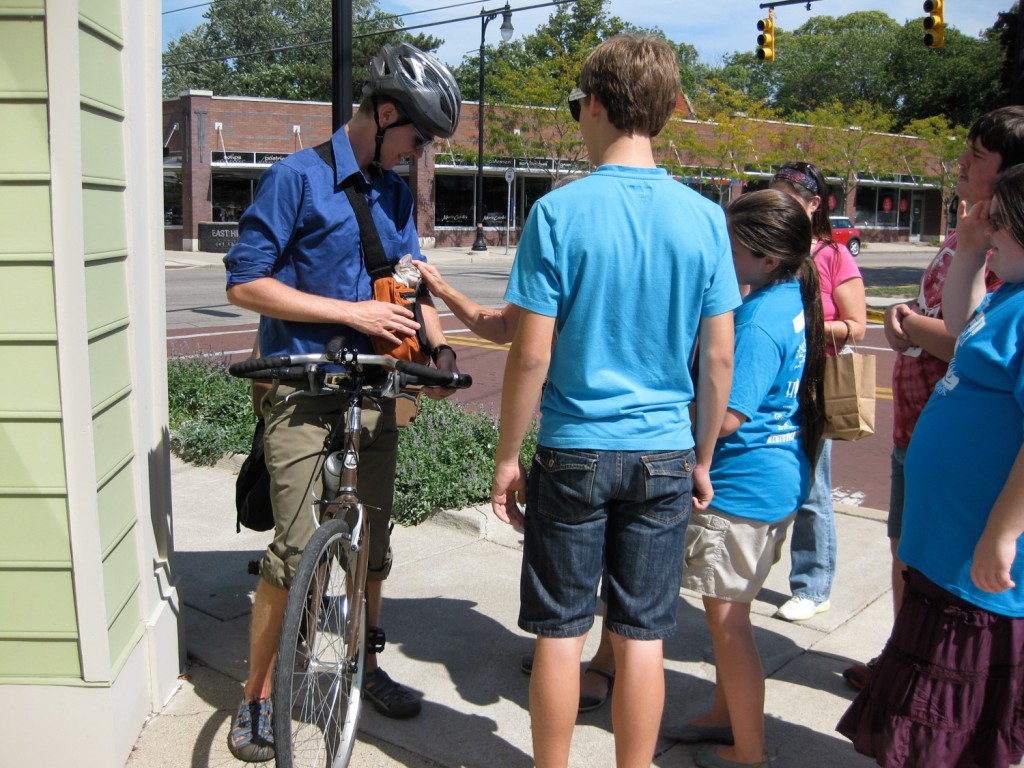 "We didn't have a car at the time, so we put Emma in Brian's satchel and allowed her tiny head (and enormous) ears to peek out. She did so well on the bike ride home! Once we got to street we lived off, there was less traffic noise and we walked our bikes, letting Emma take in the scenery more."
Since that day, Emma Deans has accompanied her humans on countless bike rides either riding in a backpack or nestling atop a shoulder, and she's even demonstrated her impressive balancing skills on mountain bike trails. However, perhaps the biggest ride of this kitty's life was her road trip to Alaska.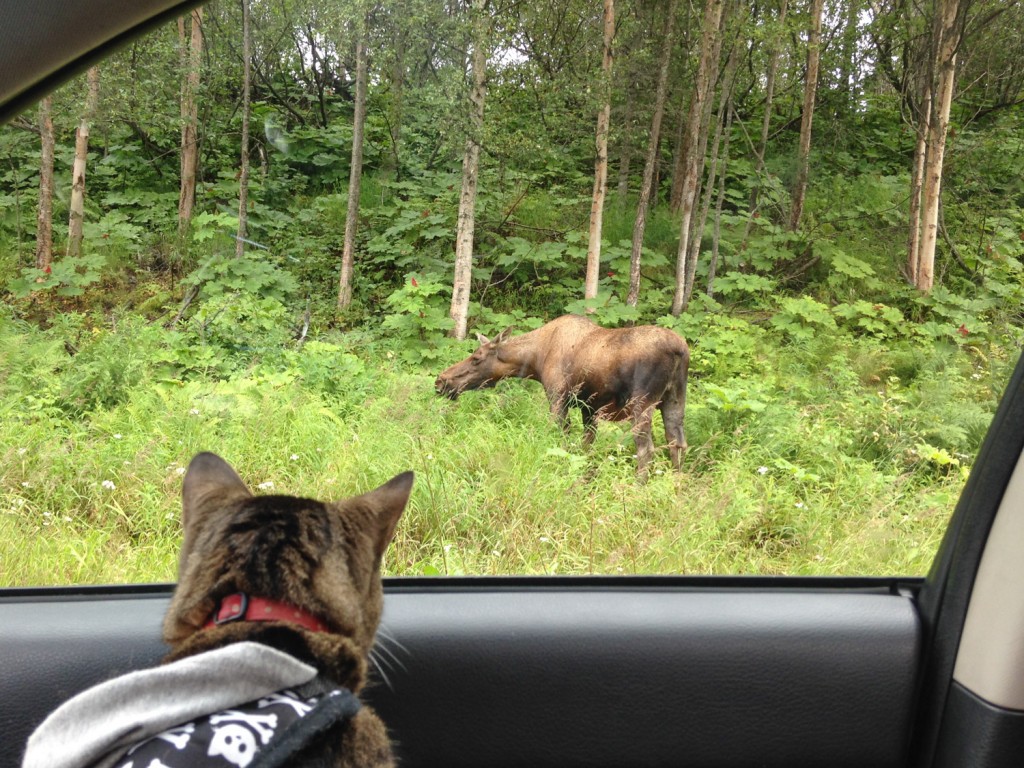 Emma deans rode thousands of miles with her humans to her new home by a lake in Nikiski, Alaska. Here, the fearless feline has had countless adventures. She's hiked through the woods, camped, cross-country skied and even canoed.
"Emma does great in the canoe. She'll either sit on the bow or ride on our shoulders — wherever she can be to get the best view," Gaunt said.
And, of course, this kitty still goes on plenty of bike rides.
"Most recently we took Emma Deans and Willow, our pup, out for a family bike ride. Emma rode along on Brian's shoulders while Willow ran beside me."
While Emma Deans is leash trained, Gaunt says they'll occasionally let her walk off leash if they're in a big park without a lot of traffic, noting that Emma is really good about keeping up with them.
"Sometimes we find that the best form of safety is using the buddy system," she said. "Brian and I adventure with her together so that there's always a set or two of eyes on her to read her mood and body language and offer her the support she needs. There's always the risk of injury or of her wandering off, but Emma really does a good job of staying with us and letting us know when she's reached her limit."
Brian says his favorite memory with Emma Deans was taking her to the park when she was just a kitten. There were many tiny dogs there that were just her size, but Emma Deans held her own and refused to let the dogs chase her away.
When asked what her favorite memory of her feline friend is, Gaunt said that even though they've had some incredible adventures, her favorite times are simply cuddling together as a family.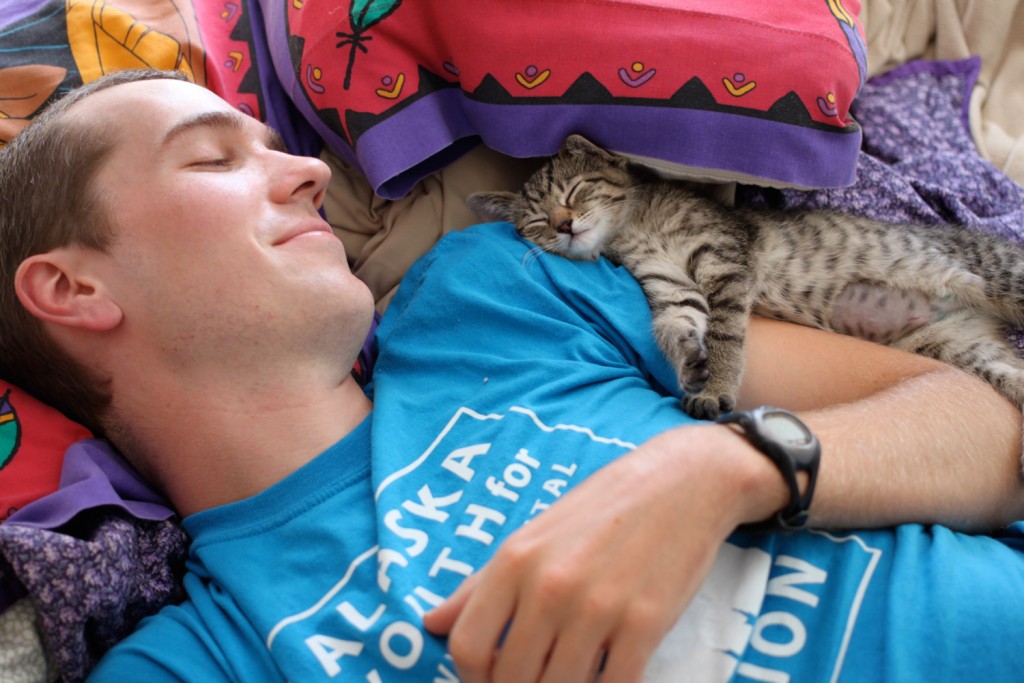 What makes Emma Deans such a meownificent adventure cat?
According to Gaunt, the key is exposure and starting young. Early on, Emma Deans was exposed to a variety of experiences, including different people, animals and modes of transportation.
"We introduced Emma to everything while she was a little kitten…[and now] she has a really high tolerance for new or different things that a lot of other cats might not be as OK with. She always impresses us with her willingness to try anything. She's so flexible — physically and personality-wise. Both of these traits make her a great adventure partner."
Want to train your own Alaskan adventure cat?
Before you pack up the litter box and head north, Gaunt offers the following words of advice.
It's important for people to get to know their cat/kitten, see if they're open to getting out of their comfort zone. I think a big part of it is the cat's personality and the amount of trust built between a cat and their parents.
Start small — local parks or playgrounds. Avoid places that are too noisy as noises can really scare and upset our feline friends.
Having a bell on your cat's collar is really helpful — for you because then it's easier to know where they are, but also for other animals, especially any birds they may be trying to hunt.
It's important to listen to your cat. They'll communicate with you through their body language and vocally. They'll let you know when they're down for more or when they're done for the day.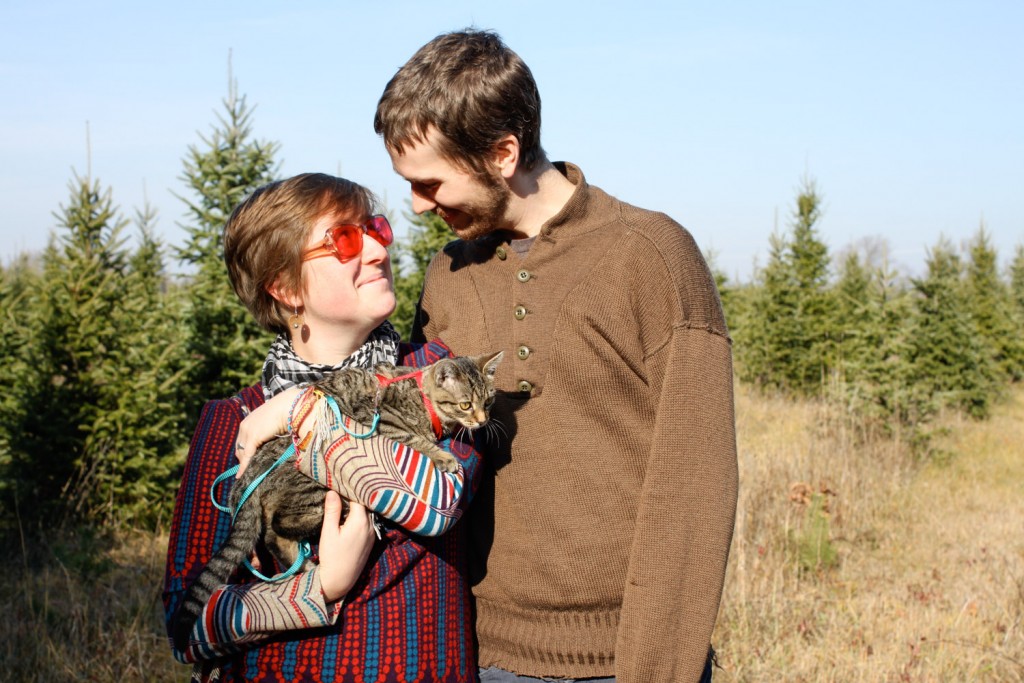 ---
Scroll through the gallery at the top to see more photos of the adventurous Emma Deans, and keep up with all of her outdoor excursions on Instagram.
All photos are courtesy of Nicole Gaunt.