When Lauren Rosko realized how much her Siamese kitten enjoyed walks around their Southern California neighborhood, she decided to see how Phoenix would do on a hike. It turned out that Phoenix was a natural adventure cat.
Adventure Cats: Can you tell us a little about Phoenix and what makes her special?
Lauren Rosko: I adopted Phoenix in July 2012 when she was 8 weeks old. I rescued Phoenix through a shelter in Southern California. Phoenix is a Siamese cat that is highly social and loves to talk people's ears off. She climbs on mountaintops all over Southern California, including the trail up to the Hollywood Sign. In addition, Phoenix is a registered service animal.
How did Phoenix start accompanying you on outdoor excursions?
She started exploring as a kitten by running around the backyard, and with her age and experience, became more and more adaptable — going on car rides and neighborhood walks until she started to climb higher and higher mountaintops.
I was inspired to take her with me because she's one of the best companions. Cats can be extremely adaptable and as transportable as a dog — they just need the opportunity!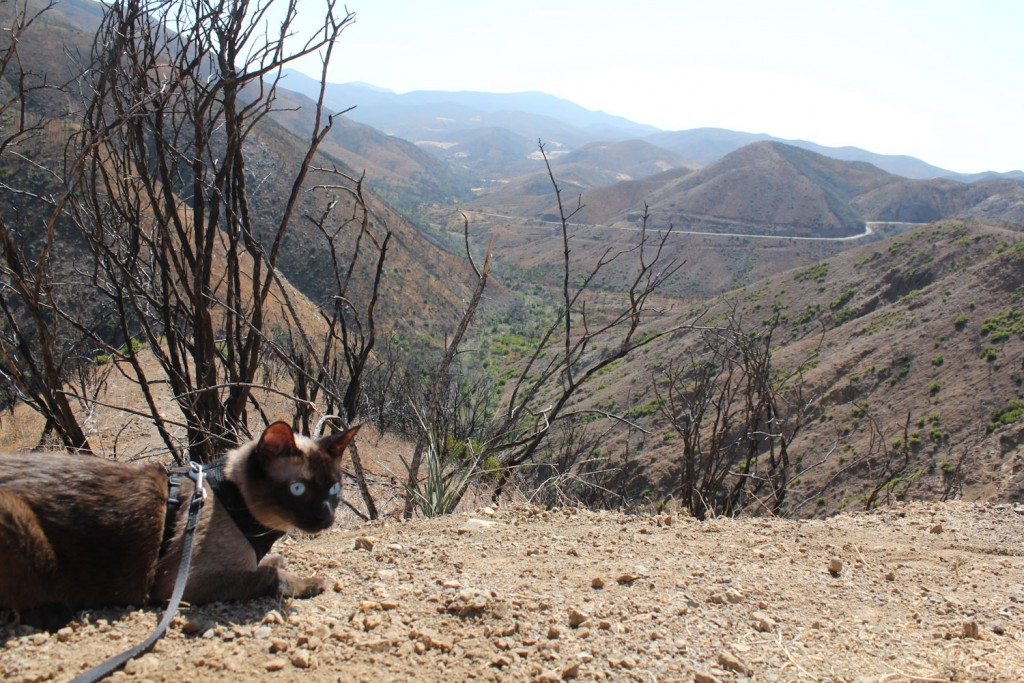 What kind of trips does your cat join you on?
Phoenix goes on hikes and climbing, as well as to the beach with me. In the future, we have camping trips and possibly even a couple flights around the U.S. in the works.
What's a typical excursion like for you both?
A typical excursion starts with getting Phoenix's lease, water and pack ready. She's a very curious kitty and loves to follow along my feet — and does not prefer busy areas with strangers. Most people make a lot of noise and/or stop to try to pet her, so I look for hikes that are less populated.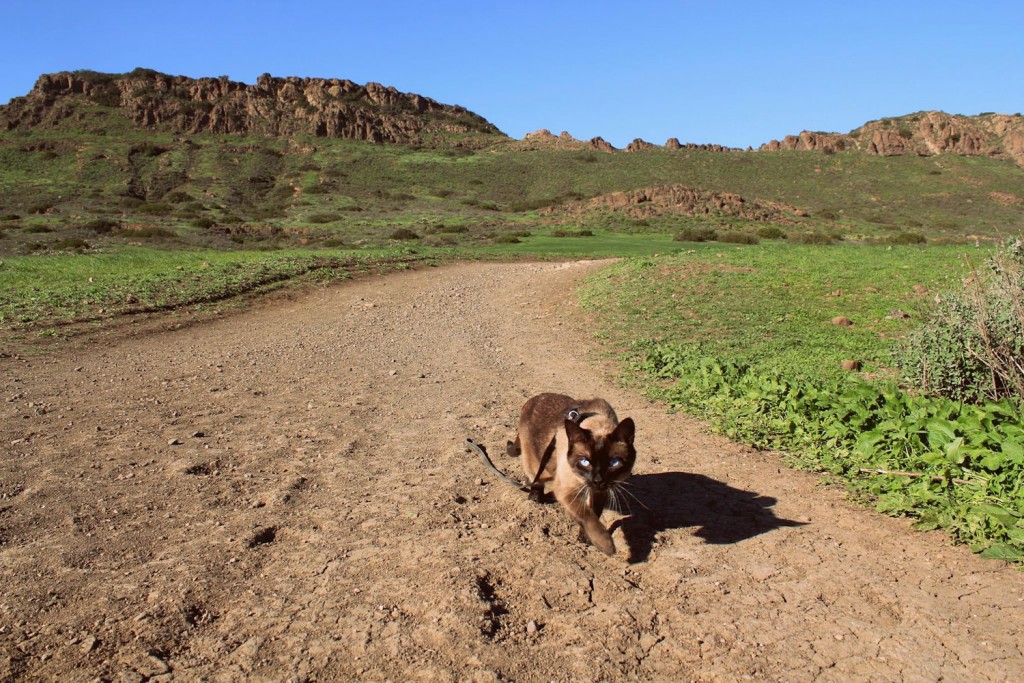 What's the best part of adventuring with a cat? Are there any disadvantages?
The best part of adventuring with Phoenix is that she is an amazing companion and the adventures help to bond us.
At times, a disadvantage is that just like humans. Phoenix has different moods depending on the day. Sometimes she is the most curious and running everywhere. Other days, she wants to stay home and lie in bed all day, so getting her to hike is more difficult.
What's one of your favorite memories with your kitty?
My favorite memories with Phoenix are probably when we go to the waterfalls or the beaches in the area. Also, some of the best days are just sitting outside as she runs around the backyard. Phoenix and I both love relaxing at home just as much as we love exploring the world.
Did you do any training with Phoenix?
Yes, I trained Phoenix to use a harness and leash comfortably, as well as take car rides up and down California. I also trained her to use a toilet!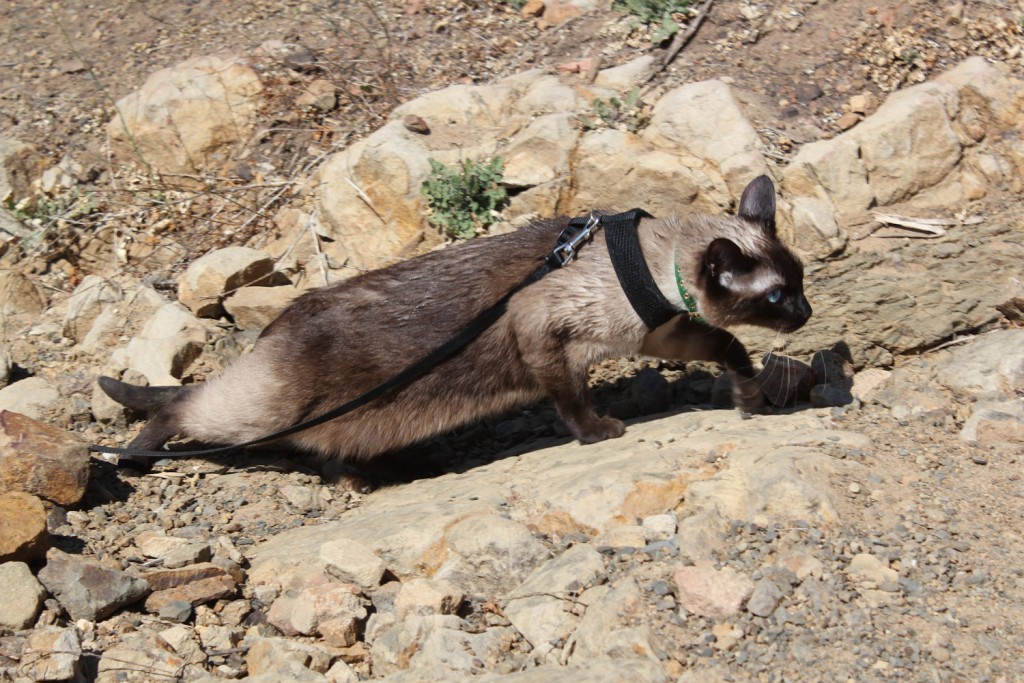 Does Phoenix have any special gear?
Due to the Southern California heat, there is always the backpack ready to give her breaks from hiking and to give her shade, along with the water to hydrate her. Phoenix's well-being and safety is most important. She always uses her harness and a leash that extends when she's in the mountains.
What advice do you have for people who are considering taking their cats into the great outdoors?
I advise a person to begin training as a kitten if they're able. But either as a kitten or an adult cat, it may take baby steps! Allow your cat time to adjust and give him/her a lot of love and support. Positive reinforcement and TLC are what works!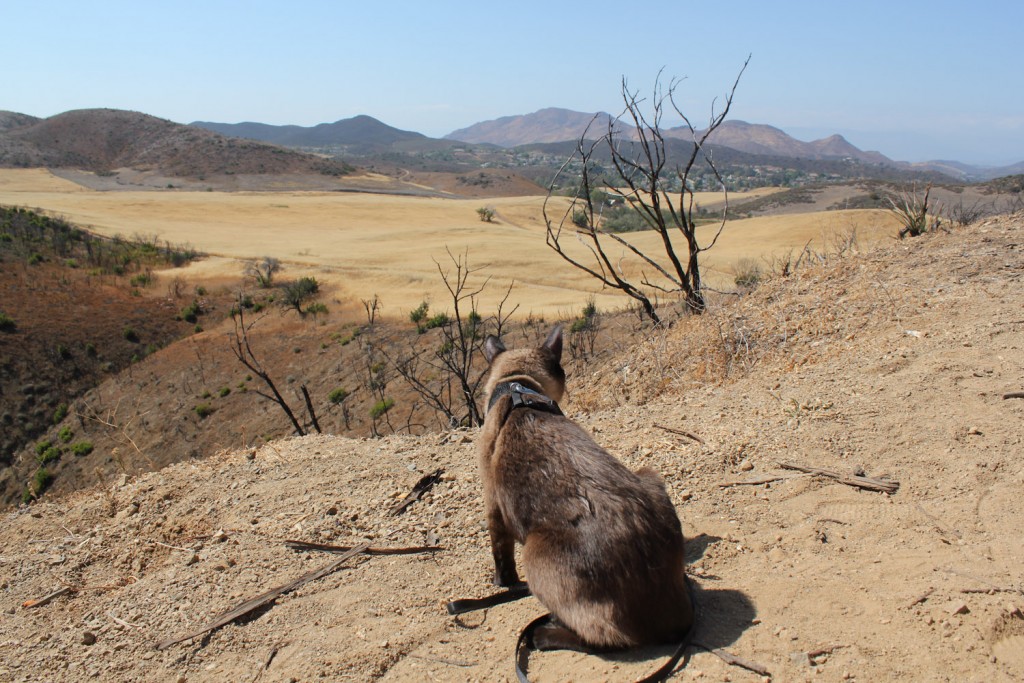 ---
See more of Phoenix's adventures on Instagram.
All photos are courtesy of Lauren Rosko.