We all know the feeling of adding a new furry member to the family — the initial thought that happens when you decide that it's time, the warm fuzzy feeling you have as you scour the internet for the purrfect match and the excitement you feel when you're on the way to pick him or her up.
Sometimes, though, it seems as if your new kitty has found you. This was the case with Spokane, Washington, resident Megan Ferney and her adventure cat, Leon.
"I hadn't had a single thought about getting a cat until I saw Leon's photo on the Spokane County Regional Animal Protection Service page as I was scrolling through Facebook," Ferney told Adventure Cats.
But when she glimpsed his photo in November 2017, Ferney knew that Leon was hers.
"I think animals pick us rather than the other way around. There was something very special and unusual about his photo that's hard to explain. I [took a] screenshot [of] it and was showing it to people all day. I realized at some point that to everyone else he just looked like a cute orange kitten. Because it was such an unusual reaction for me, I decided that maybe there was something more to it, maybe something unexplained that needed to be explored. I decided to go see him at Petco. Of course, we all know where that story ends."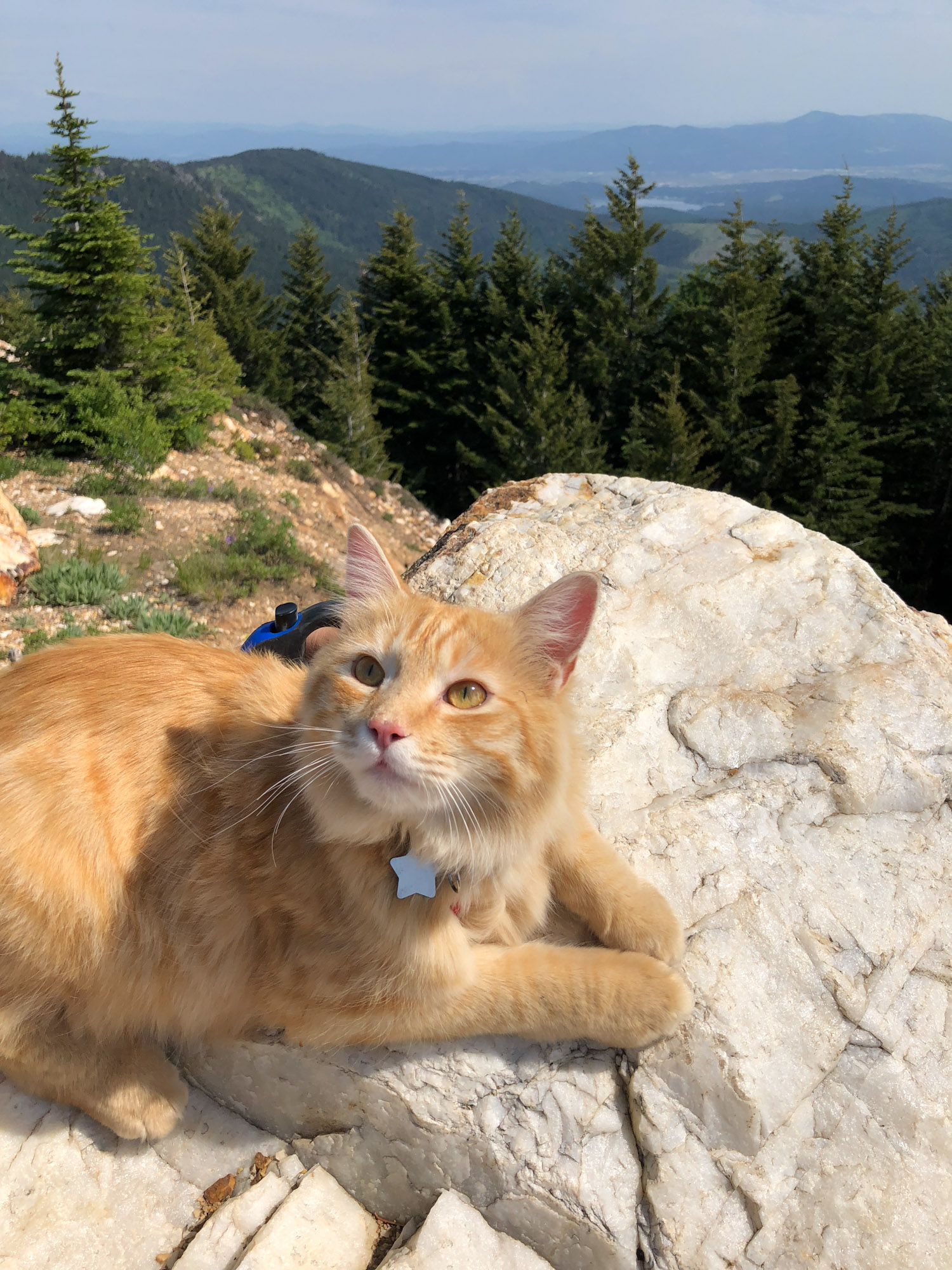 Even then, Ferney was still a little uncertain about what life would be like with Leon. Believing that cats ground themselves by having their "paws in the dirt," she did a little bit of research on cats with harnesses. "I went back to Petco the next day for supplies and Leon's first harness, which I put on him that day and every day after that for quite a while," she says.
MORE: Meet the Norwegian cat that loves to ski
Ferney started Leon off easy with a simple outing in her backyard, but Leon soon became braver and braver, so she decided to take him on his first hike at a closed-down golf course with quiet trails and no traffic.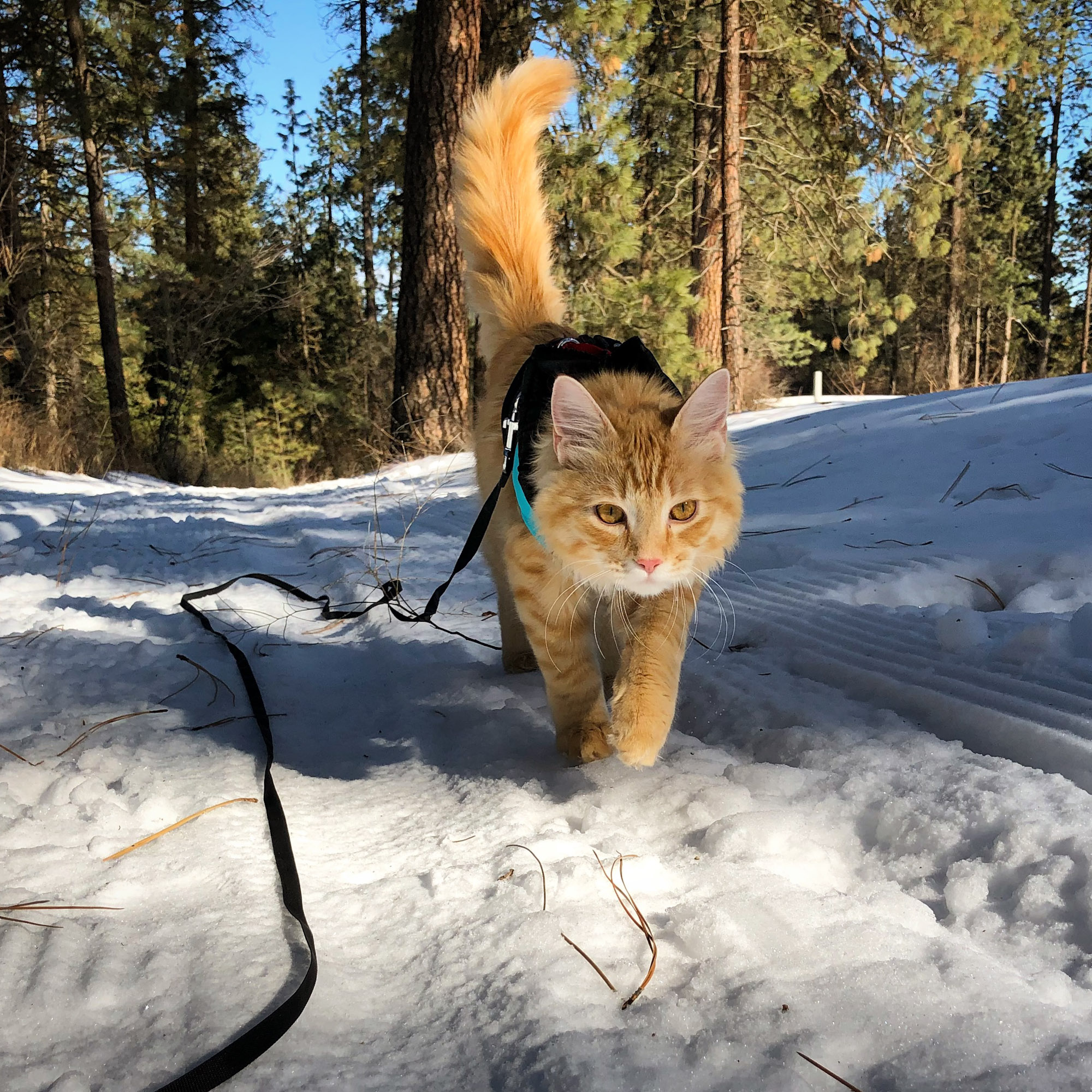 "We went about a mile and a half and he walked maybe a quarter of it. The rest of the time I stuck him inside my jacket. I was completely blown away by the whole experience as I had never seen anyone walking their cat on a leash and couldn't believe it had just happened," she says.
After that successful first hiking experience, Ferney began taking Leon everywhere she could.
"The best part of adventuring with Leon is that I hike a lot more in nature than I used to," she says. "I'm always looking for good trails to take him on, and have discovered areas in Spokane that I didn't know existed."
Recently, Ferney took Leon to the beach, and even though he wasn't too sure about the feeling of sand beneath his paws at first, by the last day Leon was striking poses.
Since then, he's also gone on a road trip to Portland and the Oregon coast, as well as hiked Spokane's Iller Creek trail to the Rocks of Sharon, a 6-mile hike with 1,250 feet of elevation gain.
Leon has even taken to the water with Ferney on a paddle board!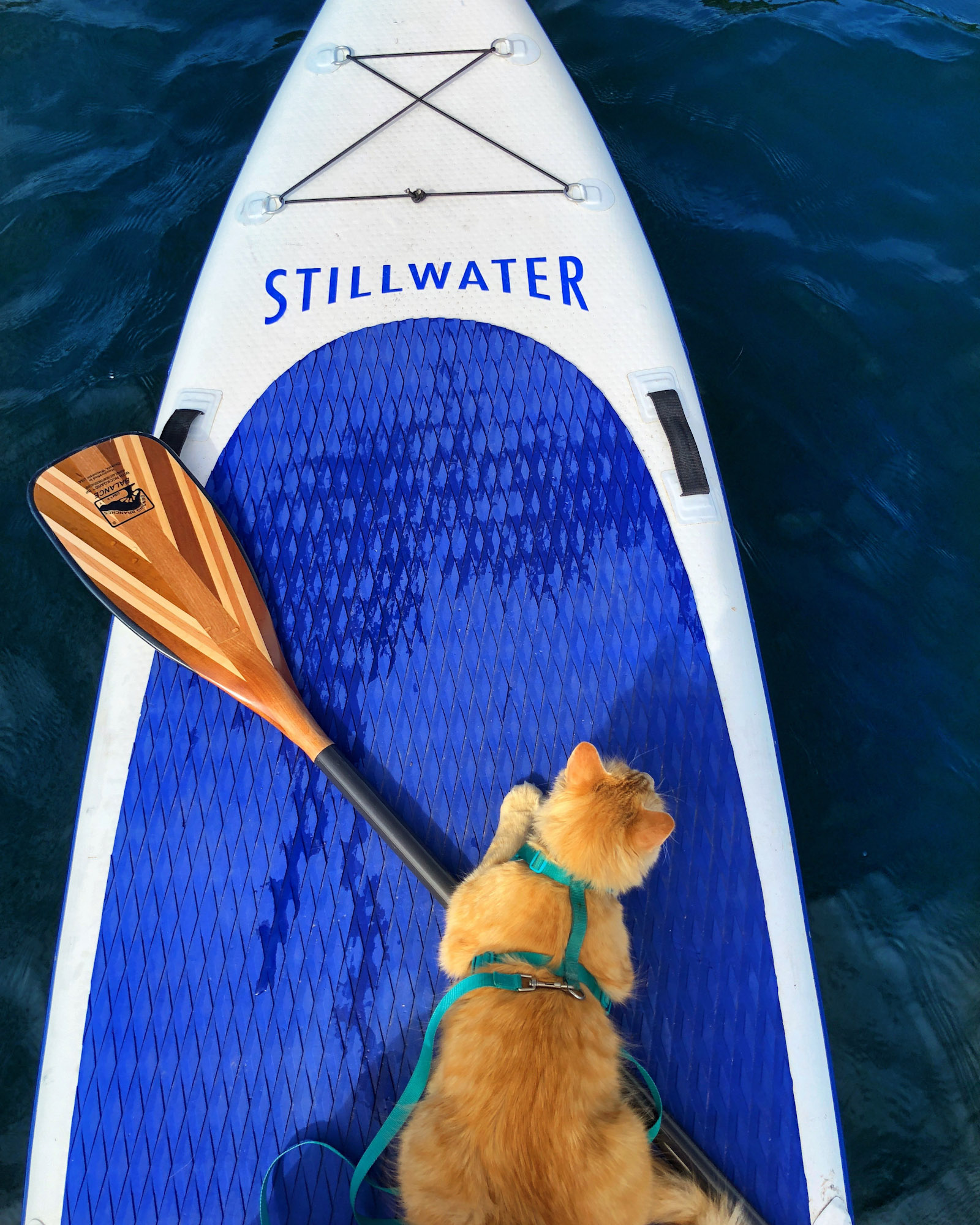 And when he's not exploring the trails of the Pacific Northwest, Leon still gets to enjoy the sights, scents and sounds of nature in his catio.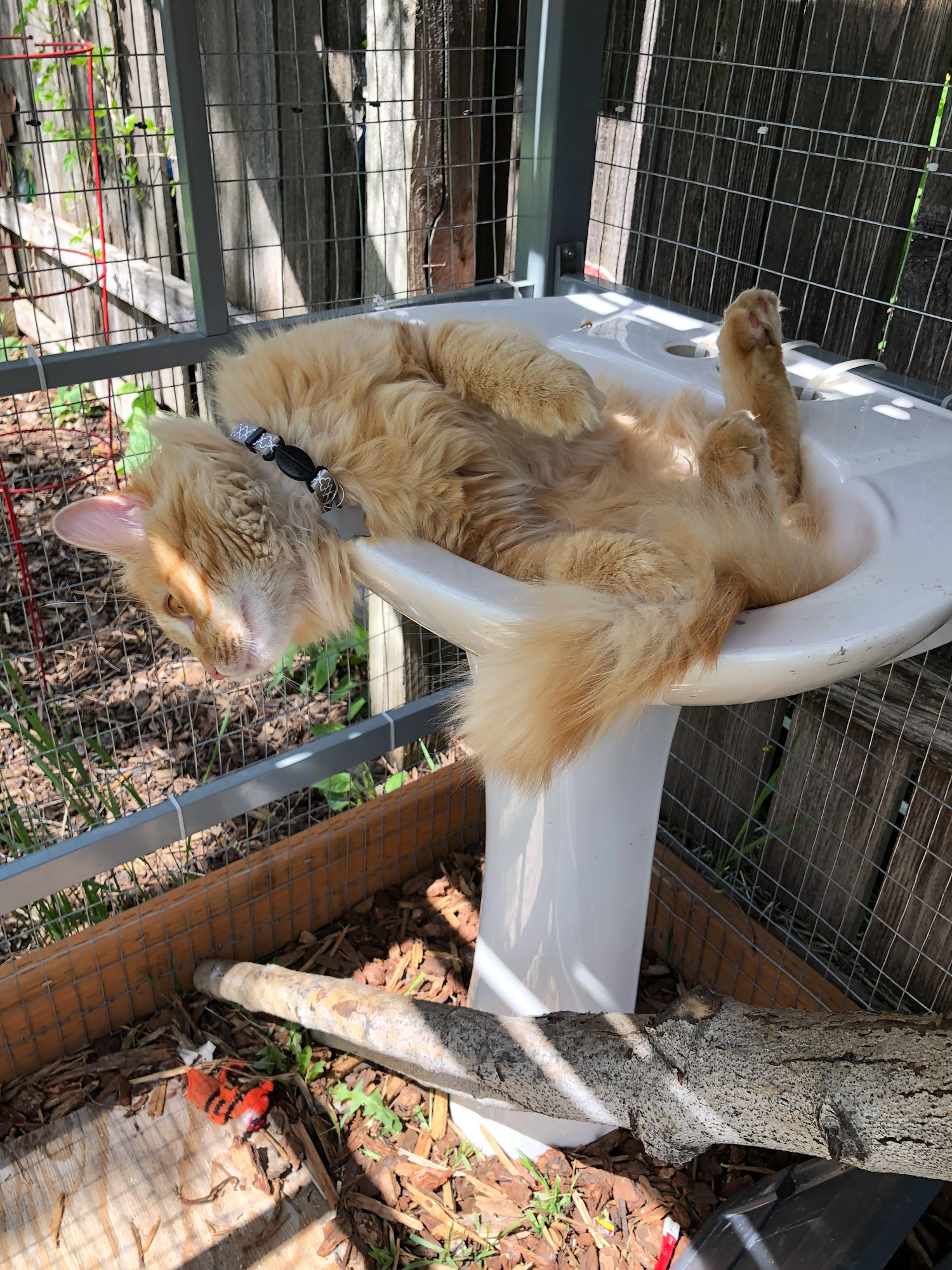 Looking to train your own adventure cat? Ferney suggests starting as soon as you adopt your new feline friend.
MORE: Become an 'expurrt' on feline body language
"Begin as early as possible, and expose them to everything. Start hiking on a well-defined trail in the quietest, least trafficked area you can find. Be ready to carry your cat when they don't want to walk or get scared. Let them explore and figure things out. Know that each time you go somewhere, it will be better the next time. Know that each time you go out, [your cat is] bonding with you and learning to trust you."
Scroll through the gallery at the top to see more photos of Leon, and keep up with all his pawsome adventures on Instagram.