Between walking on a leash and joining their human companions on camping trips, it's not surprising that adventure cats often draw comparisons to dogs. But then there's Rosie, a fearless feline who just might think she is a dog.
At just under a year old, Rosie is only a kitten, but she's got a big personality, which comes in handy since she runs with huskies — three huskies, to be exact.
Rosie was only a couple weeks old when she was abandoned, but a California foster family took her in, and it didn't take them long to realize that they couldn't part with the adventurous kitten.
"After seeing her special bond with our husky Lilo, we decided her forever home was meant to be with us," her family said. We recently talked to them about the unique experience of adventuring with three dogs and a little kitty.
AdventureCats: Can you tell us a little about Rosie?
Rosie's family: From day one, Rosie was a fighter. She grew up thinking she was a baby husky pup, raised by a surrogate husky mommy. Rosie grew up fearless and spunky, never wanting to miss out on an adventure, so it was only natural that she came with us on adventures as soon as she learned to walk.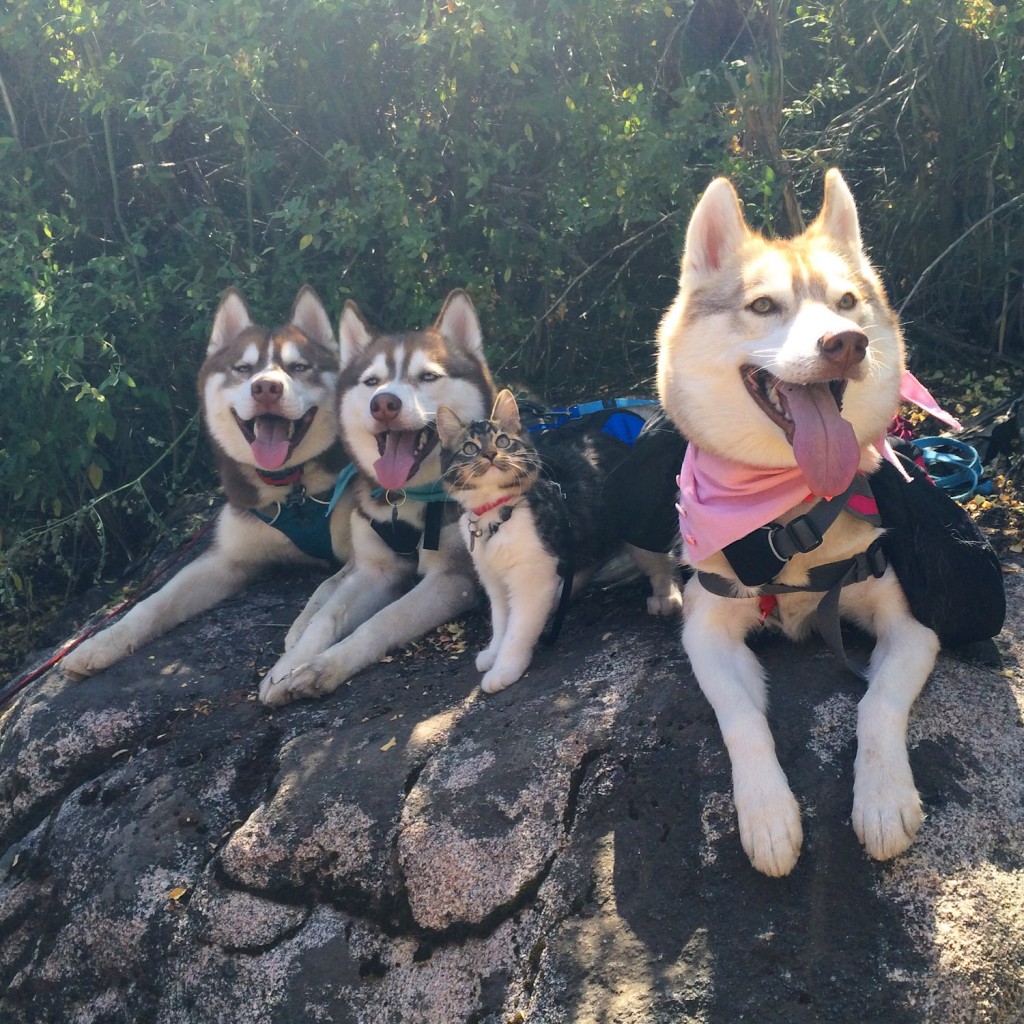 What's it like being a cat living with dogs? Have they always gotten along?
Yes, it was a surprising relationship because huskies normally have a very intense prey drive. Rosie and Lilo's relationship is very special. Rosie has complete faith that she is invincible next to her pack.
How did Rosie start accompanying you on excursions?
She started as soon as she was able to walk. Maybe around 4 weeks old? We put a tiny rabbit harness on her and took her on her first excursion to the local park. She took to the walking immediately, following after her pack, and generally sniffing and exploring like one of the pups.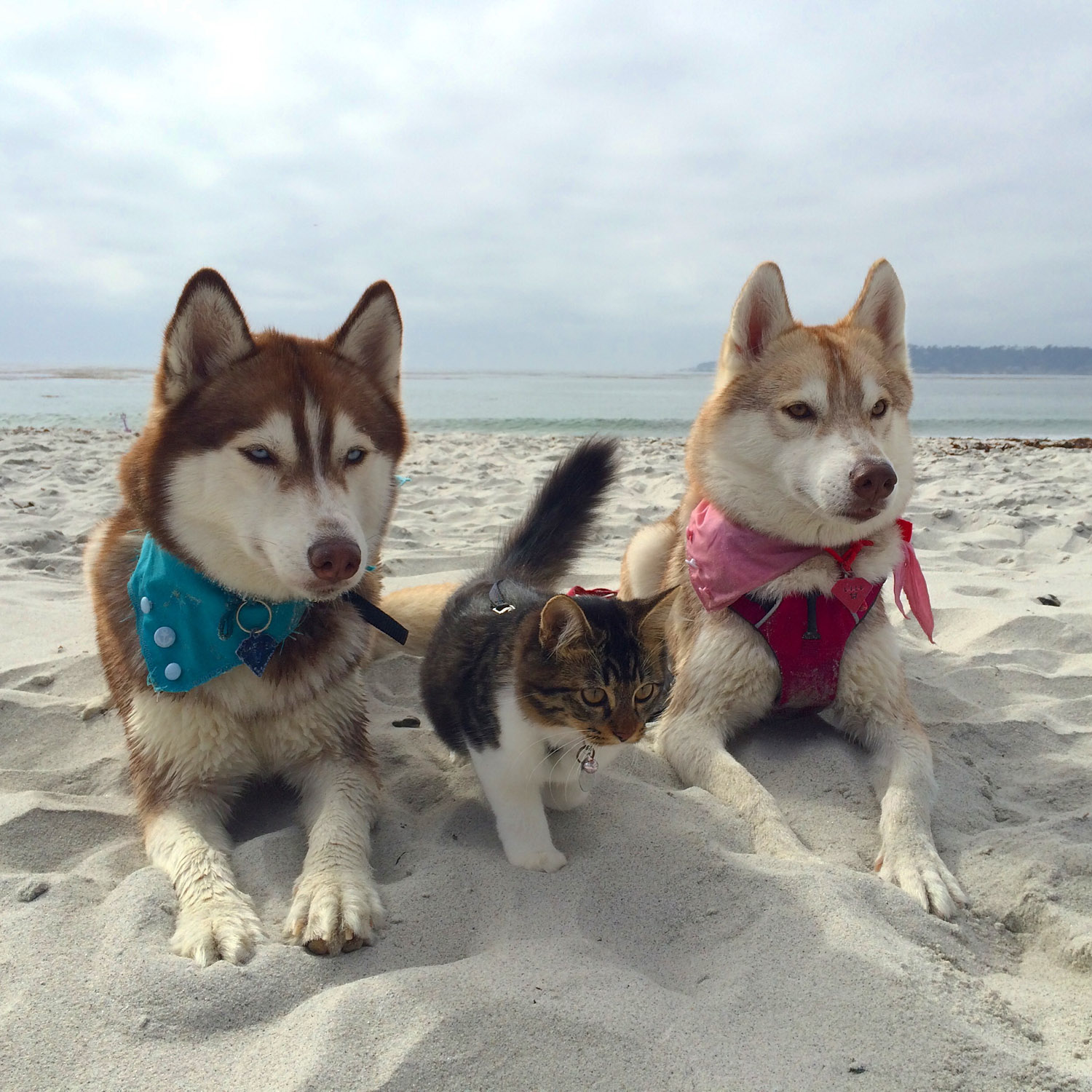 What kind of trips does Rosie join you on?
Rosie joins us on every trip we go on — road trips, hiking, kayaking, paddle boarding, walks, eating out, pet store runs, beaches and lakes. She does very well keeping up with the dogs now that she is older.
We even took them to a car show, which is loud, crowded and overwhelming, but she stuck to her pack and never batted an eye. Another recent adventure is "Bark in the Park," which is usually an event for dogs, but Rosie also tagged along and played Frisbee while our huskies — who weren't slightly interested — rested nearby.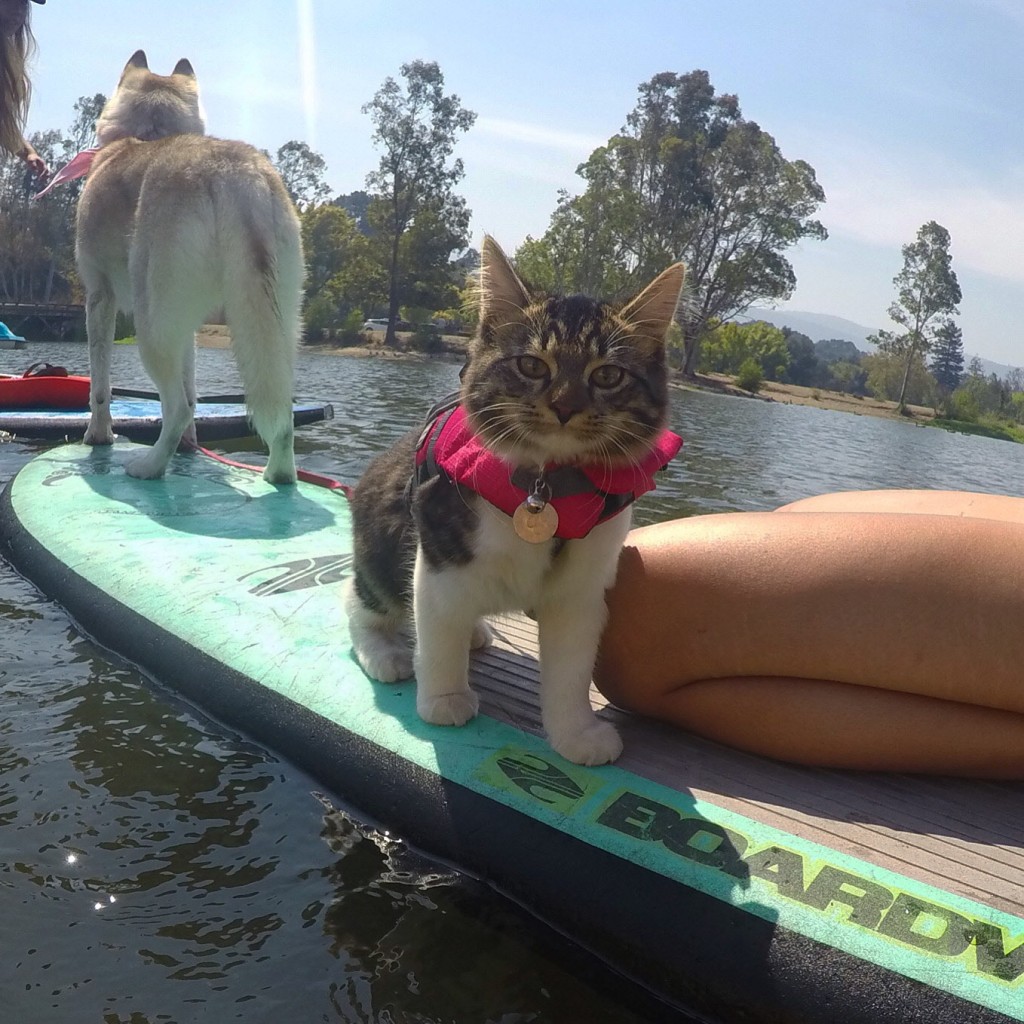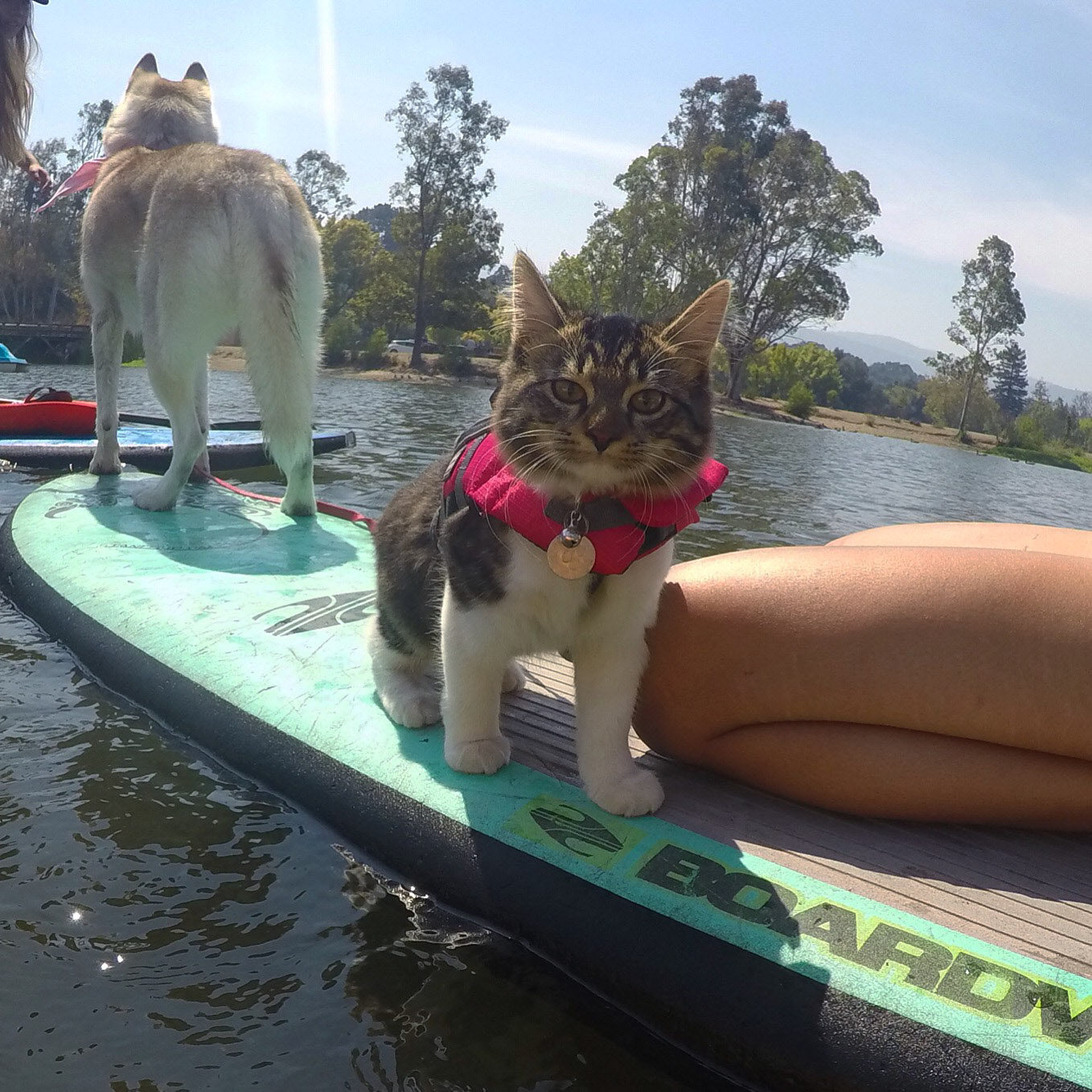 What's a typical excursion like for you and your pets?
It's chaotic to say the least! Just kidding. But we usually have three huskies and Rosie on our adventures. There has to be at least one handler per animal for safety and supervision. It is always fun and a memorable experience for everyone.
What's the best part of adventuring with a cat?
The best part has to be the stares and questions. We love educating people about huskies and now about adventure cats. It is very possible for cats to enjoy adventures with their families instead of being what people think is "typically" a cat.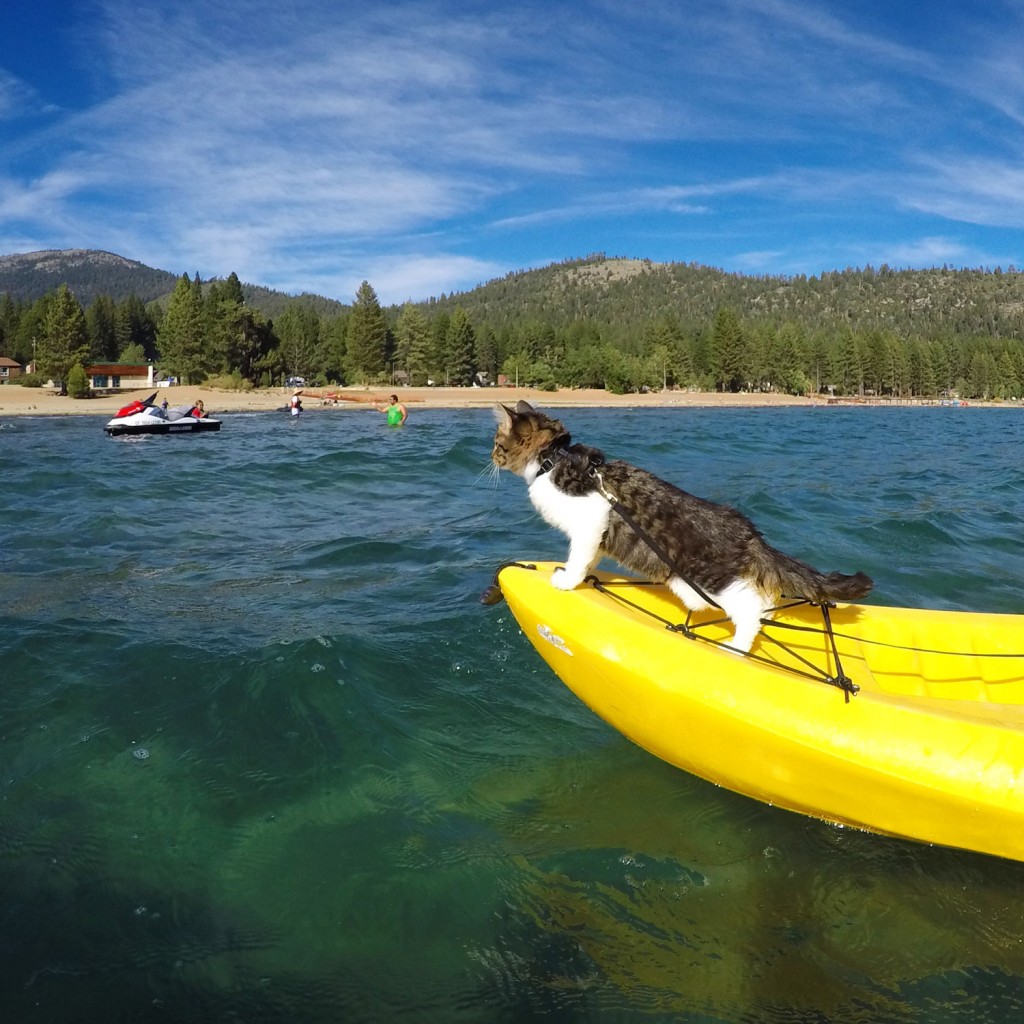 What's one of your favorite memories with your kitty?
Every day is a precious day with our kitty. She has the craziest expressions and it never surprises us how far she goes to imitate the dogs — even her body language is more typical of a husky!
Did you do any training with Rosie?
We tried clicker training, but Rosie just doesn't like any kind of food rewards, so it is definitely hard. She mostly takes after the dogs in her training, such as waiting for food and walking on the leash.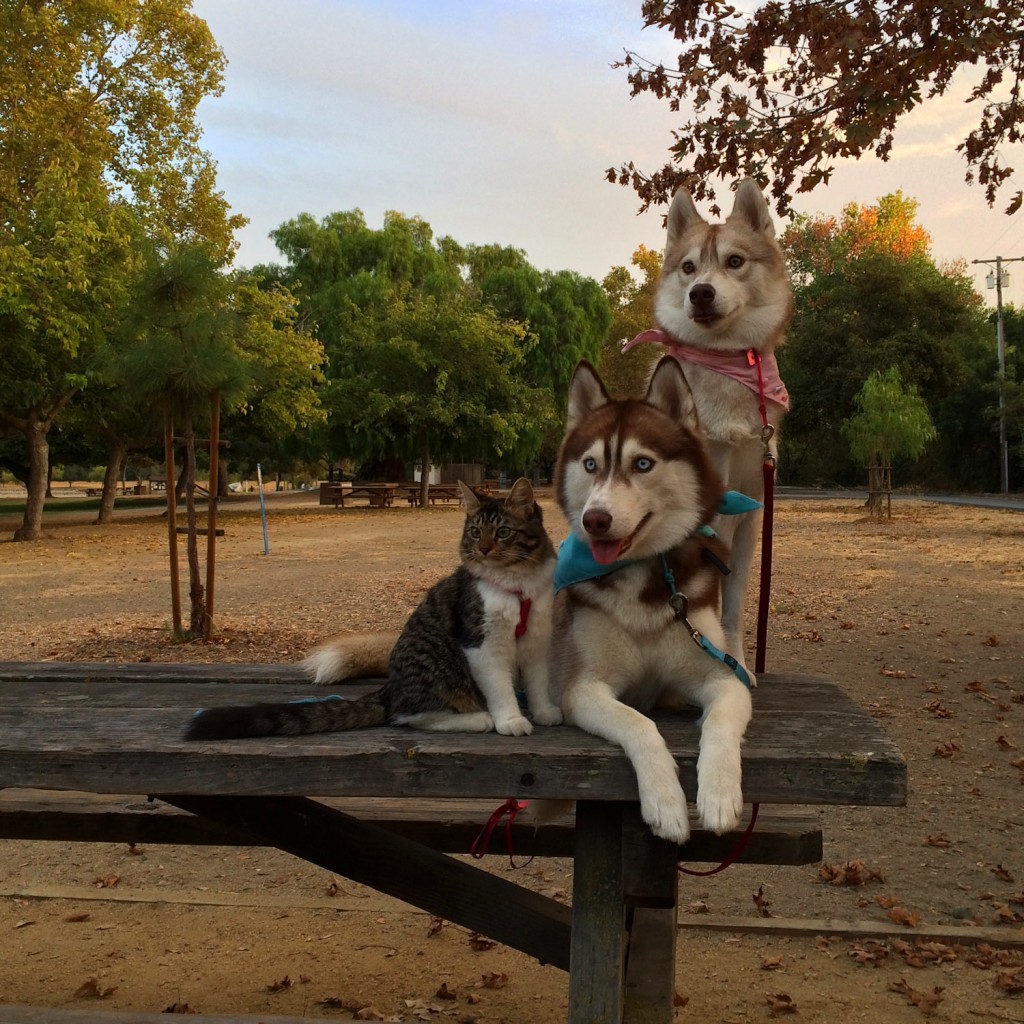 What kind of safety precautions do you take when out with Rosie?
Safety is definitely one of our biggest concerns, stepping foot into a predominately dog world. We have to watch for strays and never allow strange dogs to approach her.
What advice do you have for people considering taking their cats outdoors?
Start young and be persistent! Desensitizing is your best tool. Rosie used to be afraid of car rides, but to combat that, we took her out on rides nearly every single day. We brought her favorite toys, and someone would distract her while we drove in low-noise areas like neighborhoods. Then we moved up to highly noisy areas like the freeway. She now enjoys car rides, and we are even able to drive about six hours with only bathroom breaks!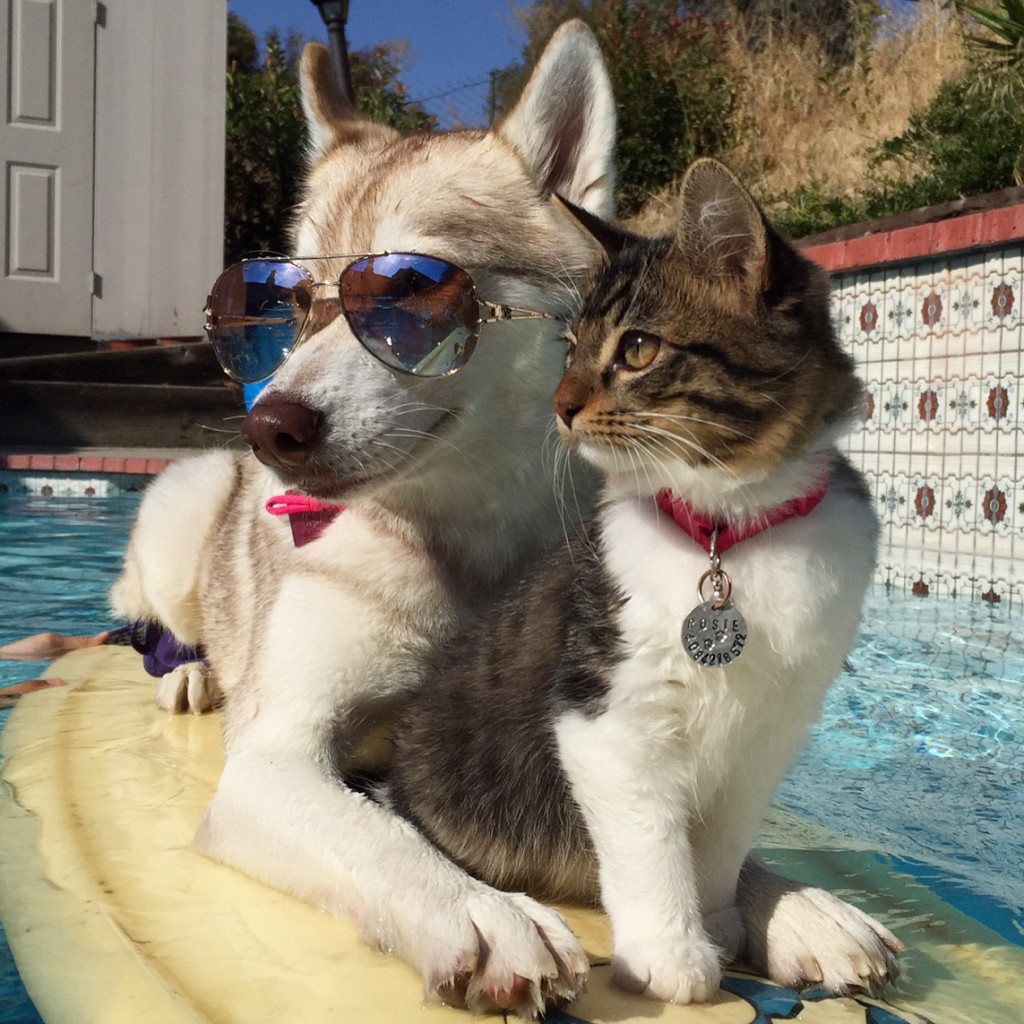 See more of Rosie and her pack's adventures on Instagram.