Dogs may have earned themselves a reputation as man's best friend, but here at Adventure Cats, we know that canines aren't the only companions that can hike, camp and sit and shake on command. Waffles the Colorado adventure kitty is proof of that.
Anything dogs can do, Waffles do too — except for maybe a game of fetch, but she's still just a kitten. And besides, her human, Karen Nguyen, says Waffles is working hard on her fetch game.
Nguyen adopted Waffles in July after stopping by a Humane Society shelter in Littleton, Colorado, "just to take a look." Waffles had been found on a local Native American reservation, and Nguyen immediately fell in love with the gray tabby kitten that weighed in at a mere 2 pounds.
"She was so underweight that the shelter had to hand-feed her and put her in the back of the room away from the others for weeks before she was well enough to join everyone," Nguyen told Adventure Cats. "She was also on all sorts of medication."
Having recently moved to Colorado from California, Nguyen didn't know many people, and soon Waffles was more than just her companion — she was her best friend. Together, they moved to three different places, and now they even run errands as a team.
"She accompanies me when I run most of my errands to Target, Safeway, Costco, Petco, etc. I put her on her leash and have her carrier in the shopping cart in case she gets scared."
In addition to helping with the shopping, Waffles also joins her human for frequent hikes across the Centennial State. Nguyen had seen people walk their pet Bengal cats before, and she suspected that Waffles might enjoy the great outdoors because of the kitten's friendly disposition and adventurous personality.
"Waffles loves people and has adapted really well in any environment. She even got along with a 43-pound German Shepherd."
To prepare her kitten for a life of adventure, Nguyen started by getting Waffles comfortable wearing a harness. She'd put the harness on her cat and let her run around their home and play while wearing it. Eventually, she added the leash as well.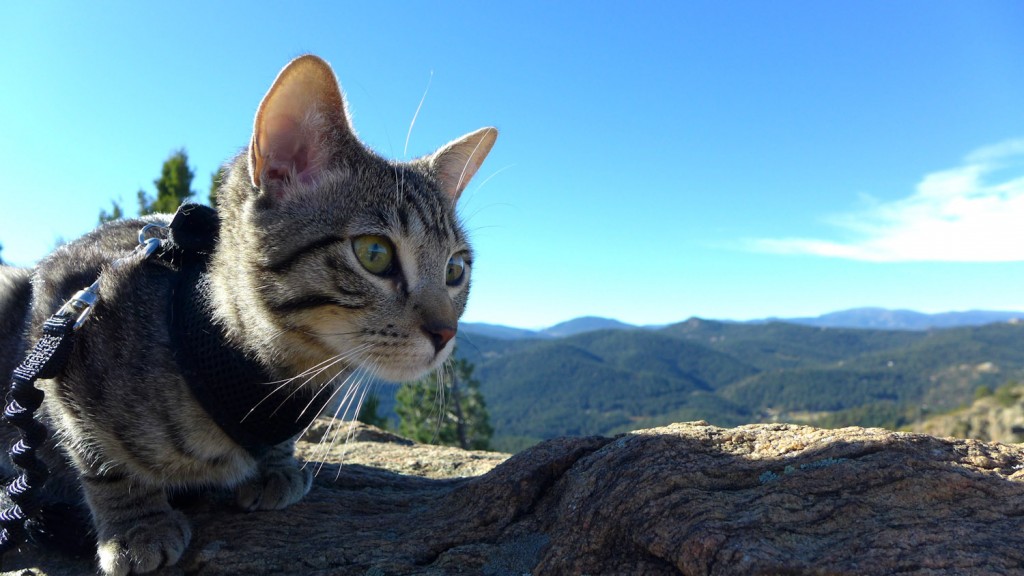 Waffles' first outdoor experience was to a local park, and she went on her first hike on Sept. 7 on Golden, Colorado's Cedar Gulch Trail.
"Our first hike was the best," Nguyen said. "The weather was great. I think we came across only one dog the entire trip. She climbed a huge rock and was my little mountain cat. She did extremely well for her first time. She definitely does better on trails than sidewalks because she doesn't like the loud sounds of cars."
When Nguyen starts out on a trail with Waffles, she says she always carries her kitten. When Waffles decides she's comfortable in her new surroundings, she starts to squirm to let her human know that she's ready to be put down to walk.
"She likes to lead and smell everything, but sometimes, she'll lag behind because she's so busy sniffing at all the plants."
While they're hiking, Nguyen keeps an eye out for dogs and wildlife so she can scoop up her kitty if anything approaches. "Due to her small size, she is a target for wildlife predators, so I carry around bear spray in case an animal spots her from afar."
So far she and Waffles have explored trails in both Colorado and California, but Nguyen says she has plans to camp with her cat and take her to see the wilds of Montana in the spring.
What advice does Nguyen have for aspiring adventure cat owners?
"Start slow and don't overwhelm them. A quiet park is a great place to start, if not your backyard. And once they're comfortable with being outdoors, expand your adventures into places you never thought to take your cat before! It's a lot of fun and a great conversation starter when you run into people."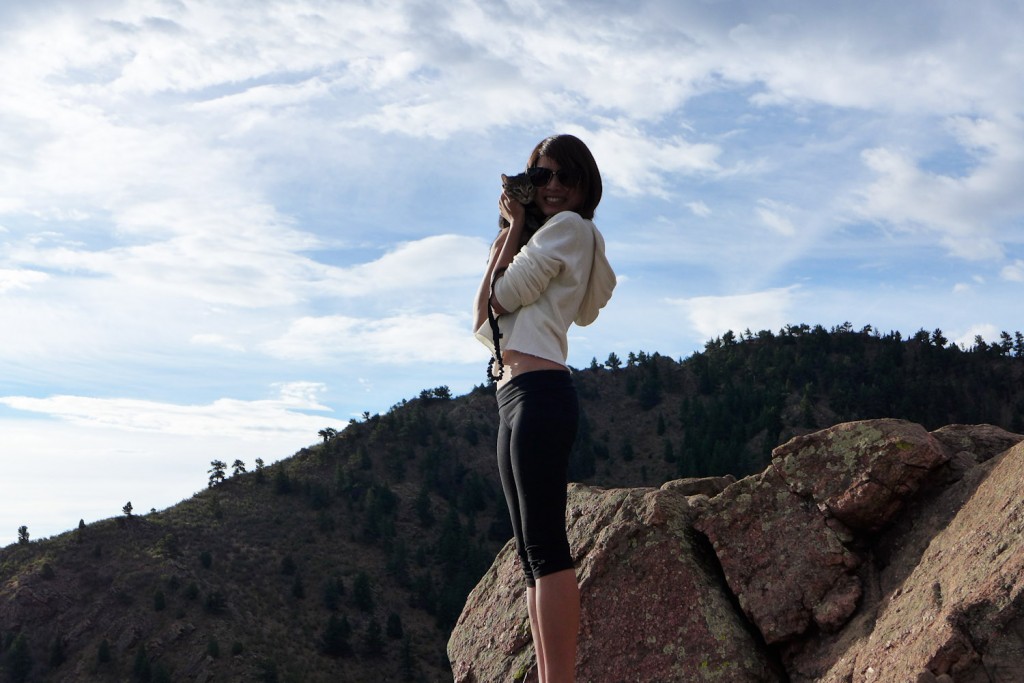 ---
Scroll through the gallery at the top to see more photos of Waffles, and keep up with her adventures on Instagram.
All photos are courtesy of Karen Nguyen.