When you're searching for the "purrfect" pumpkin, Honey Bee knows that you can't rely on sight alone. That's why the blind Seattle kitty accompanied…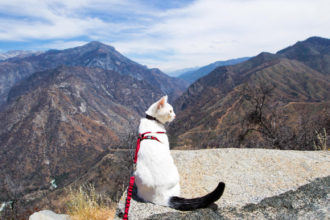 Not many people can say they've visited every U.S. national park, and as far as we know, no feline can yet make that claim….
Sirius Black is a Savannah cat out to prove his breed is innocent — one adventure at a time. From the pages of Harry…
Surf's Up!
Cat proves you don't need 2 eyes to hang ten.
Read More
Whether you've resolved that you and Whiskers will spend more time exploring the great outdoors in 2017 or you're simply interested in adventuring with…
Life on the road, becoming one with the great outdoors, just you and your cat — if this sounds like a dream scenario to…
Cats have been sailing on boats for centuries. Back in the days of yore, ships' cats served as handy mousers, and they were also revered as good…